Samsung Galaxy Note II shows off hovering S-Pen hands-on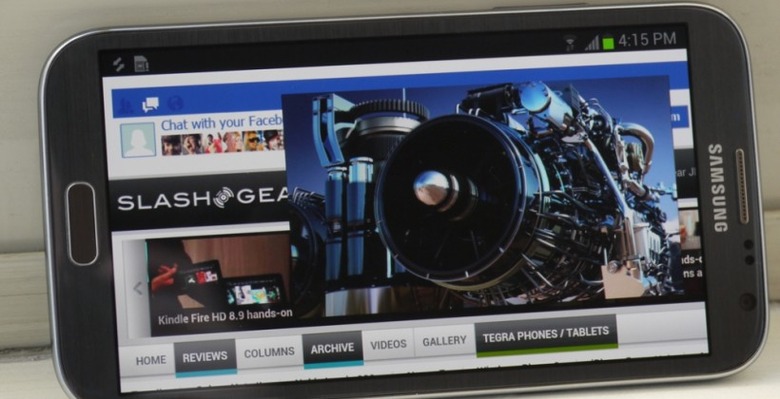 The next-generation Samsung Galaxy Note II is bringing on some new powerful features in its international version in the form of Airview, a brand new user interface that appears when you pop your S-Pen from its slot! Though we've still got no confirmation on when, if, or how this device will be appearing in the Untied States on US carriers, we can see here that Samsung does, once again, intend on bringing the device stateside soon enough. This device is next in line in Samsung's Note branded family of devices with a 5.5-inch display and a brand new bit of S-Pen hardware as well.
This device once again has a slot inside it where your S-Pen can rest while it's in your pocket. As an added bonus, it's got a special alert that notifies you if you're leaving the area without your pen in its dock, this a great feature for those that are forgetful. This S-Pen and the technology that surrounds it is able to detect interaction between the pen and the display even before they physically touch, shown here in the hands-on video at right about the 1 minute mark.
The Airview user interface shows a new homepage which you can customize for special S-Pen friendly apps. You're able to work with preview video with picture-in-picture as you were with the Galaxy S III, here called Pop Up Play with full resizability available as well. With the S-Pen you're able to highlight items in the web browser and scroll through webpages too. Essentially there's a whole lot of hovering going on.
Have a peek at our full Samsung Galaxy Note II coverage in the timeline below and be sure to check out all of our hands-on experiences, too. We've also got reviews of the Samsung Galaxy Note 10.1 and the original Galaxy Note for your perusal. While we wait for this device to pop up on the shores of the USA in carrier iterations, we'll be rolling hard with the Samsung Galaxy S III and debating whether or not it makes sense to join the LG team for their competing phablet device, the LG Intuition – stay tuned!