This week the folks at Samsung created a spectacle of themselves for the likes of their new device duo: the Galaxy Note 3 and the smartwatch known as Samsung Galaxy Gear. They did this both in Berlin and in New York City, with a press event for IFA 2013 and a veritable party in the streets in Times Square. While the press were invited to have a peek at the products in Germany, members of the public were ushered in to see the devices in the USA.
If you weren't one of the ravenous users waiting in line this week right in the center of the world's best-known culmination of streets, you're in luck: SlashGear has both a Galaxy Note 3 hands-on as well as a Galaxy Gear hands-on experience for your perusal. Those in New York yesterday afternoon were also treated to free hats, dancers, and a collection of massive billboards, both traditional and video animation in style.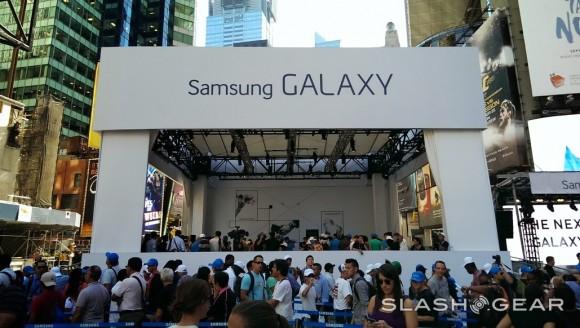 Also present this week was the reboot of the Samsung Galaxy Note 10.1, a device which takes the powers of the headliner and puts them in a 10.1-inch display-toting tablet form. While this device is certainly set to be sold on essentially the same scale as its release partners in the Gear and the Note 3, you'll certainly not be seeing nearly as much advertisement dollars placed behind it.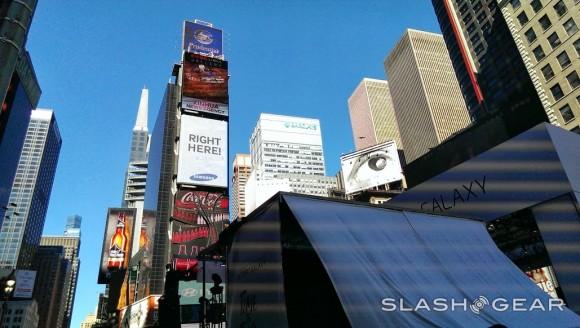 Meanwhile you'll find Google and Motorola making certain they're heard this week with the key placement of a massive video ad spot above Times Square's American Eagle store (as you'll see in the gallery below). There this Moto X video billboard played with a visual loudness that was impossible to ignore as it towered above the Samsung Note event. Meanwhile Samsung billboards rang out in white from several well-spotted angles.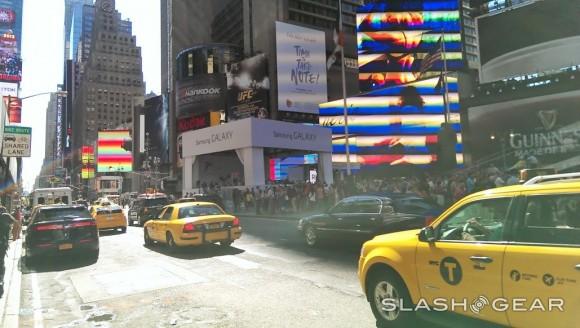 You'll also find a DJ at this event with what appears to be a Samsung notebook but is actually a cover for a rather similar-looking piece of equipment with a rather key competing brand hidden below it. The white and blue Samsung GALAXY hats you see everyone wearing were given out in massive amounts as well to more-than-willing citizens as the day was, indeed, a hot one.