Samsung Galaxy Gear hands-on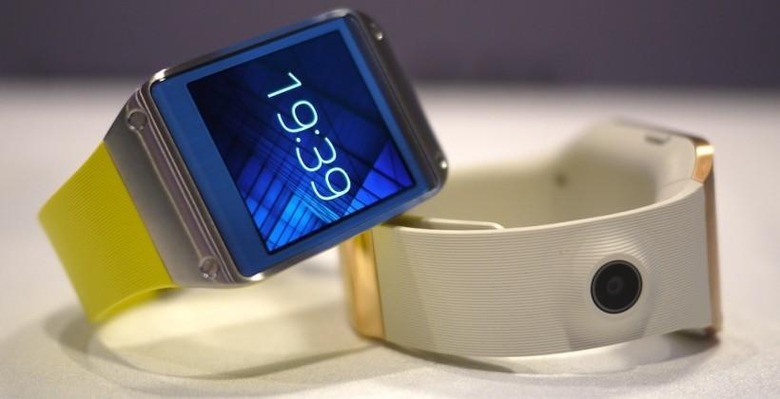 Samsung already dominates the Android smartphone market; now, the new Galaxy Gear smartwatch wants to own your wrist. A companion to the new Galaxy Note 3 – and, initially, the Note 3 only – with a 1.63-inch, 320 x 320 Super AMOLED touchscreen, the Galaxy Gear squeezes a 1.9 megapixel autofocus camera with 720p HD video recording and macro mode, twin microphones with noise cancellation, and a speaker built into the adjustable clasp, into a chunky but solid watch form-factor. We caught up with Samsung ahead of the Galaxy Gear's IFA 2013 debut to find out more; read on for our first impressions.
Smartwatches aren't new, and in fact Samsung made an attempt at the watch-phone some years ago, but the Galaxy Gear is a more determined effort to crack the wearables scene. For a start, it doesn't stint on the premium watch features: its casing is reasonably thick, at 11.1mm, but the watch only weighs 73.8g keeping the heft down on your wrist. The fascia is sapphire glass, for better resilience to bumps and knocks, and both the metal frame and the plastic strap (non-removable, since it has antennas and other electronics threaded through) are sturdy and feel great.
Since the strap can't be changed, you'll have to make sure you get the right color choice in the first place. Samsung will offer six out of the gate: Jet Black, Mocha Gray, Wild Orange, Oatmeal Beige, Rose Gold, and Lime Green, altogether a range that provides differing degrees of brightness depending on how much you want to advertise your accessory.
On the hardware side, the Galaxy Gear connects via Bluetooth LE to the Note 3, and runs a custom version of Android on an 800MHz Exynos processor with 512MB of RAM. There's 4GB of internal storage and a non-removable, 315mAh battery which recharges by snapping the watch into an included cradle, then plugging in a regular microUSB charger. Resting the watch, in the cradle, on its side on your nightstand automatically flips the screen rotation by 90-degrees, so you can still see it properly. Connectivity is limited to Bluetooth; there's no WiFi or cellular radio, and you get an accelerometer and gyroscope but not GPS.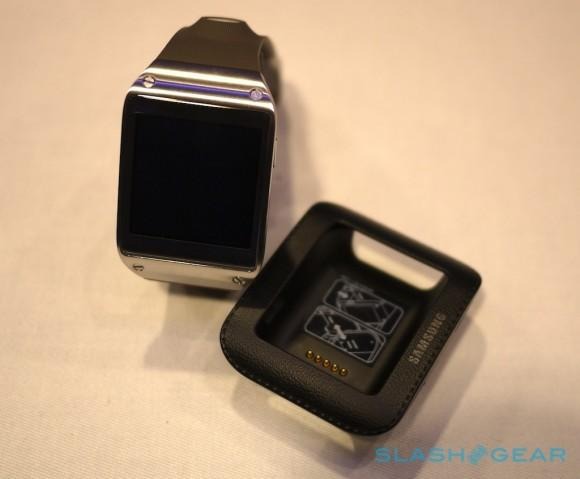 Integrated into the strap is the camera, positioned so that when you're looking at the display it's facing forward, away from you. It can shoot both stills and Full HD 1080p video, though clips are limited to 10 seconds at most. There's also a macro mode, which should come in useful for grabbing snapshots of receipts and business cards. The dual microphones – with active noise cancellation – are on either side of the watch, along with the only physical control (a home key, which also controls power with a long press), while the speaker is built into the adjustable clasp.
Samsung Galaxy Gear walkthrough:
The UI is controlled predominantly with gestures. Waking up the watch – either by tapping the home button or, optionally, lifting your wrist up whereupon the accelerometer triggers the display – shows the homescreen, with a choice of watch faces (10 preloaded) varying from analog and digital, to multiple timezones and weather information. A downward swipe then summons the camera app, which toggles between stills and video with a control in the upper left corner. Tapping the screen takes a photo, and you can then share it from a similar sharing menu to what you'd find on Samsung's Android phones.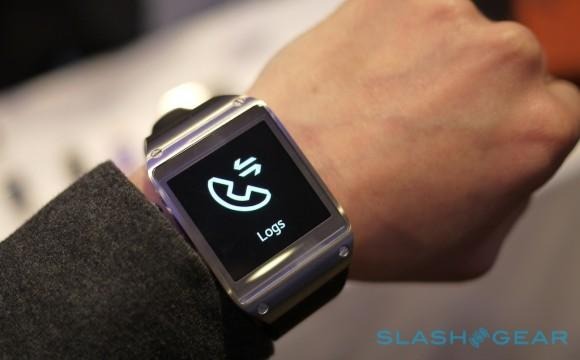 A swipe down generally acts as a back control, and then side-swiping from the homescreen runs through the app carousel. By default that includes contacts and a watch log, showing everything that has happened in messaging, calls, and other communications, as well as access to the full app launcher. A two-finger tap calls up the status panel, showing Bluetooth connectivity, time, date, and battery level.
The Galaxy Gear works alongside a companion Gear Manager app on the Note 3, which is used to manage notifications and install the mini-apps the smartwatch can run. It's paired initially using NFC: holding the phone and the watch nearby automatically links them. The app also offers a "Find my Galaxy Gear" option, which makes the watch ring as long as it's in Bluetooth range, and you can also trigger "Find my Phone" from the Galaxy Gear itself.
As a phone accessory, the Gear can start a call by swiping up for the dialer. The number keys are relatively small, but still usable. You can have your conversation out loud, using the watch as a speakerphone, and the volume level is solid though we'll need to test it more to see how it copes with outdoor situations. Alternatively you can pass it over to the Note 3 instead; in fact, tight integration between notifications and alerts has been baked in across the board. If you're looking at a text message or email preview on the Galaxy Gear, for instance, and then pick up your Note 3, the phone will automatically open the same message.
One of the initial use cases Samsung envisages for the Galaxy Gear is as a fitness and health tracker. The smartwatch will run a pedometer app out of the box, which can track movement and report it to Samsung's own S Health system on the Note 3. However, there will also be multiple third-party apps, like RunKeeper and MyFitnessPal, that also have Galaxy Gear support.
Other preloaded apps include a voice recorder, which can capture recordings of up to five minutes in length. They're then automatically transcribed using voice to text, too. Samsung's S Voice system also makes an appearance; you can load it either via the option in the carousel, or by double-pressing the home button (alternatively that shortcut can be set to something else). Since it requires server-side processing, you'll need to have a data connection on your phone for it to work.
Initially, S Voice on the Galaxy Gear will support setting alarms, making calls, dictating replies to text messages, loading apps, and a few other features. However, you can't perform web searches using the voice command system, unlike on Google Glass, and nor can you request navigation instructions, which seems a shame given getting directions discretely pushed to your wrist seems an obvious use for the Gear.
The watch's gallery shows both local photos and video, and pulls in images from the Note 3's gallery (and vice-versa). Video playback looks great, though the screen is obviously small, and viewing angles are good. Pinch-zooming works, though is fiddly on the 1.63-inch panel. There's a media remote, though not local media playback: instead, you control what's playing on your Note 3, though only with basic track skip and play/pause keys. The Gear doesn't show what track is playing currently, for instance.
Just as Motorola has tried to simplify security on the Moto X with its clip-on Skip NFC dongle, so Samsung has attempted something similar with the Galaxy Gear. The watch can be set to automatically bypass the Note 3's PIN, passcode, or other lockscreen security whenever it's within roughly five feet, switching them back on whenever the phone moves out of range.
All that functionality is going to take its toll on battery life, of course, and the likelihood is that you'll be recharging the Galaxy Gear alongside your phone each night. Samsung is still completing its testing, but tells us that it's currently seeing around 24-25 hours from a full charge and "regular" use; that includes calls, notifications, some camera and S Voice use, etc., though obviously if you make more active use of the photography features, for instance, you'll get less runtime.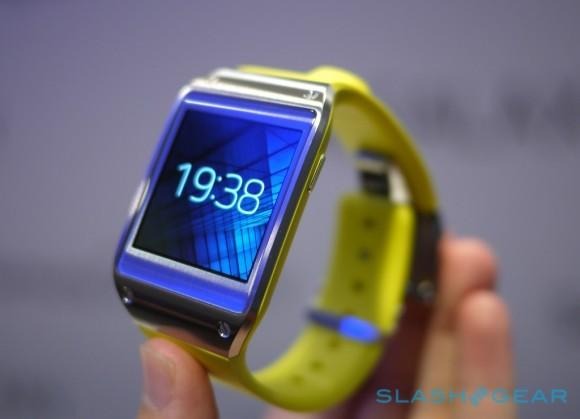 Is all that enough to persuade watch wearers to give up their Rolex or Panerai, or tempt those who don't currently wear a timepiece to strap on a Galaxy Gear? The smartwatch is certainly more polished than we originally expected it to be, and the strong build quality leaves it feeling more premium than, say, a Pebble. It's more functional, too: there's some standalone use supported, for instance, such as the fitness logging and camera, while other apps like Evernote, Glympse, Pocket (complete with text-to-speech article playback), Path, and TripIt mean the Gear is launching out the gate with plenty of abilities.
On the flip side, it's not a small device, and there are still some obvious omissions, such as navigation through S Voice. The fact it's limited to the Galaxy Note 3 initially, too, will make the potential audience smaller, and Samsung is yet to confirm exactly how much it will cost.
Nonetheless, we're quietly impressed by what Samsung has achieved. We'll need to live with the Galaxy Gear on our wrists for a while to see if the company really has cracked the smartwatch conundrum, but this doesn't feel like the rushed, pre-emptive "iWatch" strike many had suggested it might be.
Two guys mucking around with Galaxy Gear
The Samsung Galaxy Gear will go on sale from September 25 for $299 alongside the Galaxy Note 3 in over 140 countries. Samsung also tells us that it hopes to have broader compatibility with other Galaxy devices "soon", though has "no current plans" to extend support to other Android phones or rival platforms.