Samsung Galaxy Note 3 hands-on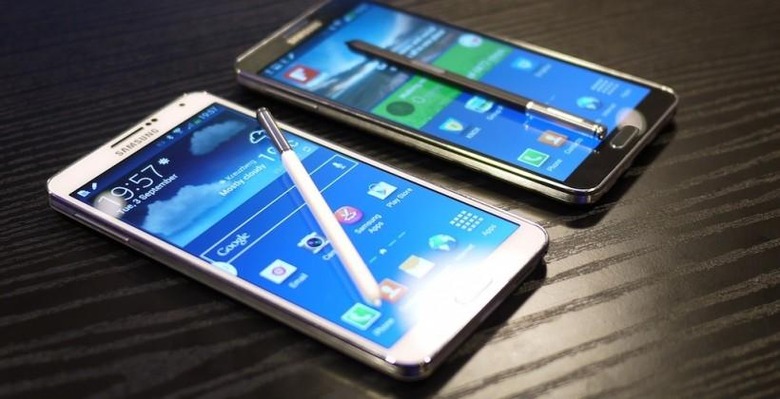 Samsung has revealed its new Galaxy Note 3, the third generation of pen-enabled "phablet", with more aggressive use of the S Pen stylus, an even larger display, and faster LTE connectivity. The new Note 3 now fits a 5.7-inch, Full HD Super AMOLED display into its frame, though actually comes in slimmer and lighter than its Note II predecessor, and runs Android 4.3 out of the box, with a 13-megapixel camera, up to 64GB of internal storage space, and 3GB of RAM. Samsung has also fitted in a bigger, 3,200 mAh battery. Read on for our first impressions.
Just as the previous Note II resembled an oversized Galaxy S III, so the Note 3's design borrows heavily from the Galaxy S 4. There's a new leather-textured, soft-touch back panel which is easier to grip, and blunt metal-finish edges; altogether, the phone measures in at 151.2 x 79.2 x 8.3 mm and 168g, though it still feels somewhat plasticky albeit creak-free. You keep the ability to switch out the battery, too, which Note fans have long appreciated.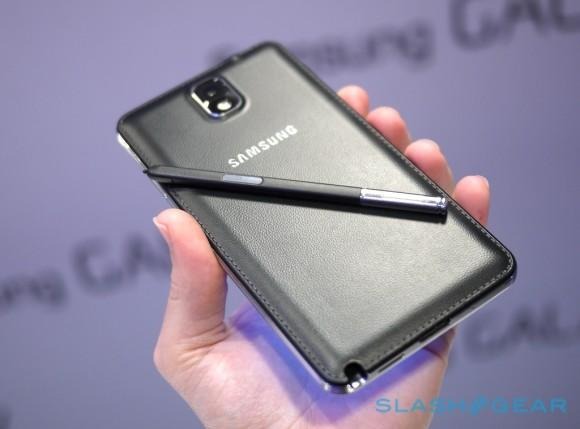 Up front is a 1920 x 1080, 5.7-inch display, the biggest so far on a Note-series device. Clever trimming of the bezels has kept the bulk down, and the panel itself is incredible, with huge viewing angles, strong brightness levels, and great colors. The pull-out S Pen has also been improved, now more sensitive for better feel when writing or sketching. Above the display is a 2-megapixel camera with Full HD video recording, while on the back there's a 13-megapixel camera with an LED flash and 1080p recording. Select models will also offer 4K video recording.
Connectivity now includes HSPA (up to 42Mbps) and LTE (Cat 4; up to 150/50Mbps down/up) with up to six different band sets to cater to different markets. There's also WiFi a/b/g/n/ac, NFC, Bluetooth 4.0 LE, an infrared blaster for using the Note 3 as a universal remote, MHL 2.0, and GPS/GLONASS. On the bottom there's not only USB 2.0 connectivity but USB 3.0 for faster media transfers. Sensors include an accelerometer, digital compass, gyroscope, proximity, barometer, temperature, and humidity, and there'll be a choice of 32GB or 64GB versions and a microSD slot.
The big change, beyond the specifications, is the new S Pen functionality. Samsung's digital stylus gets a new Air Command shortcut system for easier access to the updated features. A radial palette of options, it opens when you pull out the S Pen or when you hover and click on the pen's side button.
Samsung Galaxy Note 3 walkthrough:
There are five commands to choose between. Action Memo still allows you to quickly take notes and jot down phone numbers and other details on a virtual sticky note, but Samsung has now added handwriting recognition and a shortcut system. You can select the text, or just a specific part of it, and then open it in one of various apps on the phone or tablet, such as in the dialer, in the messaging app, an email, the browser, or Google Maps. Addresses are recognized and open up in your choice of mapping app. Unlike previous Samsung customizations, which demanded you be using their own apps, you can have set it to open in any app you choose, such as triggering new emails in Gmail.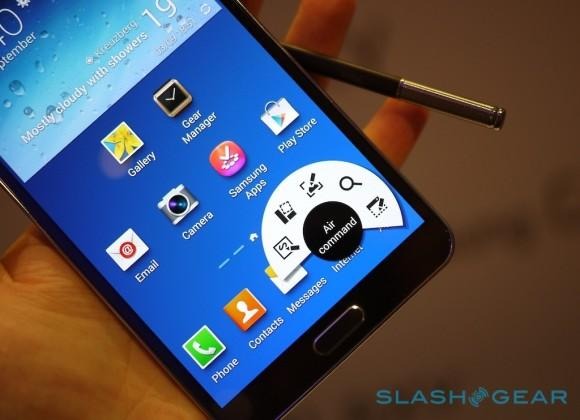 Samsung's new Scrapbooker app aims to take on Evernote (though that's still supported, and indeed has S Note sync) in making a place to collect all your web snippets and more. Triggered from the Air Command shortcut, it allows you to snip a selection of the screen, annotate, and tag it, and save it in a gallery of notes. If you snap a section of a webpage, Samsung also grabs that page's metadata, keeping a record of the original web address you were looking at.
Scrapbooker files can be shared, either in their native SCC format or as a more broadly compatible image and text bundle. You can upload SCC files to Evernote but they're not converted into actual Evernote notes, just saved as attachments. Map snippets don't get metadata capture, either, so you can't jump right back to the point of the map you were looking at. For more immediate note-taking, there's the ability to take a screenshot and write on it straight away, using the Screen Write tool.
Air Command is also how you get access to the new, supercharged S Finder search. That can now search through handwritten notes on the Note 3, as well as local apps and other data, and trigger a search on Google, Yahoo, or Bing. There are filters to narrow results by date, whether they're handwritten notes, or how they're tagged, and the tags use photo geotagging if you're searching by location: if you went to London and search for the city, all of the photos you took there will show up in the search results, even if you didn't manually tag them.
The last Air Command option is Pen Window, a new iteration on Samsung's multitasking system. Now, you can sketch a rough window on your phone or tablet, and fill that with another app, such as the calculator or YouTube. It then floats on top, and can be dragged around the display, maximized, or minimized to a small shortcut; these look much like Facebook Chat Heads. Split screen use is improved, with the ability to save commonly-opened pairings so that they automatically both open. It's now possible to drag and drop data between apps in Multi Window view, such as an URL from the browser into an IM conversation.
Of course, Samsung loves pumping in software into its devices, and so the Galaxy Note 3 also debuts My Magazine. Taking on HTC BlinkFeed, and built in partnership with Flipboard, Samsung My Magazine pulls in various news sources and social networking shares, and puts them into side-swiped categories. Tapping them opens up the article itself.
Group Play has also been improved, including turning up to five devices into a single, huge screen. Putting five Note 3 handsets alongside each other and turning on Group Play means a single video or other content can be spread across them; alternatively, it's now possible to share videos and other content on up to five devices simultaneously.
There's also a new windowed case, with a large opening on the front to access the touchscreen and see notifications and even run apps and browse through the calendar. Samsung will offer that in multiple colors, as well as various interchangeable back panels, and a number of non-window cases.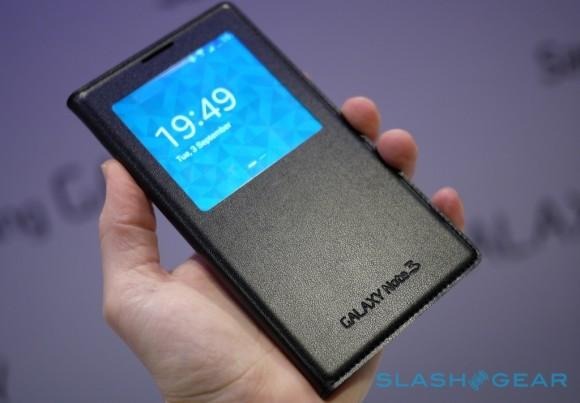 The original Galaxy Note had to persuade the market that it wanted a stylus again. The Note 2 refined that experience. The Galaxy Note 3 starts to turn the S Pen into more than just a paper notebook alternative, and it's the rich interlinking and shortcuts that will please heavy notetakers more than the other spec increases.
The Samsung Galaxy Note will arrive in more than 140 countries from September 25, alongside the Galaxy Gear smartwatch. In the US, the Note 3 is expected to launch later this year on Verizon, AT&T, T-Mobile, Sprint, and US Cellular. Pricing is yet to be confirmed.