Samsung Galaxy Note 10 hands-on: End of the line?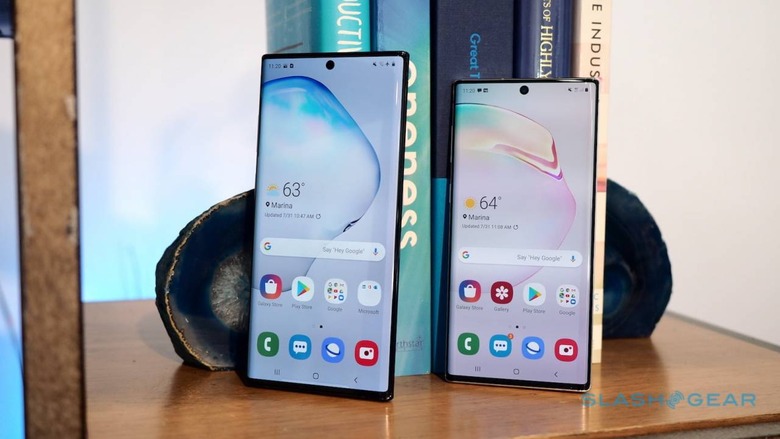 You wait a whole year for one new Galaxy Note, and then along come two at once. Samsung's big Unpacked 2019 event today revealed a pair of stylus-toting phablet flagships, the Galaxy Note 10 and Galaxy Note 10+, promising more S Pen functionality, better cameras, and the all the productivity that Note loyalists rely on. At the same time, though, the Note 10 does raise questions about the future of the phablet.
2019 gets two Galaxy Note 10 versions
There's not one, but two new Galaxy Note phones for 2019, offering a choice of sizes for S Pen fans. The Note 10 has a 6.3-inch screen, while the Note 10+ goes big with 6.8-inches. Both, for better or worse, follow the same design language.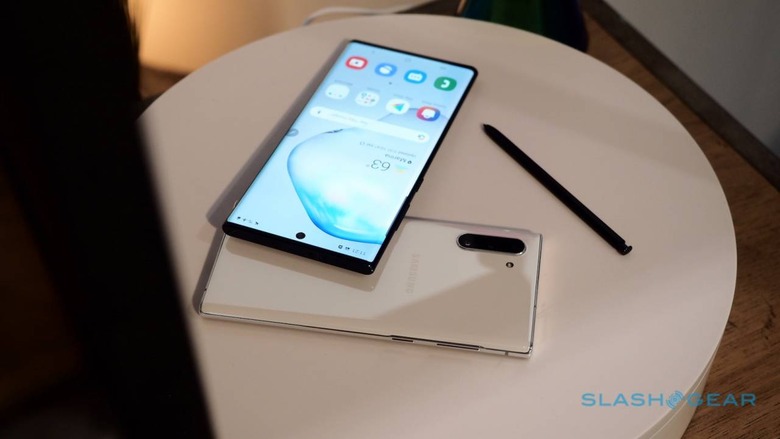 They're slim and easy to hold, though as with previous curved-edge phones there's a tendency for the S Pen's nib to slide as it reaches the sides. More frustrating is the absence of the 3.5mm headphone jack, Samsung continuing its trend of pushing users to USB-C or entirely wireless options for their audio. The Note 10's speakers, at least, are AKG tuned.
The headphone jack isn't the only omission that might frustrate long-time Note fans. The Note 10 doesn't have a microSD slot, for instance: only the larger Note 10+ can handle memory cards.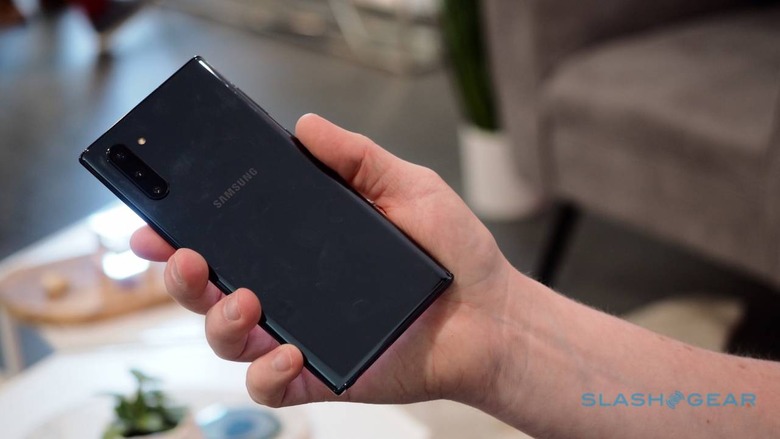 I'm on the fence about the new, in-display fingerprint sensor. On the one hand, I'm pleased that I'll no longer have to fumble around on the back of the phone to try to locate the scanner. On the flip-side, however, in-display scanner performance has generally been less impressive than case-mounted sensors in my experience. That's something I'll be curious to test out in day to day use when Note 10 review units arrive.
Galaxy Note 10 Display
More screen, smaller bezels, a more manageable phone. Samsung isn't exactly bucking industry trends with the design of the Note 10 but, given the outlier scale of the two new phones, any savings made in size can make a big difference to usability.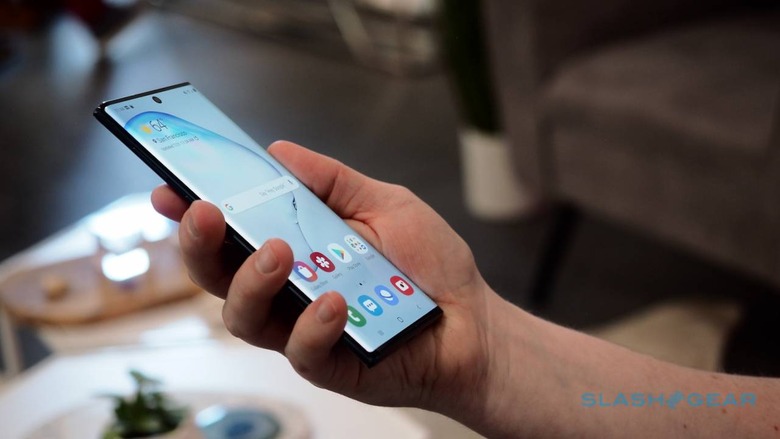 The Note 10 has a 6.3-inch Infinity-O Dynamic AMOLED display, running at 2280 x 1080 resolution, with HDR10+ certification. By trimming the top and bottom bezels, though, Samsung has managed to fit that into a phone with a footprint only slightly larger than that of the Galaxy S10, despite the bigger screen.
As for the Note 10+, that gets a 6.8-inch Infinity-O Dynamic AMOLED panel, with 3040 x 1440 resolution. It's also HDR10+ certified, and is the biggest panel on a Note-series phone so far. Thanks to the hole-punch screen, though, at 162.3 x 77.2 x 7.9 mm and 196 grams it's actually thinner and lighter than the old Note 9.
Both screens, as you'd expect from Samsung's invariably-excellent AMOLED, look great. Vivid colors, inky blacks, and broad viewing angles. I particularly like not only how bright they get, but how dim you can make them too: in low-light situations, being able to adjust the screen brightness right down can make for a far more comfortable experience with minimal glare.
Galaxy Note 10 S Pen
The updated S Pen still gets a silo of its own. Samsung has given it an ergonomic revamp, better balancing the weight along its length, and making it a little easier to hold. As before, it uses Wacom technology for digital inking, but also gets Bluetooth LE for use as a remote control.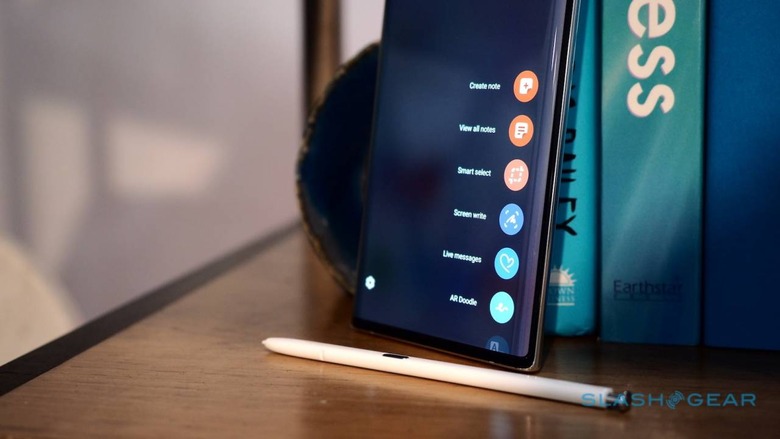 Like the new Galaxy Tab S6, the Note 10's S Pen supports Air Actions. On the old Note, you could press the stylus' side button to take a photo in the camera app: with Air Actions, new sensors in the S Pen track gestures as you wave it in the air like Harry Potter's wand.
In the camera, for instance, you can rotate the pen to zoom, or switch between modes and front/rear cameras by flicking the S Pen up and down, or left and right. Air Actions also work in the gallery app, when watching media, and elsewhere, and Samsung has an SDK it's hoping third-party developers will use to add support to their own apps.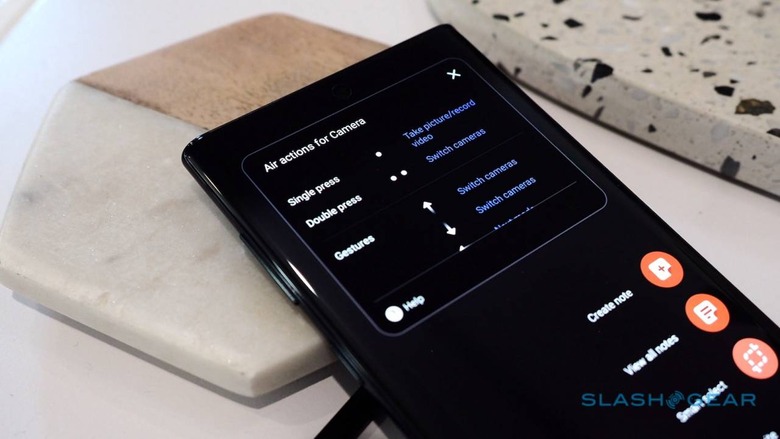 In practice, I found Air Actions took a little getting used to. My zoom gestures either wouldn't be recognized or would then happen far too rapidly, or they'd be mistaken for camera mode commands instead. I suspect it's something I'd get better at over time, but I can still see this being more frustrating than simply relying on the S Pen as a remote shutter release in the camera.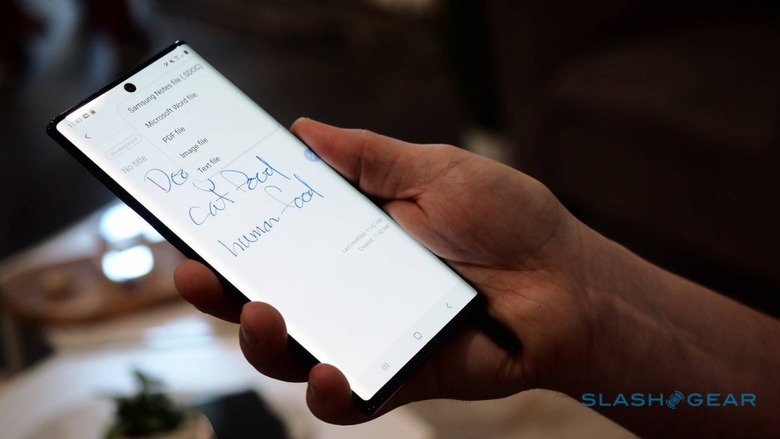 I'm much more excited about the new features added to Samsung Notes. As before, you can start jotting down notes from the lockscreen as soon as you pull out the S Pen, but the Note 10 adds the ability to convert handwriting to text. You can also export directly to Microsoft Word now, too. It should make collaborating with non-Note users a lot more straightforward.
Galaxy Note 10 Cameras
If you've used the Galaxy S10, then the cameras on the new Note won't come as much of a surprise. Both the Note 10 and Note 10+ get a 16-megapixel ultra-wide (f/2.2 and 123-degrees), a 12-megapixel wide-angle (f/1.5 and f/2.4, with OIS and a 77-degree lens), and a 12-megapixel telephoto (f/2.4, with OIS and a 45-degree lens), plus a 10-megapixel front-facing camera with an 80-degree lens and autofocus for selfies. The Note 10+ adds a fourth rear camera to the mix, a VGA-resolution DepthVision sensor.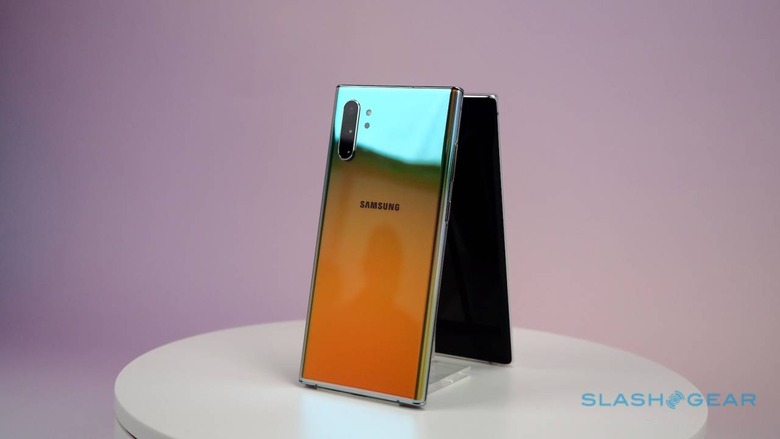 The S10 sharing doesn't end there. That phone donates its Super Steady digital stabilization, too, though the Note 10 promises higher refresh rates for smoother performance, and you can now switch it on in Hyperlapse mode as well. Live Focus filters for background blur now work in video, while Zoom-in Mic narrows the range of pick-up for the Note 10's microphones as you zoom into the scene.
Then there's AR Doodle. Tech companies are desperately trying to figure out how to encourage us to integrate augmented reality into our phone experiences, and Samsung's idea is to allow text and sketches to be drawn straight into videos. You can either use the Note 10's face recognition to pin AR additions to a person, tracking them around the scene even if they move in and out of the frame, or you can pin an AR object in 3D space and allow people to move around it. It's clever, but I question how many people will actually use it beyond the honeymoon period of having a new smartphone.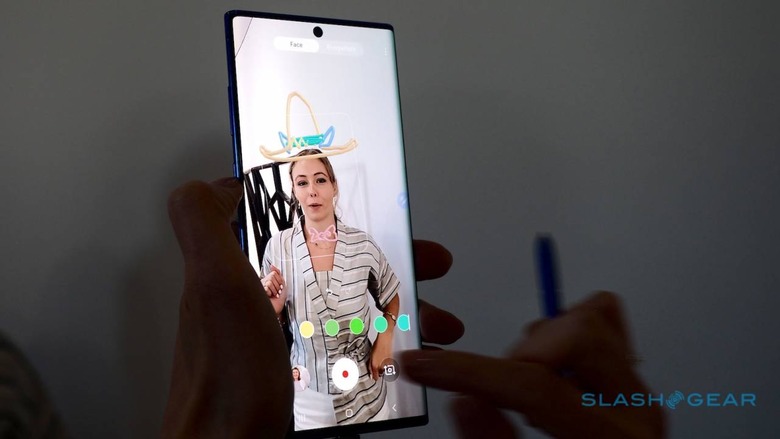 Far more useful is the Note 10's new video editor. Capturing 4K video is all well and good, but now you'll be able to use the S Pen to make edits to it on-device too. It supports transitions, background music, effects, trimming and combining clips, and even adding handwritten text, and you can export directly to social. If you need more, there's a version of Adobe Rush optimized for Galaxy, with HDR10+ and DeX support.
Samsung DeX on the Note 10
For years now, Samsung has been trying to coax Note owners into leaving their laptops at home and relying on their phablet instead. For the Note 10 and Note 10+, the pitch is a little different. Rather than how well each phone could work as a PC replacement, they're designed to co-exist better with Windows or macOS.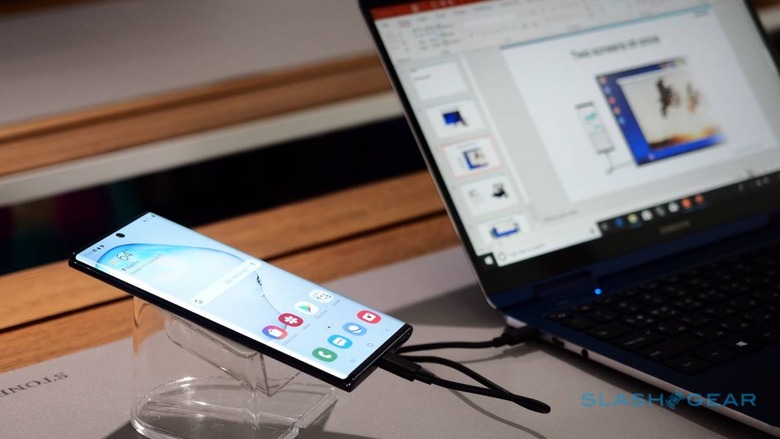 Samsung DeX for PC allows you to plug the Note 10 in via USB-C and then use Android apps side-by-side with your Windows (7/10) or macOS software. That includes dragging & dropping content between the two, and copying & pasting text. You don't need a special dock to do it, and the phone's data isn't synchronized to the computer, so it should be safer than logging into your own accounts on, say, the PC in a hotel's business center or in a cyber cafe.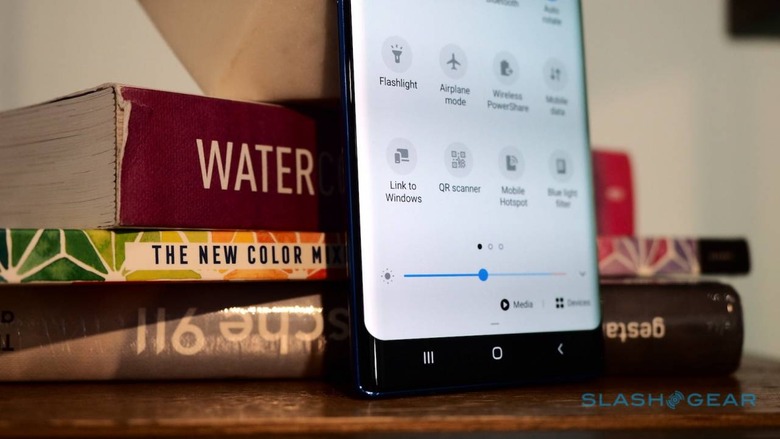 For more everyday use, there's Link to Windows. That works wirelessly with a nearby Windows 10 PC, rather than over a cable, which then shows any notifications from the phone. It also allows messages to be sent and received via the PC, and recent photos viewed.
Galaxy Note 10 Performance and Battery
Samsung is quoting its usual, vague "7nm 64-bit Octa-core processor" for the new Note, with exact chipsets varying by market. In the US, expect the Qualcomm Snapdragon 855 – though not the Snapdragon 855+ with its slightly faster clock speeds – with Samsung suggesting you'll see up to 33-percent more CPU performance and up to 42-percent more from the GPU versus the old Note 9.
It's paired with a jaw-dropping amount of memory, depending on which configuration you choose. The Note 10 has 8GB of RAM and 256GB of storage, while the Note 10+ has 12GB of RAM and either 256GB or 512GB of storage. Yes, those numbers are bigger than you'd get with many laptops. It should be more than sufficient to keep Android 9 Pie and Samsung's One UI running smoothly.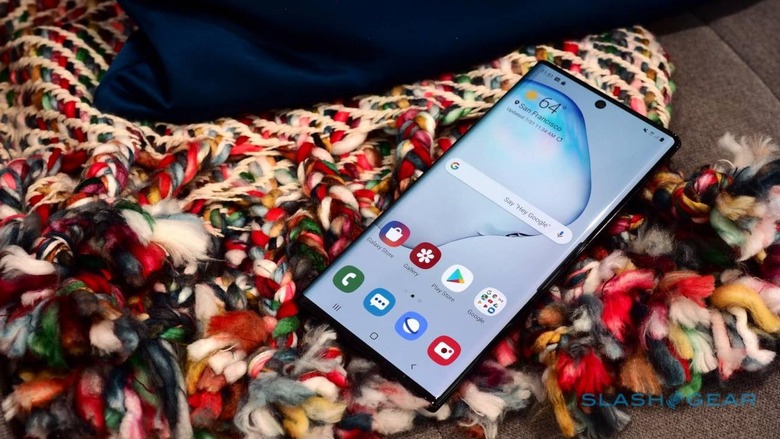 On the wireless side, there's LTE Cat.20 for up to 2.0 Gbps downloads and up to 150 Mbps uploads – network depending, of course – while the Note 10+ 5G will add 5G support too. WiFi 6 and Bluetooth 5.0 are included, along with NFC for Samsung Pay and other uses. Those faster data rates could come in handy using Samsung Play Galaxy Link, which installs on your PC and then streams games from there to your phone. You'll be able to use it over WiFi or cellular networks, and optionally with an external gamepad.
As for the battery, the Note 10 gets a 3,500 mAh pack while the Note 10+ bumps that up to 4,300 mAh. Both support Super Fast Charging, which means that on the included 25W charger it takes roughly an hour to fully power up the phone. With an optional 45W charger, meanwhile, a Note 10+ can last "through the day" after just 30 minutes plugged in, though that will of course depend on what you're using it for.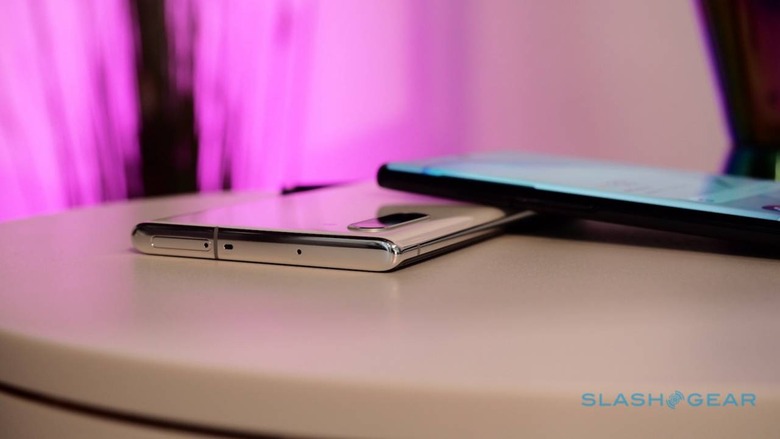 Wireless charging has been made faster, too, with the Note 10 supporting 12W chargers and the Note 10+ handling 15W. The Note 9, in contrast, topped out at 7.5W. The Galaxy S10 donates its Wireless PowerShare feature as well, allowing you to turn the Note 10 into an ad-hoc Qi charging pad for other devices.
Galaxy Note 10 Pricing and Release
The Galaxy Note series has always commanded a price premium, and the Note 10 and Note 10+ are no different. Still, with other phones now comfortably in the $1k category, 2019's Note prices actually don't seem so outlandish in comparison. Samsung will have four color options in the US – Aura Glow, Aura White, Aura Black, and Aura Blue – though the last will only be available on the Note 10+ and at Best Buy.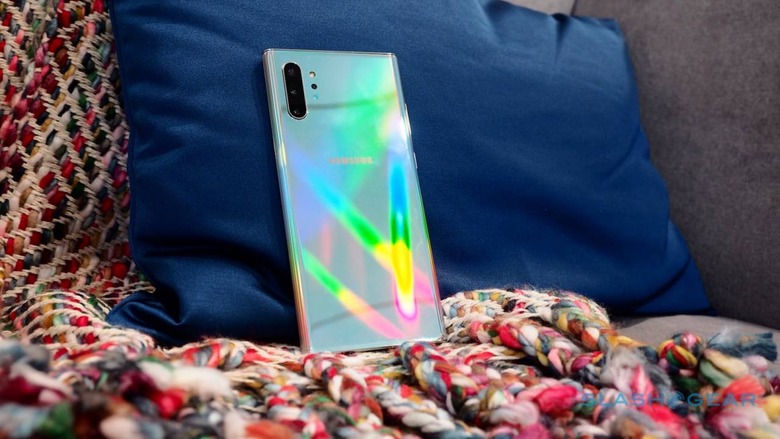 The Galaxy Note 10 will start at $949.99, while the Note 10+ will be $1,099.99 for the 256GB version and $1,199.99 for the 512GB. Pre-orders will begin on August 8 at 12:01am ET, with phones arriving in stores – and shipping to preorder customers – by August 23.
The Note 10+ 5G will be a Verizon exclusive from the same date, at least for a limited period. Other carriers will get it after that exclusivity. It's priced at $1,299.99 for the 256GB model and $1,399.99 for the 512GB version.
As in previous years, there'll be some enticements to encourage preorders. Note 10 preorders will get a $100 gift certificate to Samsung's online store, while Note 10+ preorders get a $150 certificate. Individual carriers may well try to sweeten the deal themselves with other promotions.
Does the future of phablets fold?
As I tried out the Note 10 – and the Note 10+ in particular – I couldn't help but think about the Galaxy Fold. Samsung's foldable smartphone certainly didn't get off to a good start, with a last-minute aborted launch prompting a redesign. Still, when it gets its second chance at a sales later this year, it'll be Samsung's undisputed flagship phone: a throne the Note once could've counted upon occupying.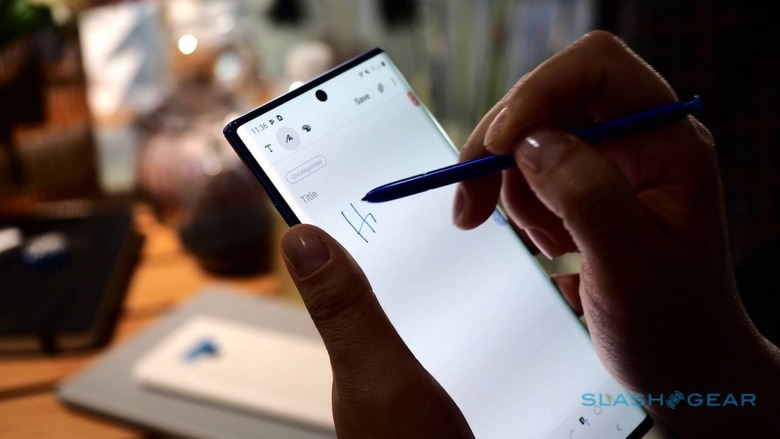 What I'm curious about is just how much bigger the Note's screen can get, before Samsung feels it needs to change the form-factor. Big phones are big business, that's clear, but there's a limit to just how large a device people will accept, and I suspect the 6.8-inches of the Note 10+ is nudging up against it. At that point, Samsung has to decide whether it still wants to grow, or whether new form factors feature on the Note roadmap moving forward.
I don't think the Note 10 is necessarily the last of its non-folding lineage, but I wouldn't be surprised if Samsung is at least partly planning for that to be the case. Certainly, foldable OLED technology would need to improve – and get cheaper – for it to be practical for the Note's audience. That being said, the idea of a phone that folds out into a small tablet, with an S Pen for digital note-taking, is something I suspect I'm not alone in finding appealing.
Galaxy Note 10 Verdict
Evolution rather than revolution has been Samsung's strategy with the Note for the past few generations, and the Galaxy Note 10 and Note 10+ are no different. Better screens, more performance, more flexible software, and enhancements to the S Pen give the phablet the polish it needs to stay on top of its game. Note loyalists considering an upgrade from, say, a Note 8 will find plenty to like here, even if the absence of a headphone jack may chafe.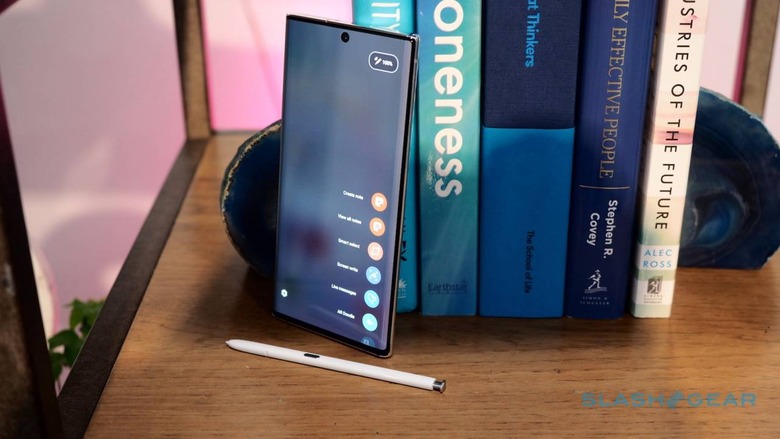 All the same, I doubt I'm alone in wondering where the Note goes next. Once upon a time you opted for a Galaxy Note because you refused to compromise on hardware or software, and you were willing to pay for that – in dollars and in the sheer scale of the phone – accordingly. The differences between the Galaxy S10, the Note 10, and the Note 10+ are so minor, however, that delta has become tiny.
In some ways that's because phones like the Galaxy S10 have caught up, with bigger displays, more performance, and flagship cameras. At the same time, though, the Note series has become more consumer-minded: we lost the removable battery several generations ago, now it's the turn of the headphone jack to go the same way, and the microSD slot is only on one of the two Note 10 versions. Maybe foldable displays represent the Note's next revolution.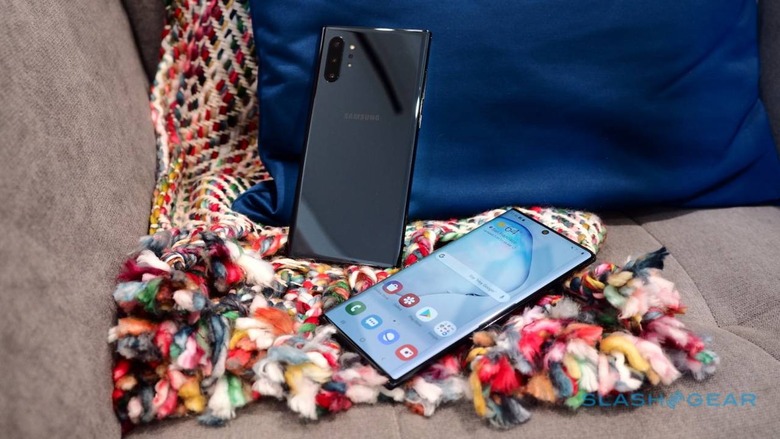 Today, though, the question is more straightforward. If you want the S Pen – and I know many do – then the Note 10 and Note 10+ are the phones to get. Samsung's stylus is better and more flexible, and the Note 10 duo more rounded as your everyday digital companion. We'll be putting them through their paces soon, so check back for the full Note 10 SlashGear review!