Samsung Galaxy Note 10.1 2014 Edition Review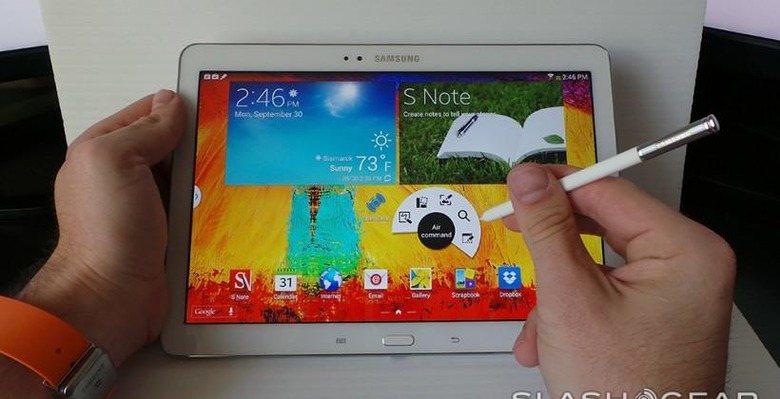 With the 2nd edition of the Samsung Galaxy Note 10.1, it's almost as if the company doesn't want to admit that they've got what's easily one of the finest Android tablets on the market. Buried in the announcements of the Samsung Galaxy Note 3 and Galaxy Gear, the Galaxy Note 10.1 2014 Edition barely made a blip in the tech news rounds over the past few weeks since its initial reveal. But fear not – it's not for lack of quality that Samsung doesn't push out the massive backing for this device: herein lies one of the most high-end Android tablets yet to hit the market since the dawn of said devices.
Hardware
The display on the Samsung Galaxy Note 10.1 2014 Ediion is second to none. You're working with a 2560 x 1600 pixel 10.1-inch Super Clear LCD panel here – that's 299 pixels per inch, if you're counting. This device delivers a slightly whiter image than you'll find on the Galaxy Note 3, that device working with a Super AMOLED display up front – while both machines look perfectly high-quality on their own.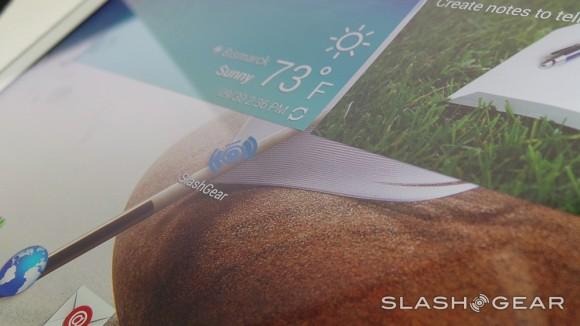 Around the edges of this tablet you've got tiny ridges for a tactile feeling never before presented by the likes of Samsung. Just as this feature seems to begin moving away from the smooth-everywhere trend presented by the company in mobile devices over the past several years, so too does the back cover begin to toss out convention for the brand. This textured back panel works with the same faux-stitching as presented in the Galaxy Note 3, allowing the tablet to fall in line with this generation's aim for a high-quality feel.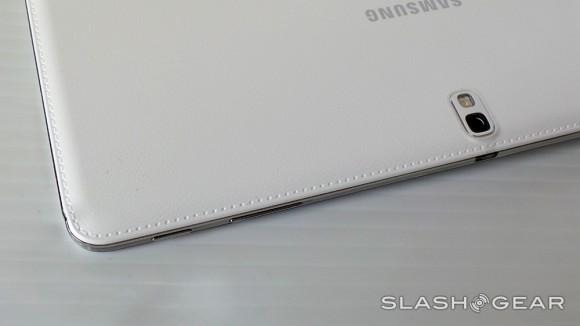 While this tablet does remain mostly plastic on its back and around its edges, the full reinforced-glass front panel, metal innards, and not-too-heavy yet not-too-light build of this tablet make for an all-encompassing presentation of top-tier manufacturing.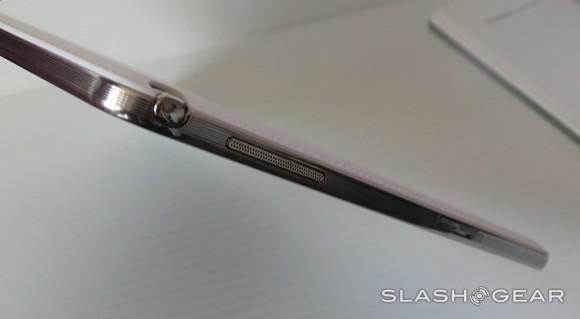 Meanwhile the front and back-facing cameras on this tablet leave something to be desired. Just as most hardware manufacturers skip putting high-powered shooters on their laptops and desktop machines, so too does Samsung seem to present the bare minimum here with their 8 megapixel camera around the back and 2 megapixel camera up front. Strangely enough you are able to shoot 1080p video, but the results are right around the same quality as we saw on – for example – the Samsung Galaxy S II's camera setup – impressive though it was back at launch.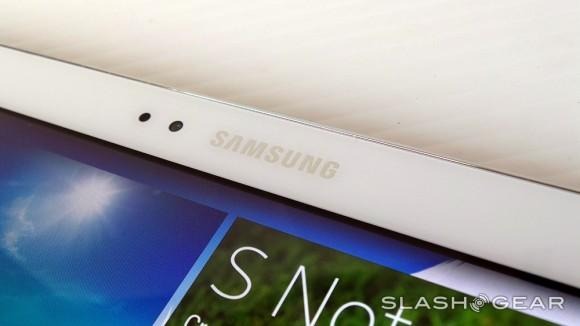 Below you'll see a (very small) set of photos taken with the Samsung Galaxy Note 10.2 2014 Edition – if you'd like to see any more specific lighting conditions or use-case scenarios, please let us know. We'll have at it! Meanwhile you'll want to compare the quality here to that of the Samsung Galaxy Gear in our full Galaxy Gear Review – you may be surprised at the results.
Supposing you're not using your tablet for high-end photography, on the other hand, you'll be glad you've got at least the quality Samsung affords you here. Included also are a collection of camera controls and special modes not normally provided a tablet in any way – the competition is brought, here, in the software.
The newest generation in S Pen technology takes fullest advantage of Samsung's investment in the Galaxy Note series, and here it's back to shine brightest. This S Pen works with a collection of features you'll see in the hands-on video below, but also finds itself refined in the simplest – yet wildly important for heavy users – feature change of all. Here you're able to slot the S Pen in forwards or backwards – this is a first for the tablet line.
Software
The software running here on the Galaxy Note 10.1 2014 Edition is extremely similar to that of the Samsung Galaxy Note 3. While the Galaxy Note II and the original Galaxy Note 10.1 were released at entirely different times, here Samsung chooses to issue a single generation of Galaxy Note greatness in two faces of the same beast.
In this tablet you've got an at-home embodiment of Samsung's vision for a multi-tasking panel with S Pen accompaniment. While the Galaxy Note 3 is meant for your pocket, the 10.1 Note is meant for your backpack or your desk – or your couch, as it were. Here you'll find a variety of apps made in some cases to allow you to express yourself artistically and in other cases to be productive with new ideas you've sketched out on the fly.
If the first Galaxy Note 10.1 was the embodiment of the Galaxy Note II in full-sized tablet form, the Galaxy Note 10.1 2014 Edition is no just the same thing for the Note 3 – it's also a solidification of the form. As the Galaxy Note 3 truly begins to take on a shape all its own in this generation up against the Galaxy S 4, so too does the Galaxy Note 10.1 2014 Edition begin to forge ahead with its own set of features made better for the size of the device.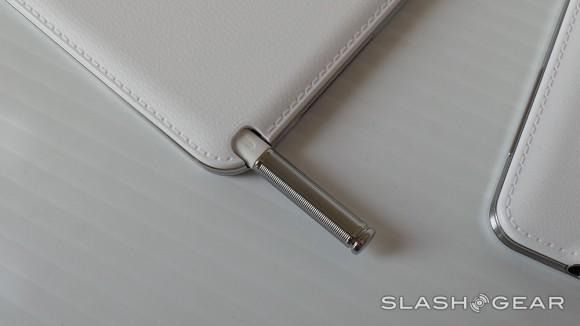 Be sure to have a peek at our Samsung Galaxy Note 3 Review to see how strikingly similar this software experience is to the Galaxy Note 10.1 2014 Edition – and see for yourself how a larger panel means more than just a more versatile playing field for your S Pen. This tablet is more than just a playground, it's a tool as well.
Performance and Battery Life
With the Samsung Exynos Octa processor clocked in at 1.9GHz per core under the hood of this machine, you'll find one of the most powerful tablets of this size out in the wild today. While this device is aimed squarely at entertainment and the high-powered S Pen actions described earlier in this article, the Exynos processor here still kicks out the power in standardized benchmark tests.
Here you'll find the Samsung Galaxy Note 10.1 2014 Edition far out-gunning its predecessor, and in many cases out-gunning much of today's tablet competition – where the display is the same size, of course. Eventually we'll see this tablet running with the Qualcomm Snapdragon 800 quad-core processor like we're seeing on the USA-based Samsung Galaxy Note 3. Then we'll have a real battle: Galaxy Note 10.1 vs Galaxy Note 10.1, motors ablaze.
You'll also find that this machine works with an 8220 mAh battery, this carrying so much juice you'll have trouble using it all up. At the moment we've not had enough time to drain this battery – it's been going for days, and we're expecting it to last longer than that, too. What you'll find is Samsung's finesse coming from creating the processor and the hardware it's running, keeping with the theme of high-end tablets of this size by keeping long-lasting battery life with low-power processing and ultra-low drain when not much digital action is needed.
Wrap-up
The Samsung Galaxy Note 10.2 2014 Edition takes the concept of the Galaxy Note series and gives it just as fine a quality as the newest Galaxy Note handset in a full-sized tablet edition. It's as simple as that. With a display that's bright enough, color accurate enough, and sharp enough to keep up with and out-do the competition here in 2013, this machine does more than just make us excited about what's waiting in 2014's crop of slates.
Samsung sets the benchmark for fine quality and unique abilities with the Galaxy Note 10.1 2014 Edition, and with the Exynos 5 Octa processor under the hood, it'll be ready to roll with the most powerful apps for many moons, as well.