Samsung Galaxy Gear Review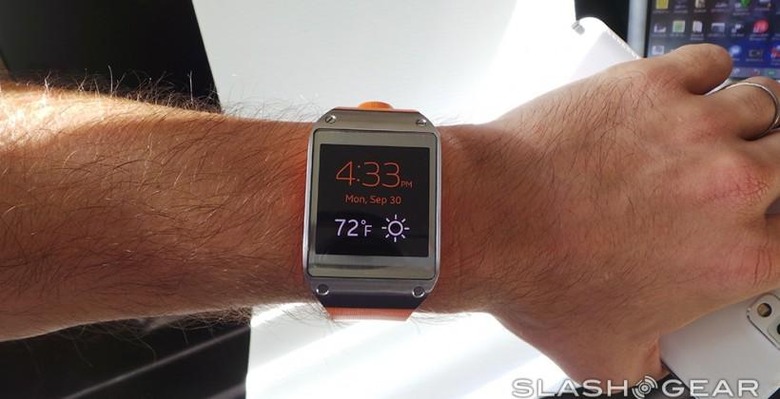 In the Samsung Galaxy Gear, the company has created a device custom-fitted for the Galaxy Note 3. While it may seem that this device is the first in a long line of smartwatches made for the greater world of Android, it would appear here that Samsung started small and marketed big. This device is not the do-all smartwatch you may be dreaming of – instead, it may just be the Samsung-specific smartwatch you'll find you need. Once you buy it and slap it on your wrist, that is – and that's the real trick, isn't it?
Hardware
The Samsung Galaxy Gear uses a display that's bright and sharp enough to make use of indoors and out, just large enough (barely) to use two fingers to pinch-to-zoom in on a photo, and carrying with it a bulk that not just everyone will want to sport. We've got the orange version of the device so the straightforward aesthetics of this watch are rather pronounced, needless to say. The display up front is the same no matter which color band you opt for, coming in with 320 x 320 pixels across its 1.63-inch panel – with Super AMOLED technology to back it up.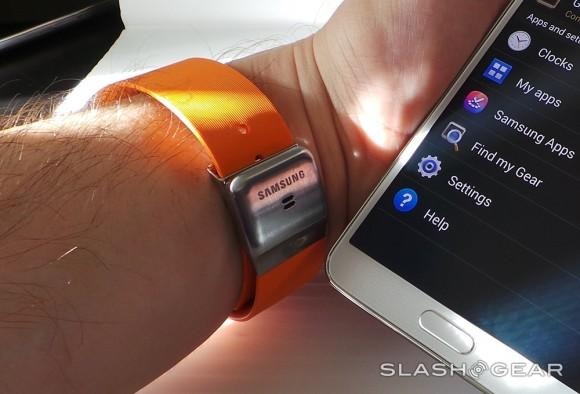 On the other end of the equation, you'll find the device entirely comfortable to wear. We've had it on the wrists of testers here both watch-wearers and non-watch-wearers alike, and the common consensus is that Samsung has done their homework in the comfort zone. While it would be preferable to have the option to size the strap to any unique position, the standard set of strap holes does the job fine. The band itself is made of a rather rubbery soft plastic, more than ready to lay on your wrist for extended periods of time.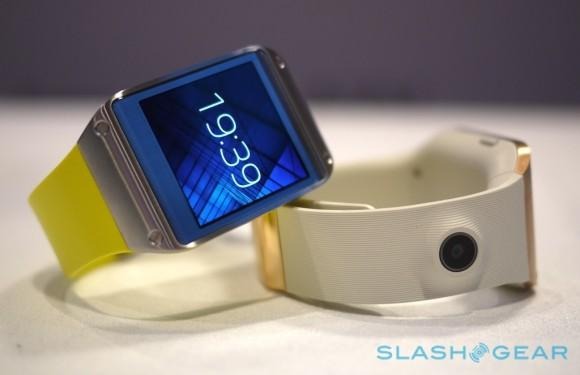 You'll notice that there's a camera up front of your wrist. This camera – you'll find – isn't necessarily made to be your portal to an award-winning photography career. Instead it's set with minimal size and quality just large enough to capture the likes of receipts, quick-shot events, and "I'd better remember this" shots of your car in the parking lot at your local department store. You'll be able to take both photos and 15-second videos with this camera, with or without sound included.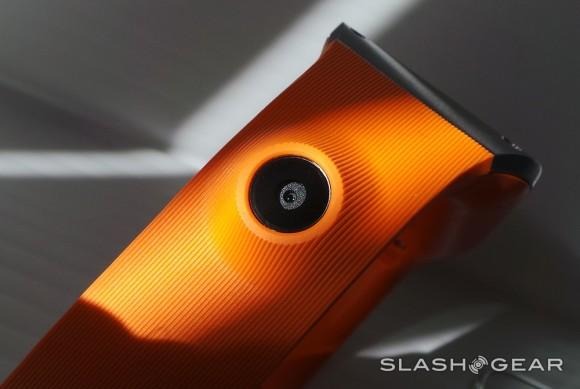 You've got two microphones embedded in this device, as well as a speaker, meaning you can use it to make and take phone calls if you've got it synced with your Samsung Galaxy smartphone device. This iteration of the Samsung smartwatch does not do a whole lot more than take photos and tell the time when it's not synced with your smartphone for data. When it IS synced up with – as we're using for this review – the Samsung Galaxy Note 3, the real magic starts to happen.
Because you're connected to the Samsung Galaxy Note 3 with Bluetooth 4.0, working with Bluetooth LE, aka Bluetooth Low Energy, you'll not see any sort of significant draw on either device for power based solely on their connection to one another. Once the two devices are synced up with one another, they'll both have a feature called "Find my Device".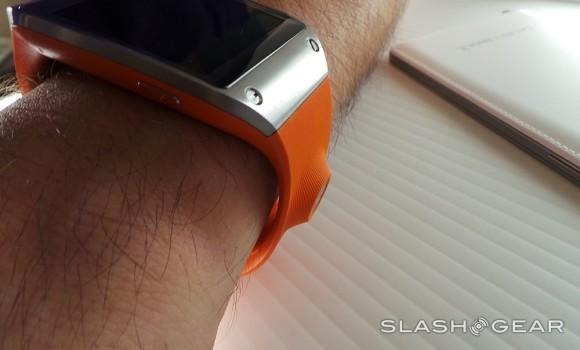 If you activate Find my Device on one smart device, the other will be called. Once the other is called, it will begin to sound an alarm so you can locate it. Rather simple and helpful. The only drawback to this feature is the need to be connected with Bluetooth – in other words, if you're more than 50 meters away from the device you've lost, you're out of luck.
Another rather neat feature that we've found working almost without fail is Smart Relay. What happens here is that if you're reading a notification on your Galaxy Gear and you'd like to move to your Galaxy Note 3, you've only to pick your Galaxy Note up, and that notification will be expanded instantly. Of course you'll need to have Smart Relay on for this to work- but it's one of those features you use and never want to stop using ever again.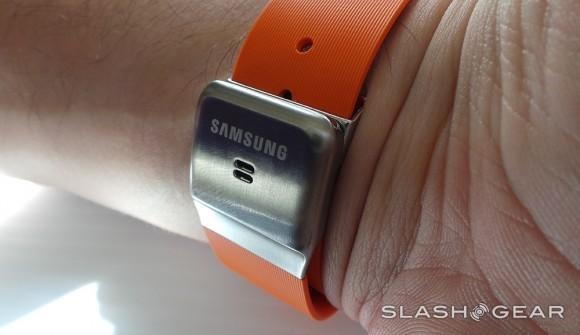 Answering phone calls from your wrist is similarly enticing. If you're all about using a Bluetooth headset, you'll be drawn to this feature. If you're all about speaking on speakerphone for all of your calls, you'll love this feature. To be clear, you DO have the option of still taking your phone calls from the Galaxy Note 3 instead of your wrist. This is an opt-in sort of situation.
Software
The Samsung Galaxy Gear is a growing platform. At the moment it certainly has the basics – plus a camera. You can answer calls from your wrist if you're synced up with your Galaxy Note 3, you can use the built-in pedometer to feed your steps to your Galaxy Note 3, and you can use S Voice from your wrist. Each of these features work extremely slick.
Samsung seems to have taken their time here – at least with the software experience. Though there are points at which we wish the quality would have been given a bump – the end-result quality of the camera, for example – working with the simple-yet-effective pedometer goes to show that the company did want to deliver a full experience with this wearable device.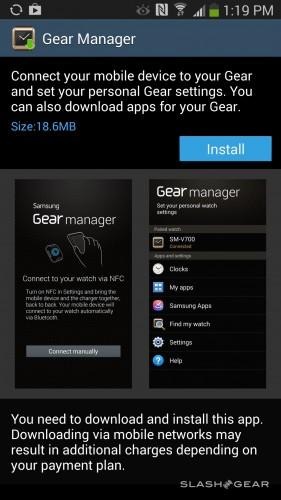 One feature you'll find extremely helpful in your daily hard-working life is Voice Memo. From here you'll be able to record a simple message for yourself and instantly – automatically, that is – have it transferred to your Galaxy Note 3. Though this feature is excellent for what it is, we're finding ourselves wishing it was connected to Google Now for easier working in the greater Google ecosystem. At the moment we'll settle for Samsung's top-notch noise cancellation system which results in some next-level recordings, even in heavy traffic.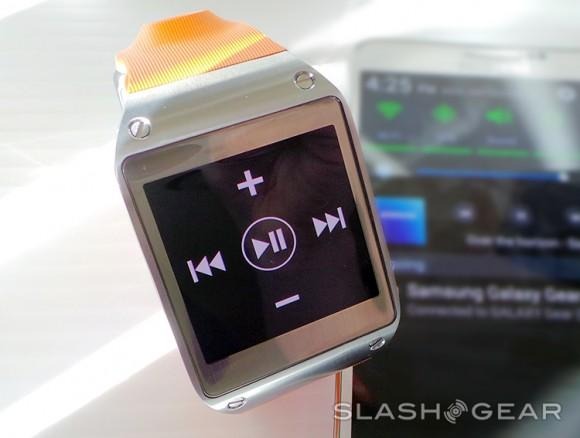 You can control media from this device as it rests on the Galaxy Note 3 – music, to start with. This means getting volume controls and next/previous track buttons as well, and the whole system works really smoothly. Now we'd also like to be able to test it out with videos run through the Galaxy Note 3's MHL-capable port, but we'll have to wait to see it in action in the future when it's all up and running. The same goes for YouTube videos and Google Play content – we'll have to revisit this collection in the very near future.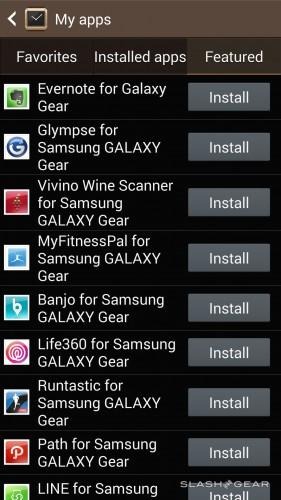 The same goes for the first wave of 3rd party apps. While a small collection of optimized apps do exist already – as accessible through Samsung's app store – this review stands as judgement of the functionality included with the apps and services included on the device right out of the box. This device will – in a big way – stand or fall based on the apps that are developed and optimized for it. We'll see soon enough how well Samsung has done in reaching developers for that purpose.
Camera
The eye you see at the front of the wrist of a wearer of the Galaxy Gear is a 1.9MP camera with no flash bulb and a with BSI sensor to boot. This camera – again – is not meant to be used to command the attention of the smartphone and smart mobile camera universe – it's not meant to do much more than take tiny photos and videos, as it were.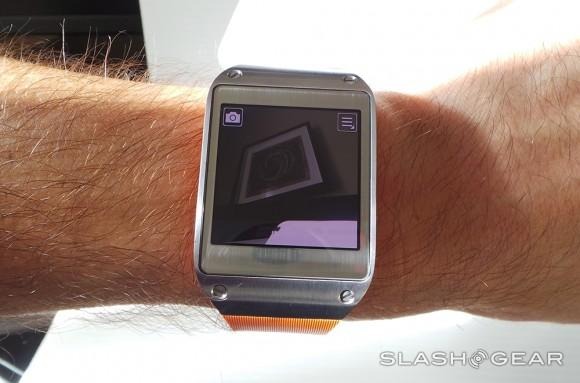 You can take tiny square photos or tiny 4:3 width:height photos if you like, or you can take 15 second videos at 720p resolution. You'll see examples of both here, with a variety of lighting situations to show the machine's basic abilities. The fact that the camera takes such relatively small photos should be a turn-off for the device as a whole, yet the placement of the camera seems (once you've worn it a day or two) to be enticing enough to keep using on its own.
This is one of those types of devices where you're really going to have to actually try the camera out before you judge it – especially given the relative lack of competition it's got out in the field today. Have a peek at the video and photo examples here, but don't judge them against the likes of your Samsung Galaxy S4 or your Galaxy Note 3 – instead, wait for a device like the Omate TrueSmart smartwatch to do battle with a camera from the wrist – there you'll find the first true competition in this specific arena.
Usability
There's a lot we're still waiting for the Samsung Galaxy Gear to do. One of these things is present an extremely compelling reason to choose it over another smartwatch if we're using a smartphone other than one manufactured by Samsung. At the moment, Samsung has promised that they'll extend compatibility with some Android smartphones with Bluetooth 4.0 in the future – there's no solid date or list of phones at the moment.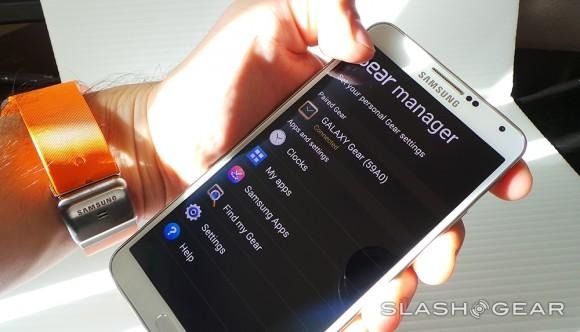 Samsung has only gone so far as to say that the Galaxy S4 will be getting Gear compatibility by next month, while the Galaxy Note II and the Galaxy S III will see compatibility by the end of December. This word comes from Lee Don-joo, President of Samsung's strategic marketing for mobile business, spoken in the same event that produced the suggestion that a curved Samsung display on a smartphone would be appearing next month. So we'll see how that all turns out.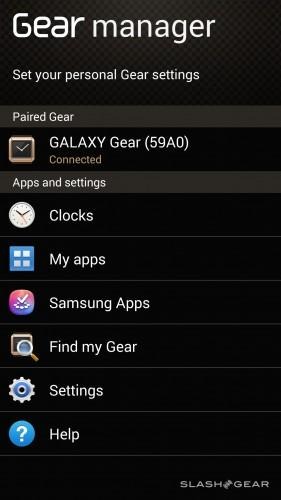 With the Samsung Galaxy Note 3, the Galaxy Gear is an impressive and highly functional piece of equipment – if you're excited about using it from the get-go. If you're not actively looking for a smartwatch to pair with your Galaxy Note 3, there's (unfortunately) little you can do with this device. Again, the market is ready to take on future Samsung smartwatches, and as soon as this Galaxy Gear opens its doors to more devices than just the one, the possibilities will expand just as quick.
Wrap-up
As it stands, the Samsung Galaxy Gear is an interesting device – a rather unique device at that, and a high-quality addition to the Galaxy collection of Samsung smartphones, cameras, and future line of wearable devices. Samsung proves here in the Galaxy Gear that they'll be ready to roll when the time comes for them to create a stand-alone smartwatch: hardware, software, and a developer backing that reflects the already surprisingly diverse support this first iteration has seen.
At the moment, with a market limited to those looking to purchase the Galaxy Note 3, the Galaxy Gear is more of an exercise in paving the way for future devices. Samsung has already done a fine job with the software and the hardware this device comes packed with – now the way is made more than ready for a beastly follow-up.
You'll find the Samsung Galaxy Gear ringing in at around $300 off-contract through several retail sources and mobile carriers starting this month. While that may seem strange given the price of the Galaxy Note 3 at $300 itself, remember that this price (on the Note) is attached to a 2-year contract. In reality, the full price of the Galaxy Note 3 is more than twice that amount. Alone, the Galaxy Gear for $300 is a rather interesting – if not downright fair – price for such a machine in today's smart device market.