If you were thinking that the Galaxy Camera NX was going to kick out the original Samsung Galaxy Camera at the London event later this month, you might have to think again. What we're seeing here is a leaked photo and a bit of info suggesting that the Samsung Galaxy Camera will not be replaced by this model, but will instead be split in one direction – up towards this larger model – and in another – down toward the Samsung Galaxy S4 Zoom.
With the information being shared by Niels Zomer of TechTastic, it's suggested that the device code-named EK-GN120 is also known as GN100/120. Previous tips suggested that this machine would be known as GC100/120, the GC standing for Galaxy Camera – instead this machine looks to be headed to Samsung's NX line.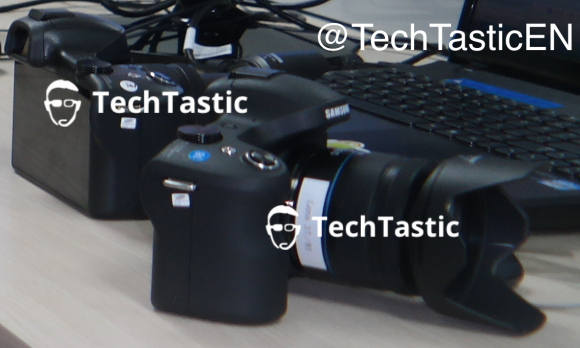 UPDATE: Several more images have leaked of the device in all it's glory, these photos appearing to come straight from Samsung.
UPDATE 2: Zomer's updated the original with a note on Samsung updating their site with a bit of the ol' UAprof which confirms the resolution of the display to be 960 x 540.
That's not to say that it wont be running Android. On the contrary – Samsung's push of their NX line with Android inside has been suggested since the introduction of the Galaxy Camera last year.
This morning's announcement from Samsung Electronics CEO JK Shin makes clear that there will indeed be a "mirrorless camera that runs on Google's Android software" appearing at the June 20th event. It would also appear that this device (pictured above) is it.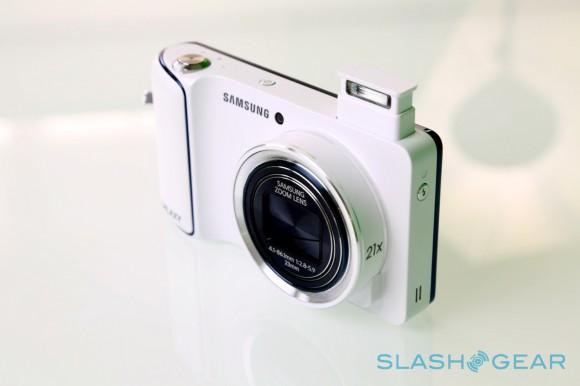 While the Samsung Galaxy Camera has been a well reviewed device and even popped up in SlashGear's most used collection of tools earlier this year, Samsung's assertion here may be that they're ready to take things up a notch.
While we continue to wait for details we'll certainly prepping the shooter to capture its next generation in a week from today, London style.