Samsung Galaxy Camera Review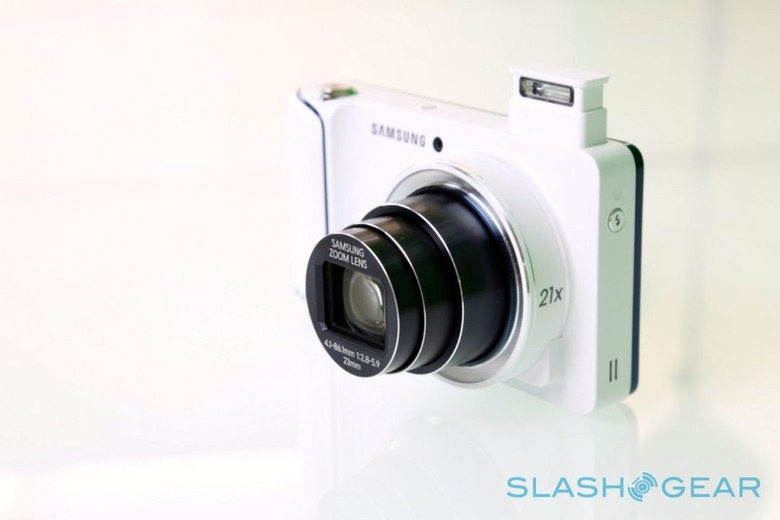 Times are tough for point-and-shoot cameras. The rise of the smartphone and its ever-increasing megapixel count, as well as a demand for instant sharing, has seen dedicated camera sales droop. Yet, as any photography aficionado will tell you, there's more to snapping shots than mere megapixels. Enter Samsung and the Galaxy Camera, promising the best of its mobile and photography teams in a single gadget. Is there room in the marketplace for a new hybrid: the heart of a true camera with the added sprinkle of some smartphone magic? Read on for our full review.
Hardware
You won't mistake the Galaxy Camera for anything other than a camera: while phones like Nokia's Lumia 920 are making a play for being taken seriously as photography tools, the Samsung shooter approaches the space from the other direction, adding mobile smarts to a camera housing. In fact, it's based roughly on Samsung's existing WB850F Smart Camera, though the interface and controls are very different by virtue of the Android OS.
The 21x optical zoom dictates most of the bulk, and while the body of the camera is – aside from the bulge of the grip – reasonably slim at 19mm, the non-removable lens means the Samsung is hardly pocket-friendly. It's also quite slippery, and while there's some texturing to the grip, the large expanse of glass touchscreen and the otherwise smooth plastic body don't exactly make grabbing the Galaxy Camera an entirely reassuring experience.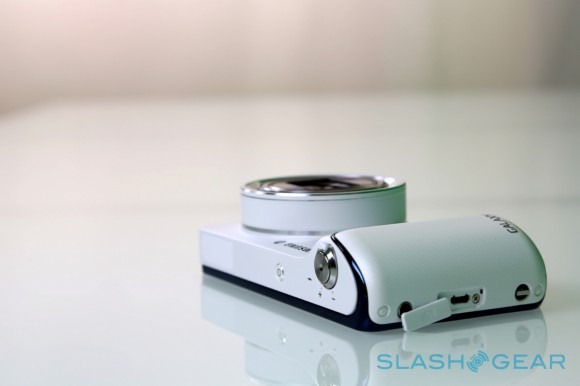 It does feel sturdy, though, with decent plastics thankfully taking after Samsung's camera line, not the more glossy, cheaper-feeling materials of the Galaxy smartphone range. Physical controls fall under the fingers, though they're sparse beyond the point of minimalism: a recessed power button on the top, a trigger for the pop-up Xenon flash on the side, and the shutter release button surrounded by a zoom-control ring. Everything else is controlled via the touchscreen (or your voice, more on which in a moment).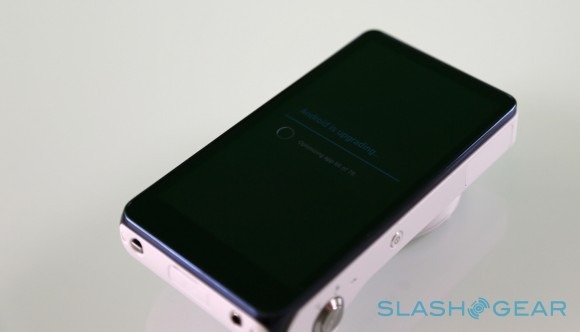 And what a touchscreen it is. Nearly the entire rear of the camera is covered by a 4.8-inch 1280 x 720 display, the same size and resolution as on Samsung's best-selling Galaxy S III phone. It's not the same display technology, however; the Galaxy Camera uses an HD Super Clear LCD TFT panel, rather than the AMOLED-based panel of its cellular cousin. It's incredibly bright and super-detailed, and usable even in direct sunlight just as you'd hope for a camera. Touch responsiveness is brisk, and there's plenty of room for a sizable onscreen keyboard, even when in portrait orientation (as some Android apps demand).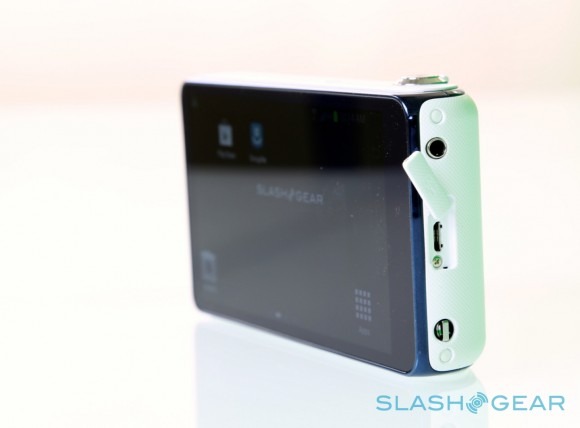 Inside, components fall either under the "camera" or the "phone" heading. For the former, there's a 16.3-megapixel 1/2.3-inch backside-illuminated CMOS sensor, with optical image stabilization, ISO 100-3200, and a 21x optical zoom. It's capable of Full HD 1080p video recording.
For the latter, there's a quadcore 1.4GHz Exynos 4412 processor, 1GB of RAM, and 3.87GB of onboard storage, in addition to a microSD card slot (compatible with up to 64GB SDXC cards); that internal memory can be a life saver, as we discovered on one outing with the Galaxy Camera when we realized we'd forgotten all of our memory cards. Connectivity includes 4G on the AT&T Galaxy Camera offered in the US and Europe gets quadband HSPA+ as well; both include WiFi a/b/g/n (2.4/5GHz) and Bluetooth.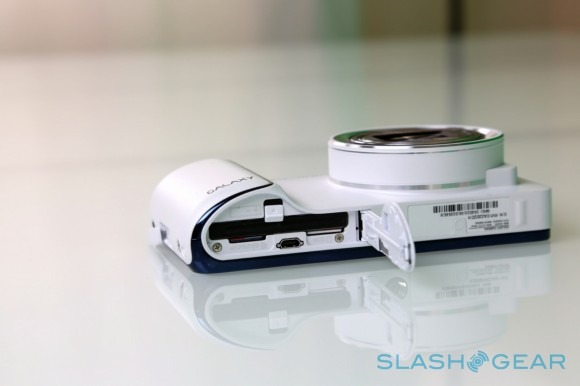 There's also a 3.5mm headphone jack and, under a flap, a microUSB port on one edge, while a microHDMI port is found when you open the battery door on the bottom (which sits alongside a tripod mount) though you can also prize open a small "sub door" to expose just that video output. It's also where the microSIM card is slotted in, and where the 1,650 mAh battery is inserted.
Samsung has made some mildly interesting decisions in the specs. The Galaxy Camera can't be used as a phone for voice calls, though since Android offers various VoIP apps like Skype, there's a microphone and earpiece speaker; however, you don't get an ambient light sensor to automatically adjust the backlighting of the screen, which seems an odd omission given a mixture of indoor and outdoor use is likely. GPS/GLONASS, an accelerometer, gyroscope, and a digital compass are all present, just as you'd find in a phone.
Software
With Android 4.1 Jelly Bean, the Galaxy Camera is running a newer version of Google's smartphone software than some recent phones we've seen; it's also several versions ahead of alternative Android-based cameras from Polaroid and Nikon. Turn the camera on, and the interface is instantly familiar if you've used any of Samsung's recent TouchWiz smartphones, albeit in landscape orientation by default.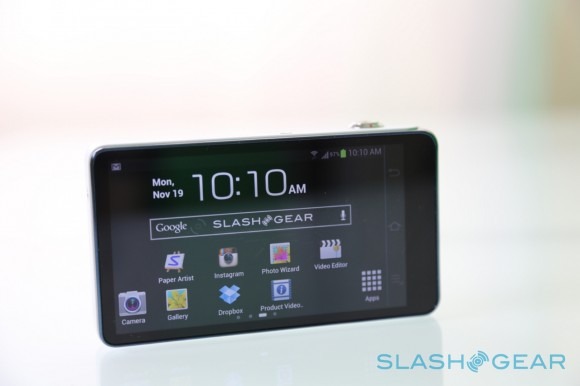 So, you get the Android homescreen with widgets and user-customizable wallpaper, access to the Play market to download third-party apps, all the cloud-integration and sharing tools you'd expect, and the usual gamut of Gmail, IM, messaging, and other communication apps. The only icon missing, in fact, is for the phone. Samsung pins the camera app shortcut to the bottom left corner of the homescreen, or you can simply press the shutter button to wake the app and power up the lens. The Galaxy Camera can go from idle to ready to fire off a shot in a couple of seconds, on a par with regular point-and-shoots.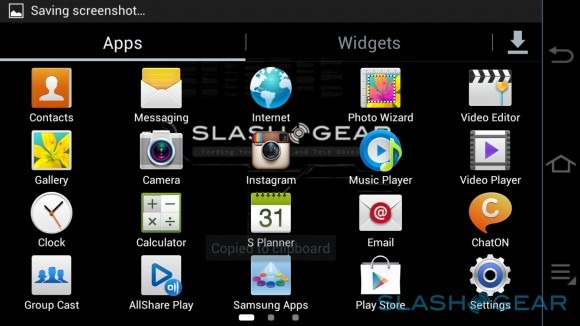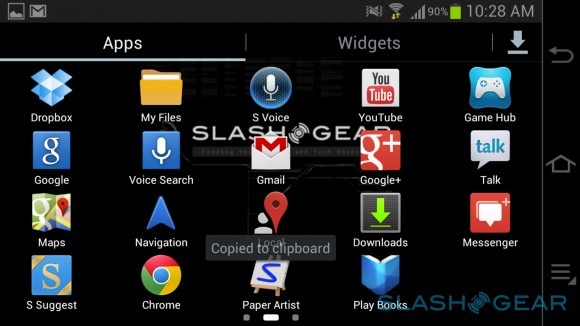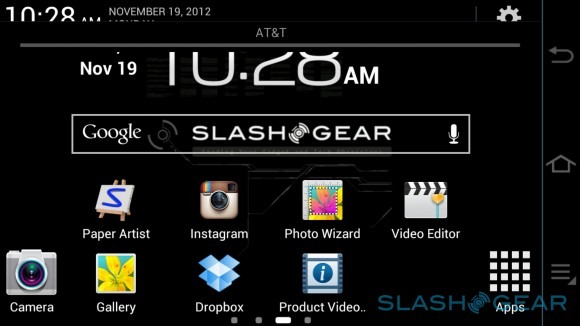 The bulk of the apps are as you'd expect from an Android phone, though Samsung has modified the camera app to suit the greater flexibility the Galaxy Camera allows. There are three modes – Auto, Smart, and Expert – stepping up through the range of manual options; Auto mode takes all of the decisions upon itself, while Smart mode has fifteen presets to suit different shooting styles, environments, and desired effects.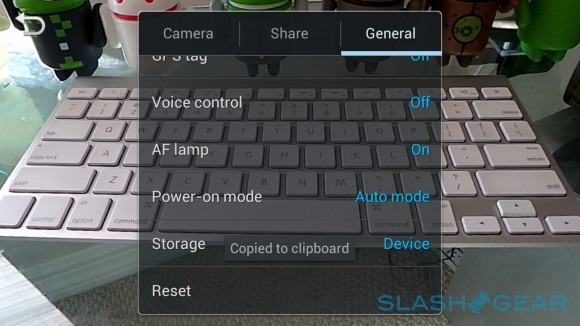 So, you get Landscape, Waterfall, Sunset, Night, and Fireworks for the more typical scenes, along with Panorama, Action Freeze, and Silhouette for more specific situations. There's also Rich Tone, for enhancing the colors, and Light Trace for the smeared-light patterns that look particularly good when you're taking photos of moving cars. Finally, there's Beauty Face, which softens skin tones, Continuous Shot, Best Face to combine different faces from group scenes, Best Photo which fires off multiple images in one go and allows you to pick your favorite, and Macro for close-ups.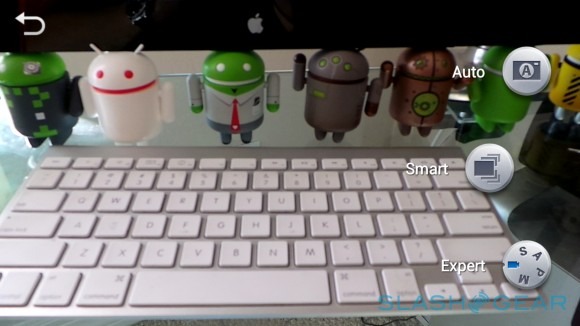 Finally, there's Expert mode, which half-fills the touchscreen with concentric dials for the various manual settings. Options are selected roughly speaking from the right edge inward: first the overall mode, whether P/A/S/M priority or camcorder, and then granular control over ISO, shutter speed, exposure, and aperture (depending on which priority mode you're in). It works, but it's not the most ergonomic of arrangements, and we wish there was a way to save user-presets (we'd even allow Samsung to blunt some of its minimalism and add a few dedicated preset keys along the top).
Of course, since this is all based on Android, you're not limited to Samsung's interpretation of the camera app. The Galaxy Camera can also run third-party camera software downloaded from the Play store, such as Instagram, Paper Camera, or any of the hundreds of options out there. Not all take full advantage of the hardware, however; outside of Samsung's own app, the zoom control is recognized as a volume rocker instead. Still, we were able to quickly get up and running with Instagram.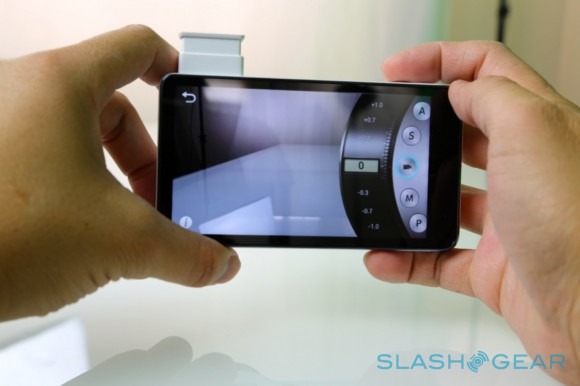 Since it's Samsung, there's no shortage of tweaks and gimmicks, some more successful than others. As on the company's phones, there's AllShare Play for wirelessly streaming your media to a nearby smart TV, or alternatively you can use WiFi Direct and beam images directly to a compatible phone, tablet, or computer. Of mixed use is Voice Control, which allows you to not only fire off a shot by shouting at the Galaxy Camera – potentially useful if you yourself are the subject – but control zooming and the timer. It works, most of the time, as long as background noise is minimal, but without a swiveling screen it's tough to know exactly what you're taking a picture of in the first place.
Point-and-shoot cameras claiming any degree of flexibility have had onboard editing tools for some time now, and the Galaxy Camera comes equipped with a number of options. More basic edits can be done in Photo Wizard, such as crops and rotation, while Paper Artist plays up the effects side, with filters, textures, frames, and layers, as well as the ability to add text or handwritten notes directly to the frame. There's also a video editor, carried over from Samsung's phones, which permits basic cuts, music backing to be added, some titling, and combining clips into longer videos.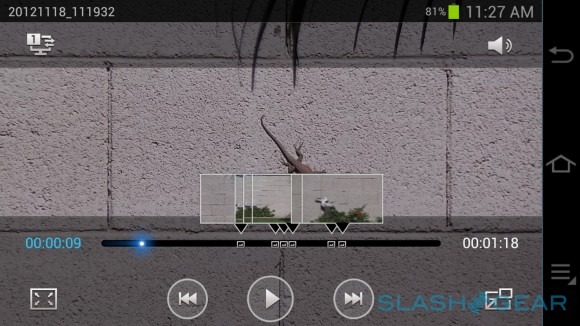 None of them, it must be said, are especially successful, and what Android needs is a true iMovie and iPhoto alternative now that devices are powerful enough to run – and capable of producing sufficiently good photos and video to warrant – capable editing apps. As it stands, we would struggle to put together a video at, say, a tech event, or watermark hands-on photos, all on the camera itself, but it's not hard to imagine being able to do so with the right app.
Samsung is making a big deal of the sharing potential of the Galaxy Camera, and since you're paying no small premium for the integrated wireless connectivity, that comes as little surprise. All of Android's regular sharing options are present, so you can quickly fire off a photo via email, but since it's Android any app with a sharing facility – such as Box, DropBox, Facebook, and other social networks – is added to the list for easy access. That's before you get to auto uploads, either offered by third-party services such as Google+ – automatically shuttling off your photos and video to a (private by default) online gallery – or, when it launches in time, Samsung's own cloud-based alternative.
Camera
All the flexibility and the connectivity would be for nothing if the Galaxy Camera produced poor quality photos and video, of course. The reality is mixed, and depends considerably on your expectations from a camera. If, for instance, you like the instant sharing options of your smartphone's camera, but want a step up in image quality, then the Galaxy Camera will undoubtedly be an improvement on what you're used to.

Above: Click image for full-sized version.
However, the added complexity of the quadcore processor, 4G radio, and other components means the hardware cost of the Galaxy Camera overall is disproportionately high when compared to point-and-shoots in its class. For instance, the Samsung WB850F it shares its key photography components with has an RRP of $380 (and a street price $120 less than that). $499.99 for the AT&T Galaxy Camera, meanwhile (with a month-to-month data plan, rather than a two-year agreement), puts it alongside a Micro Four Thirds camera from Panasonic, Olympus, or others, or a Sony NEX-5N, or even one of Samsung's NX-series models.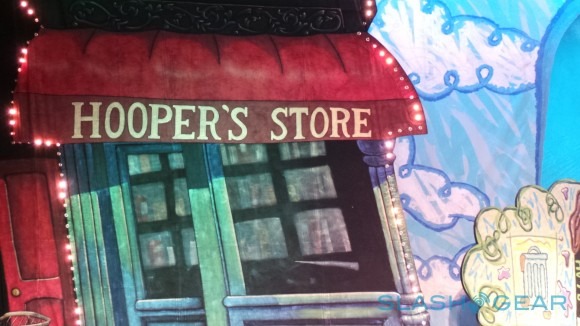 Unsurprisingly, you'll get better results with a dedicated interchangeable lens camera from that list. The Galaxy Camera does well in good lighting, but noise increasingly becomes an issue as the ISO climbs; the camera tops out at 3200, but you really don't want to get anywhere near that in practice. There's a tendency toward over-saturation of colors and a blunt approach to contrast in low-light, meanwhile, which leaves shots looking vivid at first glance but, with closer examination, sacrifices accuracy for artificial warmth.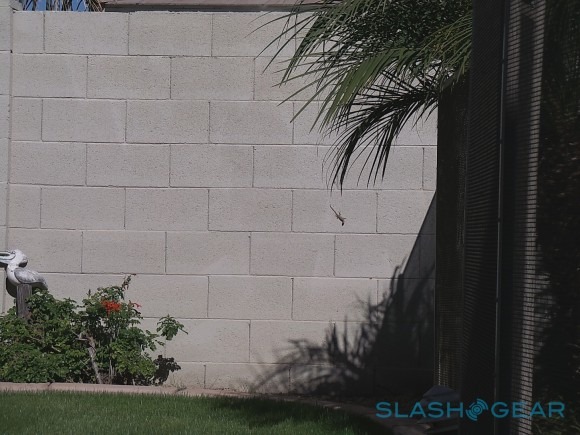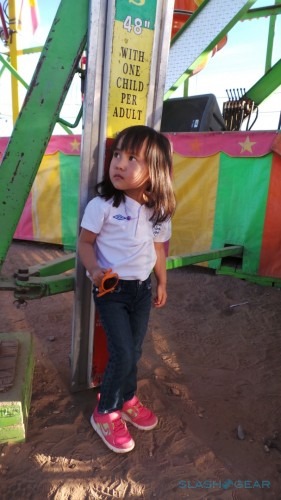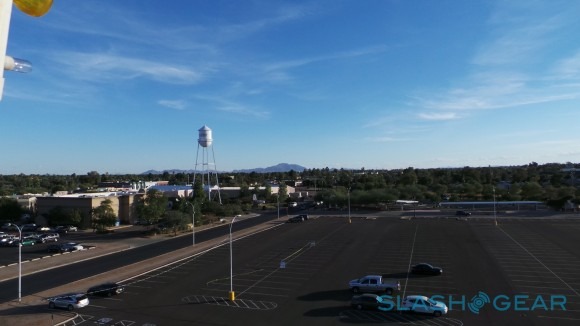 Step out of Auto and take the time to tweak the Smart mode to suit your situation, and the results improve. The Galaxy Camera still buts up against the limits of its CMOS size, but fast-moving subjects such as running water really are caught well in, say, Waterfall mode, and the creative options do a good job of distilling some of the more popular photo effects into something that's user-friendly.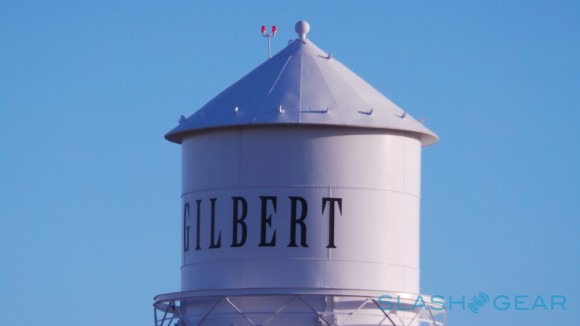 Video, meanwhile, benefits considerably over smartphone cameras by virtue of the optical zoom and image stabilization. There's some focus hunting as you reach maximum zoom, but the level of detail and the absence of blur in panning shots is impressive; the optical image stabilization belies the reach of the lens, too. Colors are generally accurate, if somewhat on the cool side, and low-light performance is considerably better than what a smartphone could achieve. It's also worth noting that video playback looks particularly good on the 4.8-inch display, certainly not something that could be said about all compact cameras.
Battery
Samsung quotes up to 168 hours of 4G standby (280hrs for 3G) from the 1,650 mAh battery, or up to 4.5 hours of "in-use" time. It's a gray area in a sense, since traditionally cameras would be measured in shots-per-charge but Samsung is obviously expecting Galaxy Camera owners to spend more time editing, sharing, and generally being social.
In practice, after roughly an hour of photography, with auto-upload to either Dropbox or Facebook, and video to YouTube, the Galaxy Camera's battery gage dropped to 70-percent. That suggests just over three hours of practical use, though you could obviously extend it if you were more selective with your uploads.
Wrap-Up
Is the Galaxy Camera a game-changer? Yes, and no. In itself, it's the best of the Android-based cameras, though that's hardly a well-stocked category. Judged purely on its photography abilities it struggles, falling short of what similarly-priced rivals can produce while costing significantly more than the point-and-shoots it's quality is on a par with. Taken into context as an all-in-one photography, editing, and social sharing studio, however, and it's a different matter, occupying a niche sweet spot between the flexibility (but underwhelming photos) of a smartphone, and the quality (but cumbersome sharing options) of a camera.
Then there's price. AT&T offers the Galaxy Camera for $499.99 with a month-to-month plan, not the usual two-year agreement, and if you're an existing smartphone customer you can add the Samsung to Mobile Share data plan for an extra $10 per month. Alternatively, you can get it a data plan of its own, starting at $14.99 for 250MB per month, or $30 for 3GB, or finally $50 for 5GB. Given the increasing number of users with mobile hotspot functionality on their phones, or willing to simply take advantage of WiFi hotspots, we can see plenty opting out of a cellular data connection altogether, which does somewhat undermine the Galaxy Camera's abilities.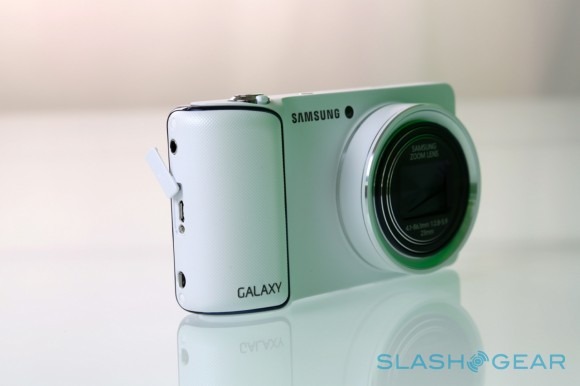 Far more interesting, perhaps, is the potential for Samsung to build upon the Galaxy Camera with a range of Android-based smart-cameras. Going from the Galaxy Camera's intuitive Android interface to a regular camera feels like a step back in time: we quickly got used to being able to offload new shots in an instant, whether that involved social sharing or simply pushing them to our computer for editing. Not having to mess with cables or memory card readers has a big impact on workflow, and we'd love to see that added to a more capable interchangeable lens camera.
The Samsung Galaxy Camera is a first-generation product, and they inevitably carry a compromise. In this case, it's a case of price and expectations: do you spend your money on a great camera, or on a good camera with the added benefit of social options we simply haven't seen offered on a point-and-shoot before? It's undoubtedly a niche product, but the convenience and flexibility is addictive, and we're left hoping Samsung sticks with the concept for at least a second-generation to broach the mass market.