Samsung's Galaxy Camera: Our Secret Star of CES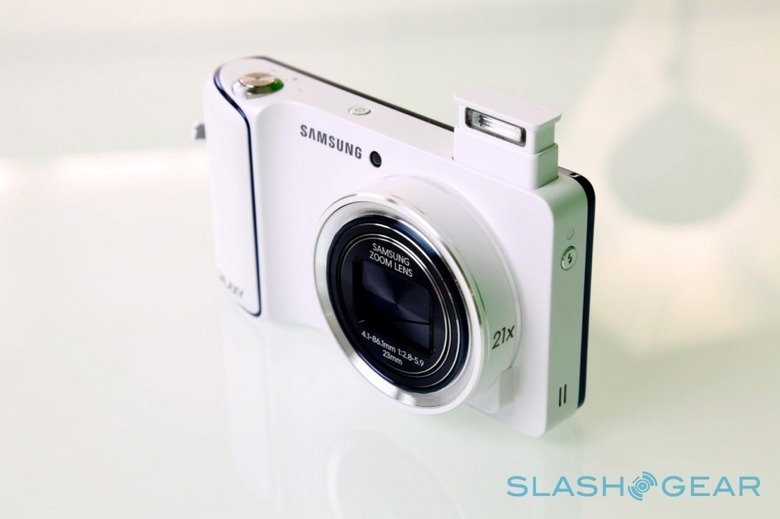 CES isn't short of product launches, and if you want to keep up you need the right tools. For 2013, the SlashGear team tried out a new workflow: carrying Samsung's Galaxy Camera and doing as much of our uploading of photos and video wirelessly. We'd already been impressed by the Galaxy Camera in our review, but taking the Android-powered point-and-shoot out into the field for what's arguably the toughest assignment on a tech-head's calendar really put it through its paces. Read on for our full report.
A quick recap, if you've not been keeping up. Revealed at IFA 2012 last September, the Galaxy Camera blends a 16-megapixel camera with a 21x optical zoom together with Android as per the Galaxy S III smartphone. We had a mixture of AT&T and the recently-released Verizon versions of the Galaxy Camera, each using 4G LTE networks (there's WiFi b/g/n, but we rarely took the time to hunt down local wireless networks) [Update: The Verizon version uses LTE; AT&T's maxes out at HSPA+]. Just about all of the regular Android apps run on the camera, including Instagram, but we stuck with Samsung's default app, that can also record Full HD 1080p video.
Our thinking was that, rather than shooting in our normal style – swapping out memory cards and offloading media to a laptop whenever convenient – we would use the Galaxy Camera's wireless connectivity to upload photos and videos directly to the cloud. By using Smugmug, which has a dedicated app for Android, we could automatically watermark each shot and keep all of the media together in a place where the whole team (whether physically present at CES or otherwise) could access it.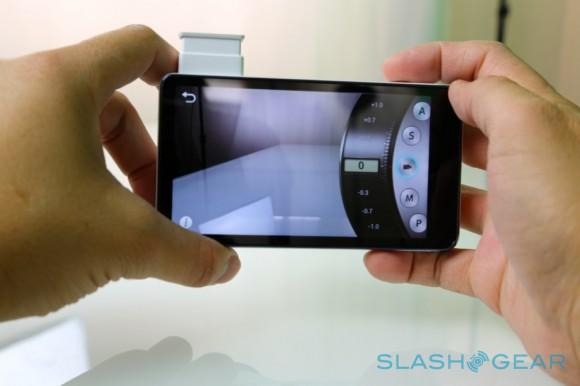 In practice, that turned out to be largely the way the team worked, at least in more time-critical situations. Tag-teaming on press conference coverage, one person could shoot content and pick the best of the images to upload, all wirelessly, while the other person could pull their preferred images from the Smugmug gallery. With product hands-on, there was no "which memory card were those photos on?" confusion, since the images had already been uploaded.
Functionality is useless if the quality is lacking, though happily that wasn't our experience with the Galaxy Camera. For best results you'll usually get the most ideal images from a DSLR, unsurprisingly, but heavy, bulky cameras aren't especially suited to the booth-hopping of a show like CES. In fact, we were able to coax some decent results from the Samsung – our Pebble smartwatch hands-on photos were all taken with the Galaxy Camera, for instance – while the 21x optical zoom proved invaluable for getting closer to items on-stage during press conferences.
Pebble smartwatch photo samples:
The Galaxy Camera isn't perfect, mind. We experienced the odd focusing issue, where the Samsung would be reluctant to lock onto close-up subjects. That could usually be addressed by repositioning the frame and trying again – or backing off a little altogether – but it was frustrating when it happened, and interrupted our workflow. The uploading process could also be fiddly; we were using the Smugmug app, through which we could choosing individual photos and videos to be uploaded to a gallery in the cloud, but each required separate selections.
It's also not ideal to be jumping in and out of the camera app, picking content to be uploaded. Some sort of briefly-shown "Upload This" button shown displayed with the preview frame after each shot is taken would be great, as would easy onboard watermarking. A double-save – one lower-res copy for uploading more quickly, and a higher-res original kept on the memory card for later – would also be useful. It's worth noting that most of our complaints could be addressed by apps, which the Galaxy Camera's Android OS would make easy to install – not something you could say about most point-and-shoots.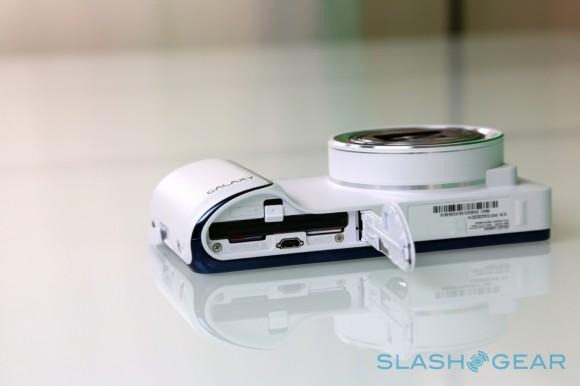 So what have we learned? Our experiment to integrate the Galaxy Camera into our workflow isn't over, with a trial-by-fire at CES highlighting some of the Samsung snapper's shortcomings. We returned to an old-fashioned whip-out-the-memory-card style workflow at a couple of points, for instance, usually when there was a particularly urgent image we specifically needed. It proved difficult to edit the upload priority of content in the task list, forcing us to go manual with our offloads. Samsung's onboard video editing app proved fiddly to use on the go, and we quickly reverted to more traditional editing once the footage was on our computer.
For its balance of convenience and performance, though, the Galaxy Camera has impressed us again. When time is of the essence – and when we're incredibly excited to bring you the latest news, as soon as possible – the effectiveness of an online camera is demonstrable. We'll be tweaking with alternative apps and maybe even cooking up some custom software of our own, just so that we can better embed the Samsung into the SlashGear system, so expect to see more photos and video shot on the Galaxy Camera through 2013!
Thanks to Samsung who loaned us a number of Galaxy Cameras, with no expectations as to whether/how we might use them at CES, or indeed subsequently report on them.