Samsung Galaxy Book 12 Review: A Premium 2-In-1 With A Price To Match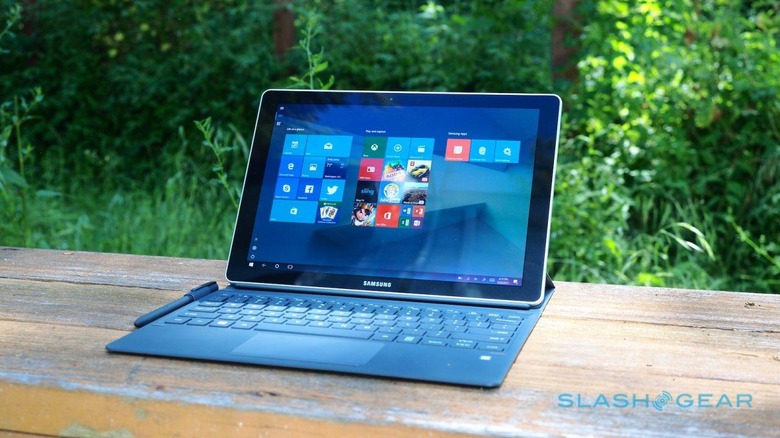 EDITORS' RATING: 7/10
You wait for one premium 2-in-1 Windows 10 hybrid, and along come a whole selection at once. Samsung is hoping the Galaxy Book 12-inch will catch your eye out of a growing market, promising the latest in digital S Pen technology plus more processing power than you might expect from such a skinny slate. Question is, does the Galaxy Book do enough to warrant its $1,129.99 price tag?
It certainly feels the part. Unlike the glass-bodied, Android-based Galaxy Tab S3 we reviewed back in March, Samsung has opted for brushed metal for the Galaxy Book. It's a clean, minimalistic design, and fairly lightweight too. At 754 grams complete with the keyboard attached, it undercuts the Surface Pro 4 slightly. That's despite the Samsung having a slightly larger, 39.04W battery.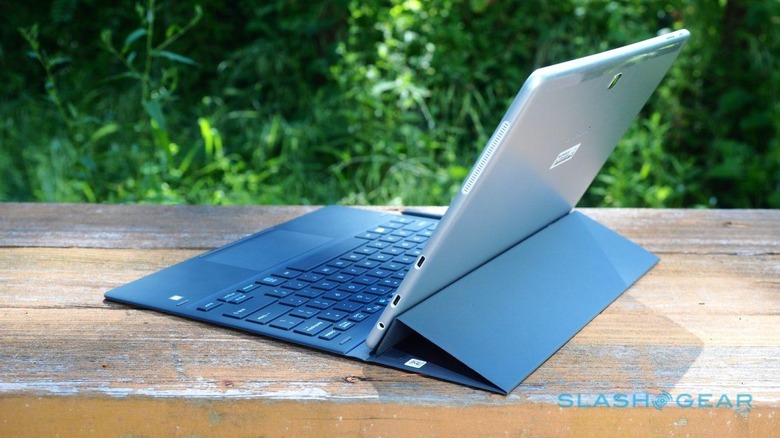 Inside, there's a 7th-generation Intel Core i5-7200U 3.1GHz dual-core, paired with 8GB of memory and a 256GB SSD. A microSD card slot accepts up to 256GB cards to expand on that. By default, you get WiFi a/b/g/n/ac 2X2, Bluetooth 4.1, and GPS/GLONASS; Samsung also offers an LTE configuration, with a Cat6 300 Mbps modem. Oddly, if you want LTE, you can't have more than 4GB of RAM.
A 13-megapixel autofocus camera is on the back, while a 5-megapixel fixed-focus camera is above the display. Ports include two USB 3.1 Type-C; unfortunately, Samsung doesn't deign to include USB Type-A adapters in the box for your legacy peripherals. What you do get is the battery-free S Pen, which uses Wacom's digitizer technology, and the keyboard cover.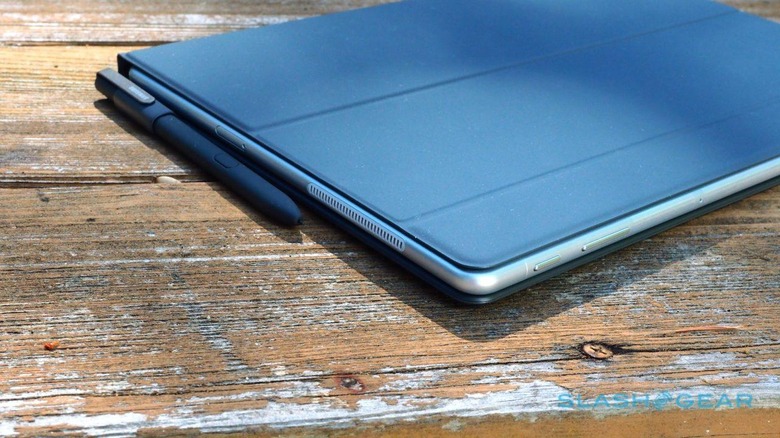 The cover itself attempts to strike a balance between usability and convenience, though it's not entirely successful. The keys have plenty of travel and are easy to type on, while the trackpad – although smaller than what you'd find on some Windows notebooks – is responsive. Unfortunately, the stand design is fiddly: you can fold the rear panel in one of four ways to adjust the Galaxy Book's screen angle, but it relies on a magnetic strip to cling to the back of the tablet.
Get too enthusiastic with your on-screen taps, or try to balance the whole assembly on your lap, and I found the Galaxy Book had a tendency to slip back. I much prefer the kick-stand design Microsoft uses, or indeed that of HP's Spectre x2 series. They also have the benefit of allowing you to stand up the tablet alone, even if it's detached from the keyboard.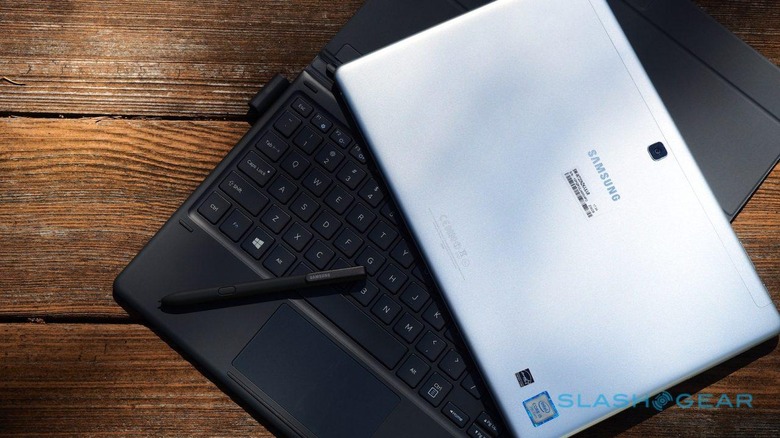 The other big input option is the S Pen. Samsung bundles that as standard, and it now uses a narrower 0.7mm tip that has been given a slight rubberized coating. It feels a little like a gel-ink pen on the Galaxy Book's excellent 2160 x 1440 Super AMOLED display. Wacom's latest technology can differentiate between 4,096 levels of pressure, and if you're using Adobe Photoshop it'll recognize the angle at which you're tilting it too. Honestly, those improvements will only really be of use to digital artists.
Still, it's as useful as a stylus can be. Samsung Notes is preloaded, and in portrait orientation the keyboard-less tablet makes for a capable note-taking slate. The narrower tip makes smaller handwriting easier to deal with, meaning less zooming and scrolling to make best use of the virtual page. Alternatively, you could install Microsoft's OneNote, which can also recognize digital ink.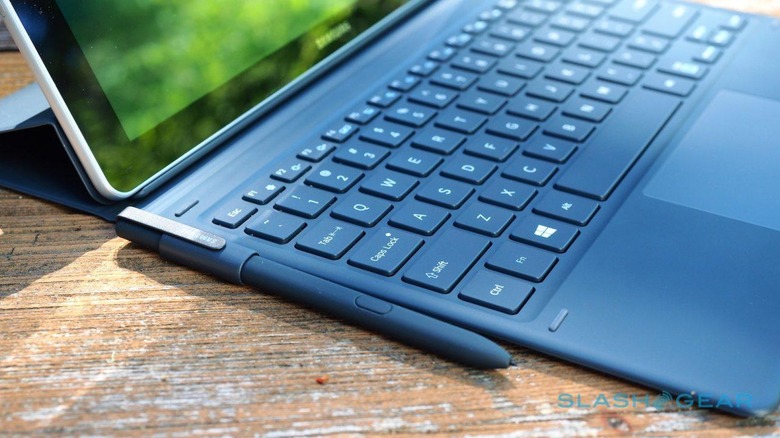 Unfortunately there's no silo to store the S Pen. Instead, Samsung provides a self-adhesive loop which tightly – perhaps a little too tightly – holds the now non-cylindrical stylus to the side of the keyboard. It's less aesthetically pleasing than Microsoft's magnetically-clinging Surface Pen, but then again the Surface Pen has an annoying habit of getting brushed loose when the Surface Pro 4 or Surface Book are in your bag. At least there's a pen-clip on Samsung's stylus, unlike Apple's Pencil.
Performance-wise, you're limited primarily by the low-power processor; whereas the 10-inch Galaxy Book is fanless, the 12-inch does have a vent along the upper edge. In Geekbench 3, a synthetic test of processor and memory performance, I was pleasantly surprised to see the 2-in-1 score 3,250 in the single-core test, and 6,788 in the multi-core. Indeed, it puts the Galaxy Book only a few hundred points behind the 2.0 GHz Core i5-6360U Apple uses in its entry-level 13-inch MacBook Pro without the Touch Bar. It's worth noting that the back of the Samsung does get hot to the touch when asked to do anything significant with its processor, even with the fan whirring.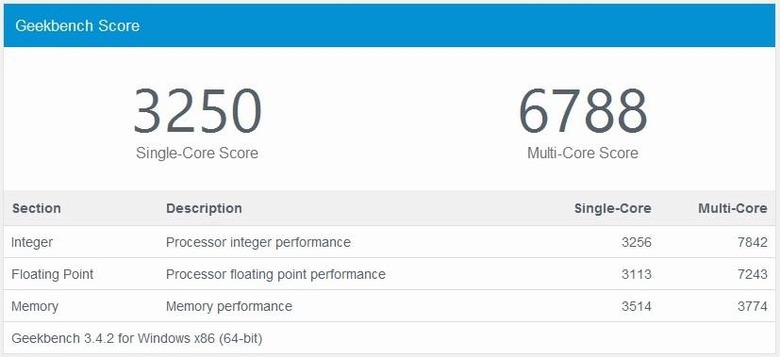 As for the battery, Samsung suggests the 12-inch Galaxy Book should run for up to 11 hours on a full charge. As always, that'll depend on what you're actually doing with it. Under heavy load, processing video, I managed to drain the tablet in 2.5 hours. With more typical use, though, including a mixture of browsing and document editing, I saw more like six hours. If you're watching video, you'll get more.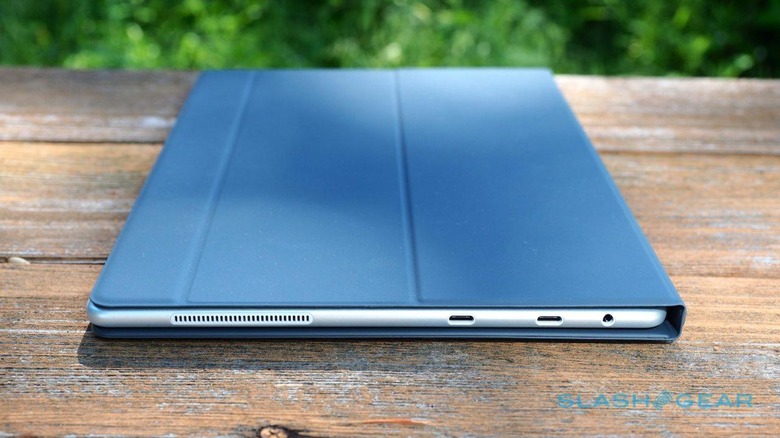 The Galaxy Book's other party trick is Samsung Flow. If you're a Galaxy smartphone user, you can pair the two via Bluetooth and use the phone's fingerprint scanner to unlock the tablet. I hooked up a Galaxy S8 and was able to remotely reply to text messages, check through contacts, see incoming caller ID, and copy photos and video wirelessly between the two devices. If your cellphone plan supports tethering meanwhile, you can turn that on remotely from the Galaxy Book too.
Wrap-Up
The selling point of a 2-in-1 is its flexibility. Don't need to type? Leave the keyboard behind. Need a traditional keyboard and trackpad? Snap them on magnetically. While manufacturers might argue that makes it the best of all worlds, personally, I'd rather have a regular hinge and less likelihood of the two sections of my notebook coming apart. Then again, my typical usage relies heavily on the keyboard, and I'm no digital artist.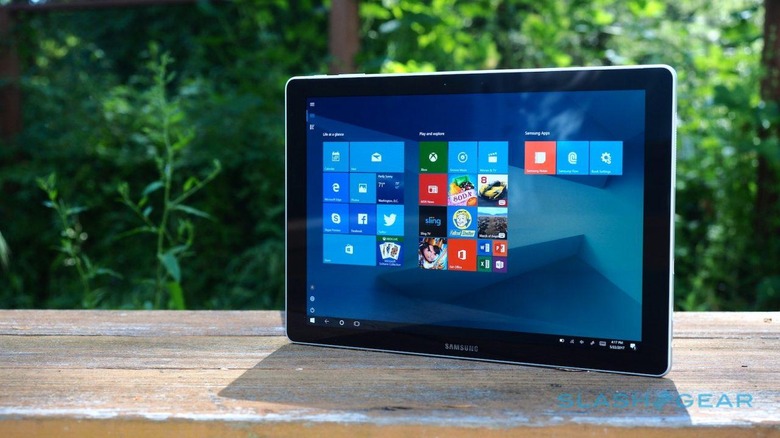 If the converse is true for you, Samsung's excellent Super AMOLED screen and updated S Pen could make the Galaxy Book the perfect foil for your creativity. It's certainly not inexpensive, but the capable processor goes some way to justifying its price. Factor in the solid construction and the option of integrated LTE, and you can see why the Galaxy Book has 2-in-1 fans excited. Even so, Samsung is going to find itself pressed by the brand new Microsoft Surface Pro.