Samsung Galaxy Tab S3 Review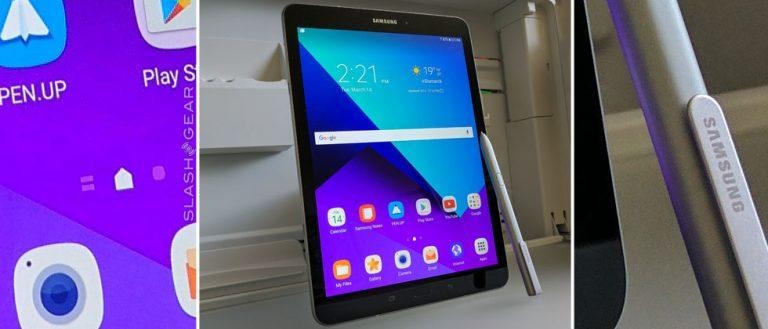 The Samsung Galaxy Tab S3 is the Galaxy Note Tablet that never was. In the best way possible, Samsung has created an Android answer for the iPad Pro. The Samsung Galaxy Tab S3 has some of the qualities of the Samsung Galaxy Note series – save a couple of the most important features. Where the Galaxy Tab S3 could have excelled above the iPad Pro, Samsung has decided to play it safe. Can Samsung's newest Galaxy-branded tablet be the high-end tablet-with-stylus Samsung needs to go toe-to-toe with its biggest mobile competitors?
The Galaxy Tab S3 is very user-friendly. This tablet is running pretty much the same software as is delivered on the Galaxy S7, with an understanding that the Galaxy S8 is likely less than a month away from store shelves. It's not meant to deliver an unfamiliar experience to the user. Instead, it really, truly brings the Galaxy Note experience to a tablet.
Measuring up against Galaxy Notes and iPad Pros
Samsung previously attempted to bring the Galaxy Note experience to tablets with the Galaxy Note 10.1, Galaxy Note 12.2, and the first version of the Galaxy Note 8.0. That last item on the list was Samsung's first attempt at a tablet-sized Galaxy Note, and it was decent. Back then it was still a novel experience having a stylus that was connected to a smart device with more than just physical touch. Samsung led the way with a generous stylus for smart mobile devices in the S Pen.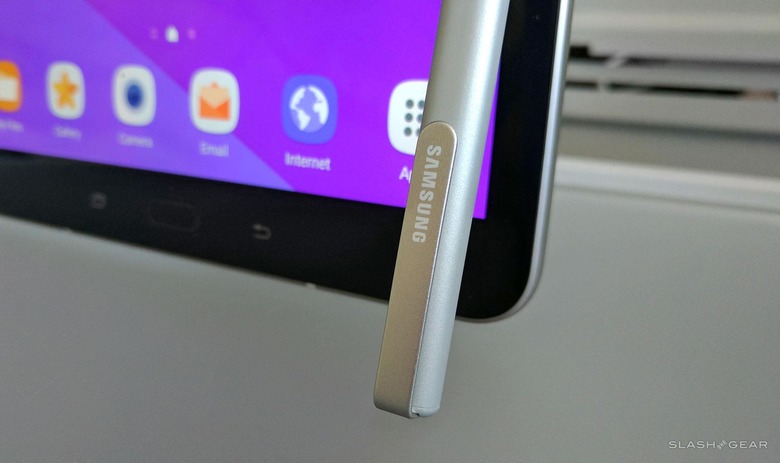 SEE: iPad Pro review for artists
But the software wasn't quite there yet with the first couple of waves of Galaxy Note devices. Here in 2017 we've got apps like Adobe Illustrator Draw and Photoshop Sketch. These are professional mobile illustration apps made for devices that are leaders in this space.
I use an iPad Pro to create illustrations for graphic design projects on a regular basis. I also use a larger Wacom pen display while I'm in my home office, but whilst out of the house or working at night while watching TV, I'm using an iPad Pro with Apple Pencil. It's a combination of mobile and professional that – until now – I've not found on any other device.
Software for the S Pen
With the Galaxy Tab S3, I've found a device that's both sized adequately and up to the task of allowing me to work with the newest in new illustration software with a modern mobile processor. Aside from the Galaxy Note 7, no other Android device has yet handled Adobe Illustrator Draw. While there are other drawing apps outside of Samsung's pre-installed on this tablet, Adobe Illustrator Draw allows us a chance to compare equivalent devices – like the iPad Pro.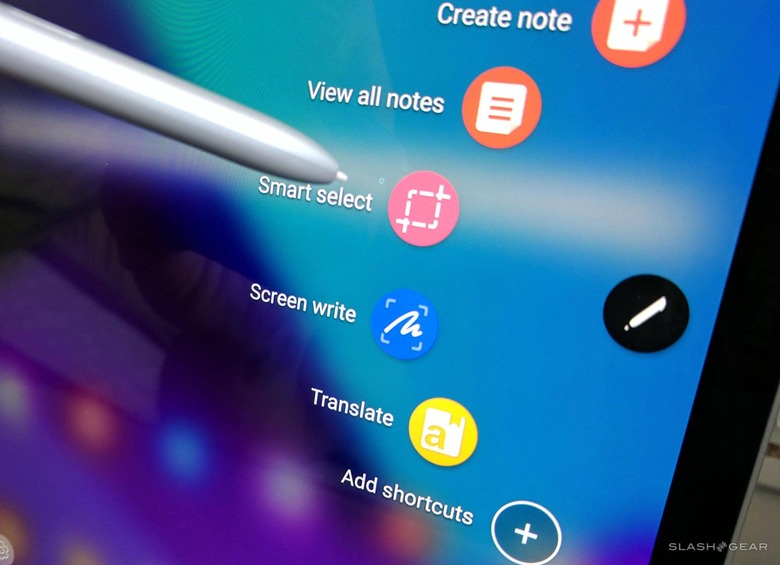 Because of how well the Galaxy Tab S3 handles Adobe Illustrator Draw, it's put in direct contention for my most-recommended illustration tablet (with a stylus) – but Samsung refrained from doing one thing. The convenience of having a slot for the S Pen in the tablet's body does not exist in the Galaxy Tab S3. Because of this, the Galaxy Tab S3 remains merely equivalent with the iPad Pro on the convenience front.
Below is a screenshot of an image I've jotted down in Illustrator Draw. As someone who uses the same app on the iPad Pro almost daily, I can confidently say this tablet's hardware measures up.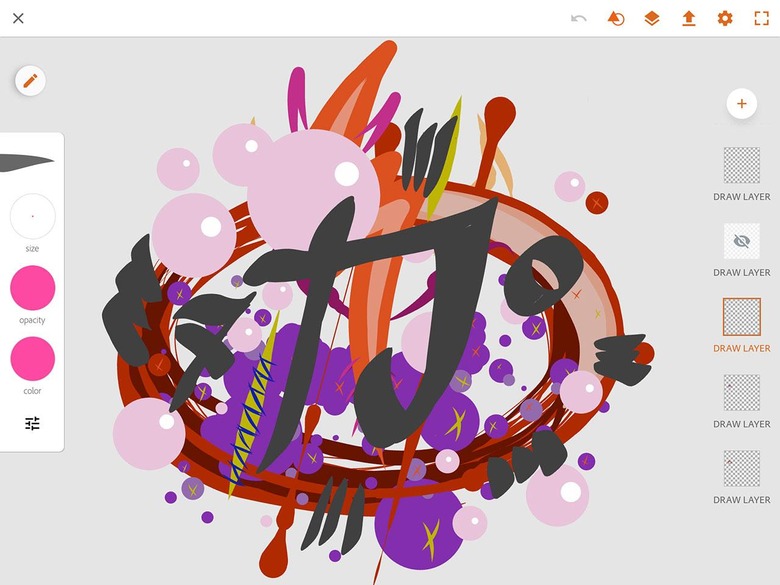 Samsung includes their note-taking app Samsung Notes to give user a place to make some basic drawings and jot down messages, and type. All of the top-notch note-taking features included with past Galaxy Note devices are here – making this device a really great tool for taking notes, especially if the keyboard cover accessory is attached.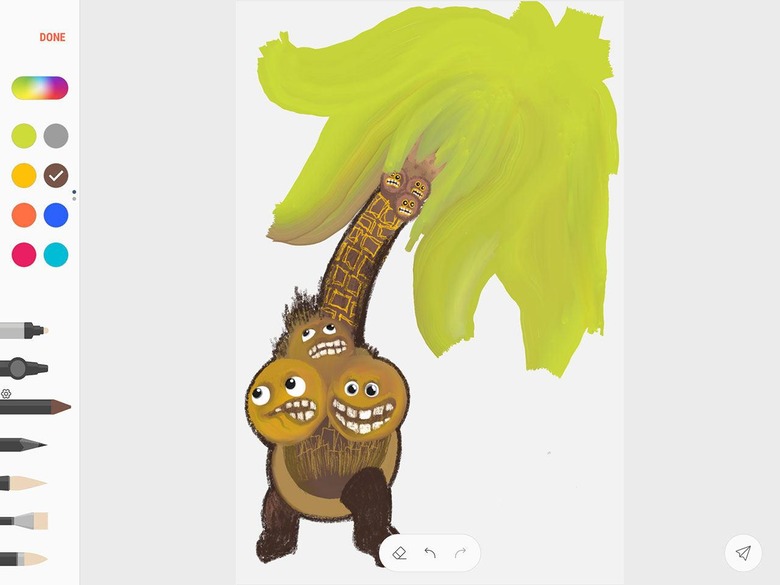 Above you'll see an image I've drawn with the Samsung Notes app. I wouldn't recommend using this note-taking app for illustrations like this, as it's aimed much more at the jotting down of ideas, but it is there right out the box. They've also included a coloring book app that makes for some interesting time-passing, but this app does not rely on the abilities of the S Pen.
The Galaxy Tab S3 isn't made only for the S Pen and S Pen functionality – that much is clear given the relative lack of app dedicated to S Pen functionality right out the gate. At least, S Pen functionality on a scale larger than a Galaxy Note smartphone. Samsung clearly didn't build this tablet only to use with the stylus device.
A Generous Tablet
The Samsung Tab S3 sounds good and looks good, and it's swift and highly functional. As a tablet capable of running all of today's most high-powered apps, Samsung's created a great device. There is no other Android device capable of keeping up with Samsung's Tab S3 at this moment – the closest tablet available would be the Google Pixel C, a device which, at this point, is almost a couple years old and is likely soon to be replaced.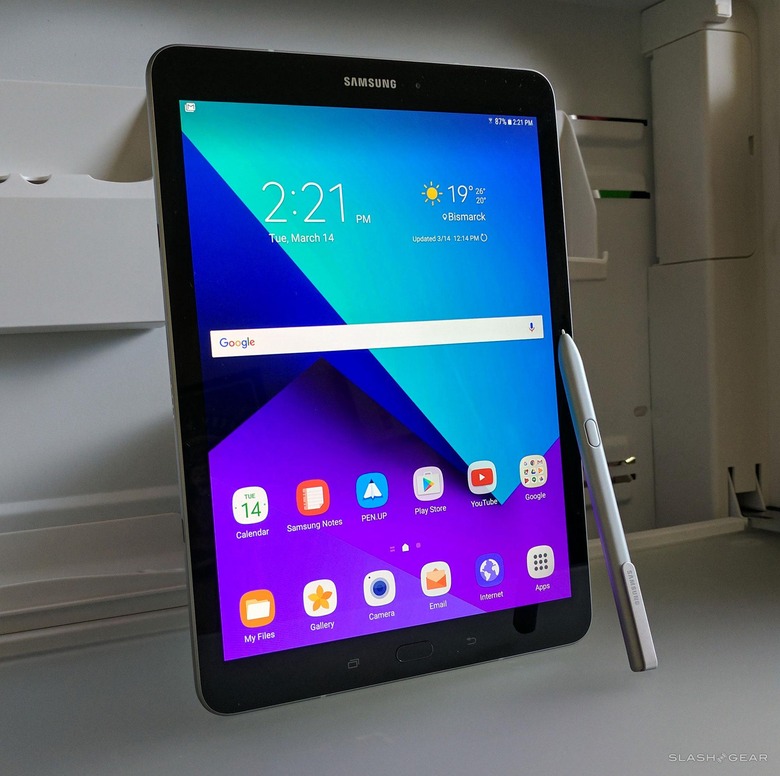 While ideally I'd always choose to have speakers facing forward on any mobile device meant for media consumption, this Galaxy Tab S3's speakers are fairly nice. Samsung says that this "quad speaker" experience has been tuned by AKG. It's clear Samsung has gone above and beyond to provide a high quality listening experience with this device...
But again, I wish the speakers weren't aimed perpendicular to the display. Over the past week in testing this device there's not been a single time in which it made more sense for audio to be coming out the side of the tablet rather than the front. It makes me feel as though the extra effort put into tuning these speakers was wasted – at least somewhat.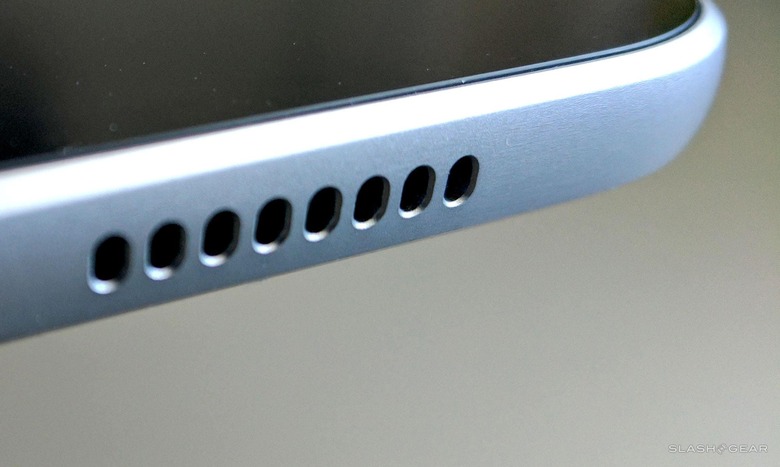 Listening with headphones allows for some high-end tuning via the tablet's built-in speaker tuning software. For all audio tuning and quality bits and pieces, I recommend you head to a Best Buy (or any similar sort of store) where the Tab S3 is available for hands-on testing. Both the headphone audio and the 4x external speaker audio are more than good enough for me, but the most discerning of audiophiles might want to judge more intensely for themselves.
The display is ideal – as top-quality a display on a tablet as I've ever seen or tested before. Samsung's brought their color-accurate super-bright and sharp finesse in displays to the Tab S3 without reserve. Watching a movie on this tablet with a pair of high-quality headphones is as good an experience with mobile media as I've ever had.
While I've used the Galaxy Tab S3 keyboard cover primarily as a tablet stand, it also functions exceptionally well as an auto-paring keyboard. The keys are excellent – especially for a mobile accessory – and pairing instantly and automatically has been nearly flawless. All I've needed to watch out for is bumping the device out of alignment with the hardware connection (with pogo pins) – and this only happens when I'm trying to foolishly type with the keyboard/tablet combo on my lap.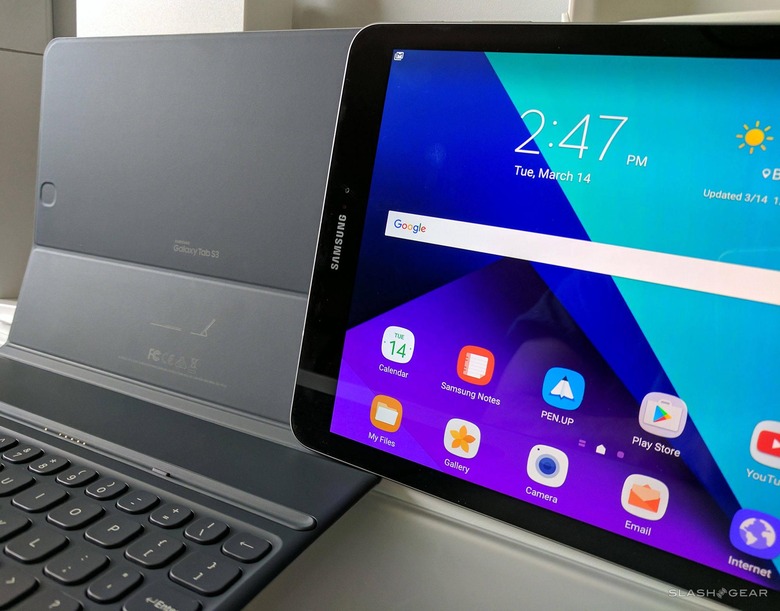 The keyboard cover is held on with magnets, which makes it feel like a high-end accessory. The materials chosen to create the cover, on the other hand, make the tablet feel a bit more like a mid-tier device – which it isn't. This goes double for the stick-on loop for the S Pen that's included with the keyboard cover – it simply should not exist.
Wrap-up
The Samsung Galaxy Tab S3 is as close to the Galaxy Note 7 as we're going to get – until the Galaxy Note 8 arrives later this year. As a note taking, media presenting, top-notch entertainment tablet, the Galaxy Tab S3 is one of the best on the market today. For those in the Samsung device ecosystem of smart devices, this tablet has great potential as a sweet-spot between smartphone and PC – ideal for evening couch-time use.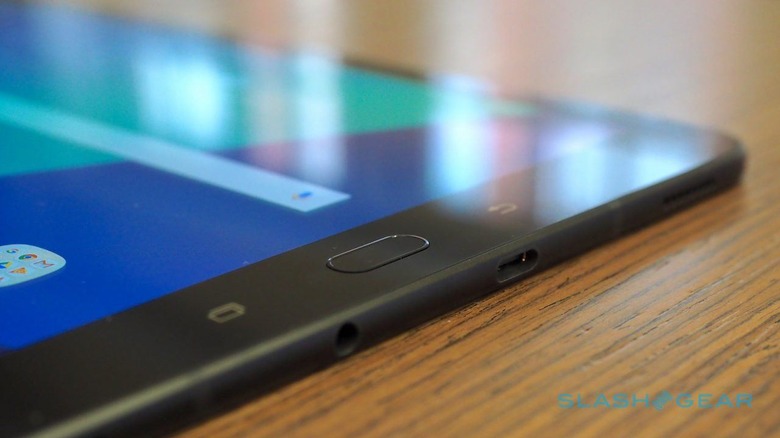 The Samsung Galaxy Tab S3 is available for pre-order now and will begin general availability on March 24th, 2017. This tablet's cost will be right around $600 in its Wi-Fi edition (which is the device we have here). There'll also be an LTE edition some time soon.