The HP Spectre x2 wants to solve your Surface Pro frustrations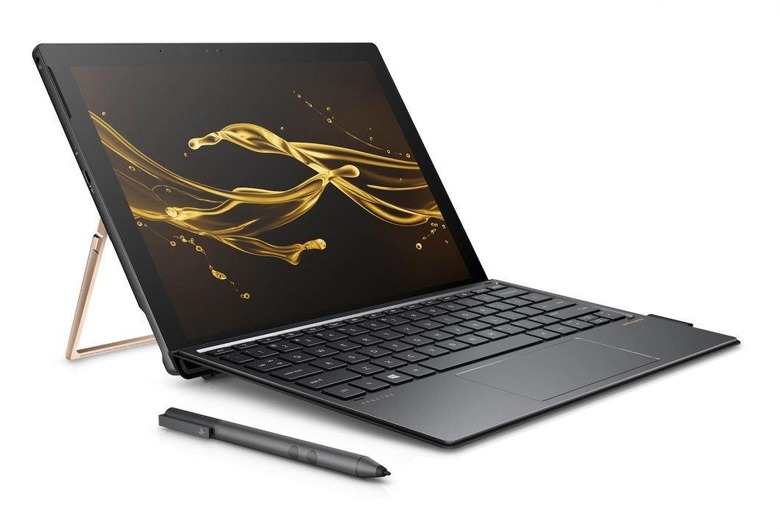 Microsoft has left the Surface Pro to languish, unloved, and HP isn't going to let an opportunity like that pass it by. Welcome, then, the HP Spectre X2, the latest in the laptop company's range of touchscreen 2-in-1s. With the body of a tablet – and a 12.3-inch, 3,000 x 2,000 resolution one at that – and the flexibility of a magnetically-attached keyboard, HP is hoping you'll forget all about your Surface Pro dreams.
At first glance, it might just do that. The Spectre X2 certainly looks the part, with a CNC-machined aluminum chassis finished in dark ash silver; the pop-out kickstand is made of stainless steel, but given a striking copper finish that really pops. It'll stand the tablet up at any angle between flat and 165-degrees.
The keyboard, meanwhile, is full-sized, has backlit keys, and a glass trackpad. As with previous Spectre detachables, it uses magnets to cling in place. Atop the touchscreen there's a 5-megapixel wide-angle camera and an infrared camera, which can be used for Windows Hello, and dual digital microphones. A 13-megapixel camera is on the back, and HP throws a digital stylus in the box. The speakers are tuned by Bang & Olufsen.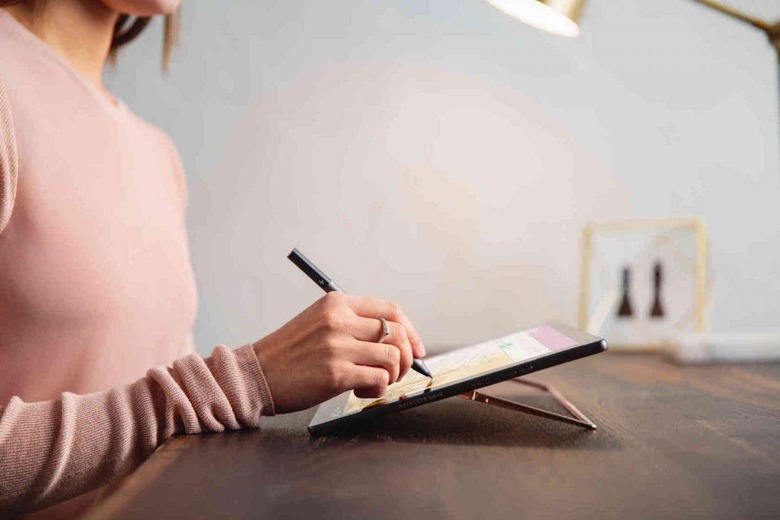 It's inside where things get really interesting, mind. HP has thrown in up to Intel's 7th-generation Core i7-7560U processor, paired with up to 8GB of LPDDR3 memory. There's a 360GB PCIe SSD for storage, and Intel Iris Plus Graphics 650.
The 41.58 Wh li-ion battery, HP claims, should last for up to 8 hours of mixed use, or 7 hours and 15 minutes of solid video playback. More usefully, thanks to HP Fast Charge, it'll go from flat to 50-percent in half an hour. It's worth noting that you can't actually be using it during that time if you want to see such speed, and beyond the half-battery point it'll go back to the regular charging rate.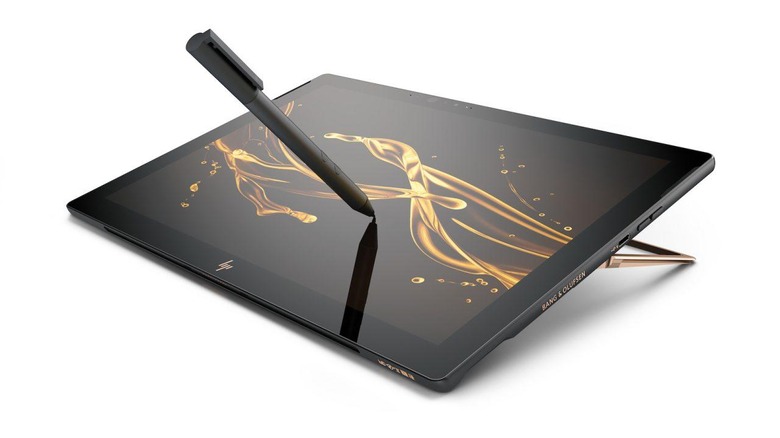 Connectivity includes 802.11ac and Bluetooth 4.2. There are two USB 3.1 Type-C ports for up to 5Gb/s data, DisplayPort 1.2, charging the Spectre X2, and using HP's Sleep and Charge to power up connected peripherals even when the 2-in-1 itself is turned off. HP includes a USB-C to USB Type-A adapter for older device you might have; it's a small touch, but it's something Apple neglects to do with the latest MacBook Pro.
Otherwise, there's a headphone/microphone combo port and a microSD slot. The whole thing weighs in at 2.49 pounds. In short, if you can't wait for Microsoft to get around to upgrading the Surface Pro 4, your 2-in-1 dreams aren't dashed. The HP Spectre x2 will go up for sale in June, priced from $999.99.