Samsung Brings Garnet Red To Galaxy Tab 2 7.0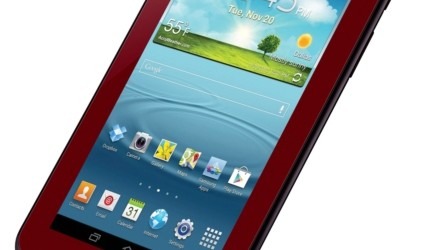 This week the folks at Samsung have revealed a fabulous new color casing for their Android 4.1 Jelly Bean powered Samsung Galaxy TTab 2 7.0 tablet ready for some hot, hot Valentine's Day action without a doubt. This machine works with a lovely dual-core processor and has a microSD card slot so you can expand internal memory by 32GB. This machine is also already on the market in black or white, and has been for several months.
You'll be able to pick this Red model up from a variety of retailers, his limited edition version of the tablet limited in its timeframe only, not its retailer shelf space. This tablet builds on the success of the original big-name Galaxy Tab from several years ago, it having been the original Android tablet for the greater bulk of the world. Here we've got a 7-inch display with the newest version (nearly) of Google's mobile operating system with TFT LCD technology in the screen to keep things bright and sharp.
Inside you've got Bluetooth 3.0, wi-fi connectivity, and USB 2.0 host abilities as well. You can turn this machine into your full home entertainment controller with its built-in IR blaster (that's infra-red) with connectivity to essentially any modern television or stereo system you've got on-hand. The whole tablet weighs in at just 0.76 lbs and is small enough to toss in your backpack or purse for on-the-go action.
Above: The original Samsung Galaxy Tab 2 7.0 came with a black/gray casing and Android 4.0 Ice Cream Sandwich. This new Garnet Red edition comes with Android 4.1 Jelly Bean right out of the box!
This tablet has been reviewed by SlashGear in its original black casing as well as given the hands-on treatment in its Verizon 4G LTE iteration, it coming here with essentially the same build but upgraded (right out of the box) to Android 4.1 Jelly Bean. For more information on that software, have a peek at our original Android Jelly Bean review, and continue looking toward the future in our massive Android hub, too! Will you be picking up this fabulous Garnet Red edition of the Galaxy Tab 2 7.0, especially since it comes with a matching Garnet Red case for no extra rack on your wallet?