Android 4.1 Jelly Bean Review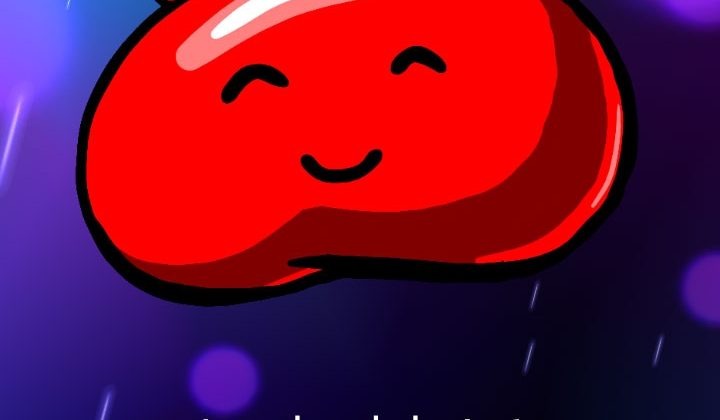 Google's newest version of its mobile operating system Android 4.1 Jelly Bean is what essentially equates to a fine tuning of the version that came immediately before it. Android 4.0 Ice Cream Sandwich pushed the Google mobile OS world together, with Android 3.0 Honeycomb and Android 2.3 Gingerbread, made for tablets and smartphones respectively, making a single system that's made for all devices, regardless of their screen size. Android 4.1 Jelly Bean takes what Ice Cream Sandwich has and bumps it up a notch in a handful of ways.
Notifications
The first thing you'll notice when you get into your Nexus 7, your brand new Galaxy Nexus, or whatever device you've got at home that's been updated to this newest bit of software, you'll see that your notifications pull-down menu is updated significantly. One new feature here is a set of shortcuts connected to apps such as your calendar – when a new event comes up in reminder form, you've got the option to email the other people included in the event or call them.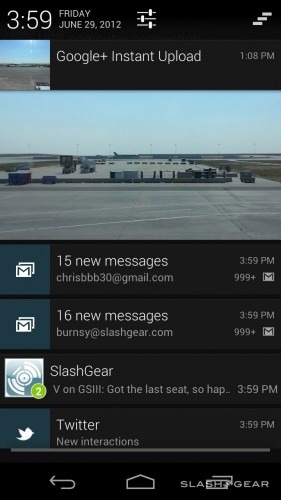 Several apps either are or are about to be updated to work with this new notifications pull-down menu – you'll notice right away that each new screenshot you take will be previewed in part with a bit of a chopped-off segment of its full self, for example. Each update is also expandable based on its content, with your Gmail updates showing snippets of your messages instead of just showing that you've a certain number of messages in your inbox.
Camera / Gallery
While the camera remains essentially the same as it was with the basic version of Ice Cream Sandwich, Jelly Bean tunes your ability to go back and view photos and quickly erase them if you're not thrilled with your results. This feature is extremely similar to what both the iOS and Windows Phone cameras use with a swipe across the camera to see photos just taken. This feature is called "filmstrip view" and it is pretty slick.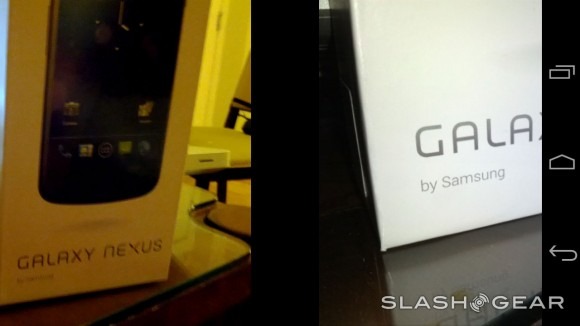 Keyboard
This update is a direct strike at keyboard titans like SwiftKey and Swype, with a "more accurate, more relevant" language model for some new and improved instant guessing for the words you're about to type. This version of the keyboard "adapts over time" which means it's learning based on your keying of characters at all times – it's relatively impressive, though we'll likely be sticking with SwiftKey until they've got a more diverse range of learning skills – or more options for keyboard colors, of course.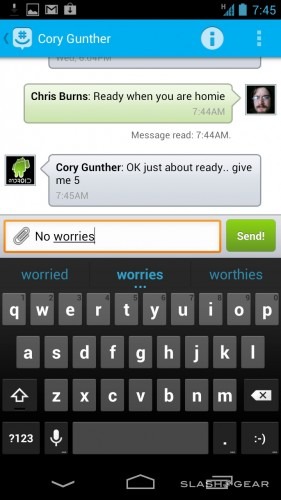 The Keyboard here in Jelly Bean is also connected to text-to-speech – or speech-to-text if you want to make a bit more sense of the term. You'll now no longer need to be online to use voice dictation, so you'll be able to type by talking to your device wherever you're at, mobile data or not.
Widgets
Your home screens have had widgets for quite a while now, and with the newest updates to Android you've got the ability to resize – this time you've got automatic resizing and pushing icons out of the way to make room when you're moving widgets. Say you've got four icons in the middle of your screen and you pull over your Gmail widget – they'll automatically be pushed up to the top or the bottom of your screen to make way. If you've got icons running up the side and the top of your screen and want to put a widget that's too big int he center, it'll be resized down and to the right to fit.
Android Beam
Just as it was with Android 4.0, here in Android 4.1 you're able to beam photos, items in certain apps, and contacts with a touch. This update ads a collection of sharing abilities such as Simple Secure Paring for connecting to Bluetooth devices as well as the sharing of YouTube videos, directions, and videos.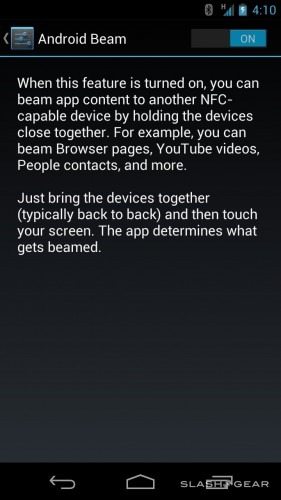 Google Now
We've got a full hands-on sort of review of Google Now separate from this post, if you'd like to take a peek, otherwise you can have a look at this video review we've got instead of the whole shebang!
See the full Google Now hands-on for more information. Voice Search is also included in Google Now, both of them tying together to bring you a next-level guided experience for Android.
Project Butter
Without a doubt, one of the most impressive items on this list is what Google is calling Project Butter. This implementation of several next-generation elements has made the Galaxy Nexus and the Galaxy 7 both look and feel as smooth or smoother than any Android device we've worked with before, without a doubt. Google's next generation Android system is able to work with a framerate of 60 frames per second (FPS). Google has implemented Vsync to make this 60FPS possible, with a 16 millisecond Vsync "heartbeat" not allowing you to see the time between one task and the next.
Jelly Bean also implements Triple Buffering, this element making sure that each of the main three hardware components are working in sync and to their maximum potential. The three main hardware components in this case are CPU, GPU, and display, and everything from scrolling through pages to watching videos online to flipping through a game have been improved either just a tiny bit or one whole heck of a lot.
Touch Responsiveness is also part of Project Butter and has been improved as well, with a new algorithm that anticipates your next finger touch. This algorithm will get rid of the sluggishness you might be familiar with that occurs after you bring your device out of sleep mode. Jelly Bean will give your CPU a boost in these cases so that there's no latency whatsoever.
Wrap-Up
This update, once again, is more like an in-between sort of tweak festival for the most part, but it does have its big advances as well. I've found myself quite a few times already in the short time we've had my hands on Jelly Bean utilizing Google Now and working with Voice Search as if I'd always had it (and them) on hand. Users with Nexus devices will hopefully be getting this update relatively quickly, while the rest of the Android world will probably be waiting several months (or weeks, if there's a miracle in the wind) before they get to use it. Unless you're a fan of hacking, of course, as there are already ROMs out there with Jelly Bean and its feature up and running now!