NVIDIA SHIELD Review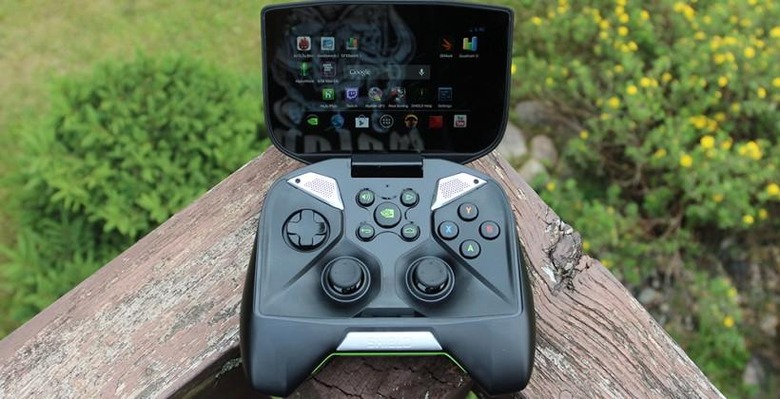 Delivered in NVIDIA SHIELD is the first full-fledged mobile device crossover into the desktop gaming universe. SHIELD is an Android-based physical gaming controller with its own clamshell hinge-attached display, powered by NVIDIA's newest mobile processor, stepping up as what the company claims is the world's most powerful mobile gaming device. With NVIDIA's Tegra 4 SoC under the hood and the ability to play Android games and stream high-powered PC games from NVIDIA GeForce GTX processor-toting gaming rigs, NVIDIA proves that they're essentially right on the money.
Hardware
NVIDIA SHIELD works with a 5-inch "retinal quality" multi-touch LCD display at 1280x720 (294 PPI) resolution. This display sits on a panel which, when closed, protects the majority of SHIELD's physical controls. This panel swings up on a surprisingly strong hinge – more than strong enough to stay in place no matter the angle.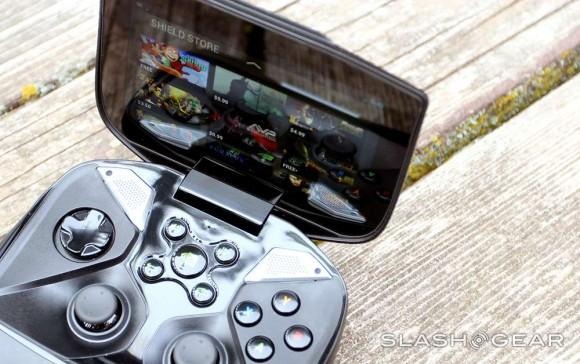 This hinge connects the device to the larger portion of SHIELD, with essentially everything other than the display and the replaceable, customizable cover (or "Tag") that attaches behind it. There's enough bezel around this display's face that the user can adjust its angle easily, and the touchscreen itself is as responsive as we've ever seen a panel be.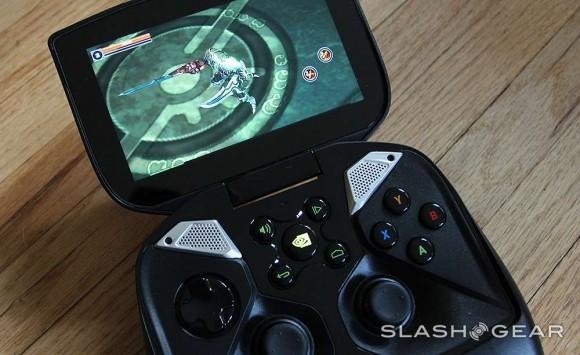 SHIELD's display is straight up excellent. Viewing angles couldn't be better, brightness is such that you'll be able to play outside (in the shade), and color accuracy is spot-on. Though we'll be waiting for the 1080p upgrade in a SHIELD reboot – perhaps – some day down the line, for now this device is more than sharp enough to deliver the definition necessary to do everything a mobile gaming / streaming desktop gaming handheld should be capable of doing.
The speakers on SHIELD are the only mobile-based blasters we've heard that come anywhere near what's delivered with the HTC One. We'd go so far as to say that this machine is the loudest – and best sounding, while being loud – mobile smart device on the market today. SHIELD comes with stereo speakers knocking out custom bass reflex tuned-and-tweaked port audio system that issues forth from the two grilles you see directly below the display.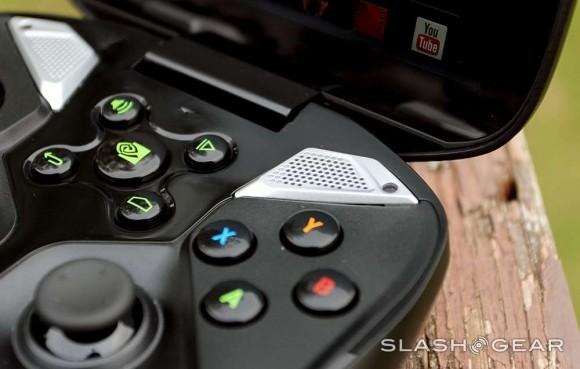 These speakers make SHIELD vibrate with sound when they're on full volume. SHIELD being a slightly deeper device than the average smartphone also allows for the speakers to be ported, setting the blasters themselves in enclosures that allow a low end you simply do not hear on a device that's physically smaller.
SHIELD's 3.5mm stereo headset / mic jack works perfectly well too. Though you don't get any fancy branding for the audio components on this system, the results are best-in-class.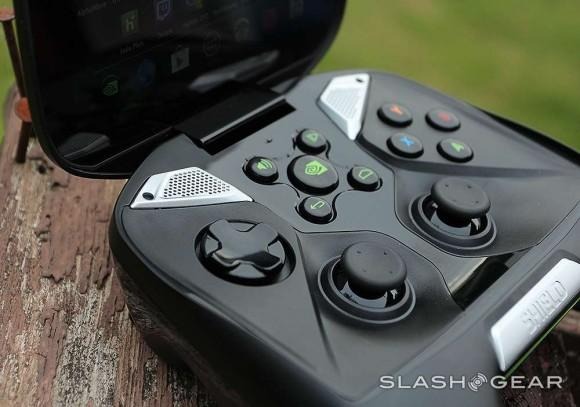 The physical controls on this device are truly console-grade, proving to be responsive and in every way ready for the long-haul that is a hardcore gamers' multi-year device use-cycle. Two joysicks sit below a D-Pad on the left, full-sized ABXY buttons to the right, and a set of five unique buttons in the center.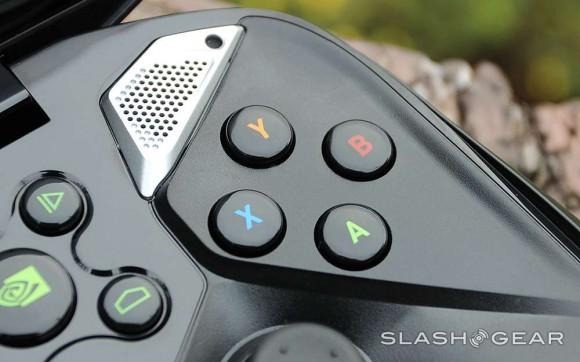 Below a centered microphone hole near SHIELD's hinge is a volume button, start button, back button, and home button, these encircling a multi-function SHIELD button – the largest button on the face of the device.
The SHIELD button activates the TegraZone portal: access to optimized Android games as well as streaming PC gaming action. This interface is explored a bit more in the Software section later in this review. For now you should know that this button is always lit up when the device's display is on unless you turn it off – you can do so in the custom Controller options inside your Android settings inside SHIELD.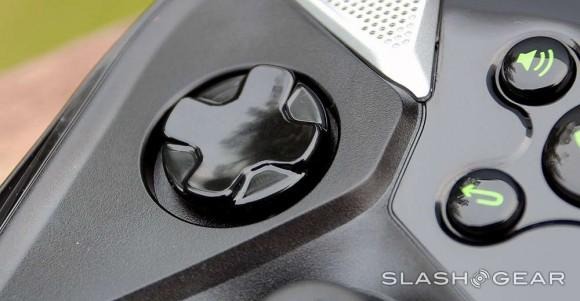 This same set of settings allows the user to activate or de-activate their ability to use one of the joysticks as a mouse controller and adjust that pointer speed as well. You can also choose to use the right and left bumpers as volume up/down, and choose to activate or de-activate the LED's "pulse" function when SHIELD is asleep.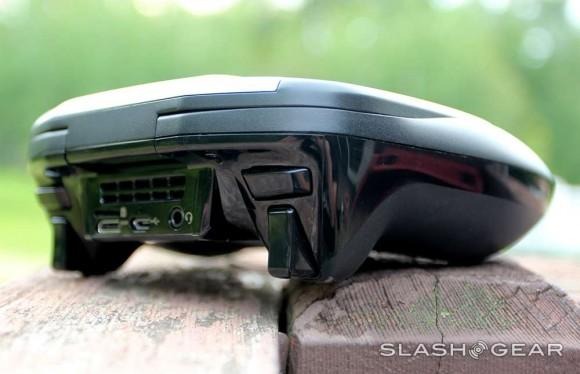 On the back and below SHIELD you'll find a left and right bumper as well as a left and right analog trigger, these tuned to perfection over the several cycles of hardware we've gotten to experience over the past several months – first at CES, then again amid developer festivities at Google I/O 2013 – they just kept getting better. Here in their final form, the triggers and bumpers on SHIELD are not to hard, not too light; they're just right.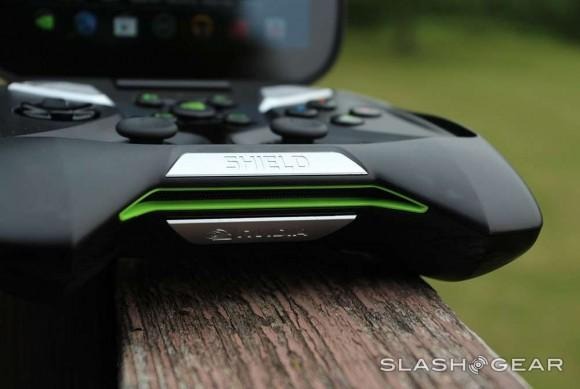 Also on the back of this machine is one of two air vents. As you'll see in the hands-on hardware exploration, these two vents don't play host to any wafts of air, by any means, instead simply allowing the system to breath, so to speak, rather than being fully enclosed. We've thus far experienced no abnormal amounts of heat emanating from SHIELD.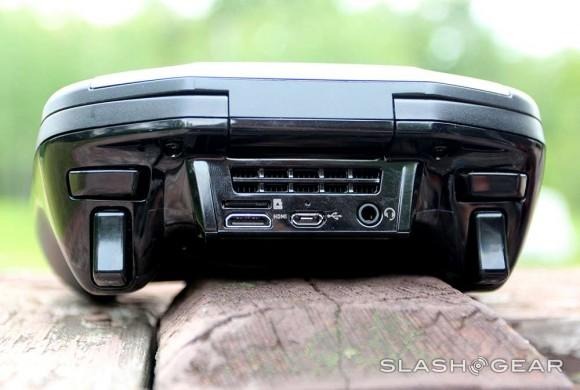 The back's microSD card slot is able to work with up to 64GB SDXC (Secure Digital Extended Capacity) cards*, and you'll be connecting to HDMI with a mini-HDMI port. Again you'll see the single headphone/headset port on the back as well, and right in the center rests a micro-USB port (USB 2.0) for charging and connecting to your PC for any media transfer and/or hacking you may wanting to execute.
*NVIDIA also notes that: "Theoretically, the microSD slot can support up to 2TB SDXC devices if such devices were to exist in the future."
Inside you'll also find 802.11n 2x2 MIMO "game-speed" Wi-fi, bringing on the speed capabilities you'll need to stream games from your gaming rig at home. You'll also have support for 802.11a/b/g/n as well as every standard 802.11 protocol you could ever want: WEP, WPA, WPA2, PSK, 802.1x EAP.
This device also works with Bluetooth 3.0 and works with A2DP for Bluetooth streaming standard, and you've got both 3-axis gyroscope and 3-axis accelerometer motion sensors inside. The whole unit weighs in at 579 grams (1.276 lbs) with a size of 158 mm (W) x 135 mm (D) x 57 mm (H) when closed up and ready to go mobile.
Software / Android Gaming
SHIELD runs on Android 4.2.1 Jelly Bean (for now), with what's nearly a vanilla experience up front. NIVIDA ads very few apps to the mix, presenting only their own portal to the TegraZone, a SHIELD Help guide, Hulu+, Twitch.TV, and a pair of games optimized for the device's unique setup. Included in this game set is Sonic 4 Episode II THD and Expendable: Rearmed.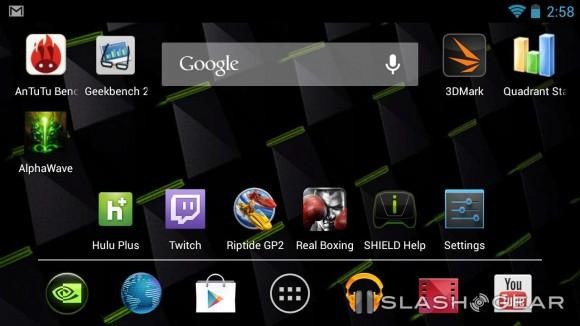 The non-game apps are each useful in and of themselves – while Hulu+ does require you to have a subscription to watch videos, the rest you can use without any obligation. Twitch.TV allows you to watch gaming and gameplay videos, and the TegraZone is expanded well beyond that of the NVIDIA-optimized game portal you'll find on other devices.
Above: Real Boxing. Below: Blood Sword: Sword of Ruin
With SHIELD's implementation of Android, you're working with what's both a standard build of Jelly Bean 4.2.1 and a unique set of controls in settings. You'll be able to move through Android here with SHIELD's physical controls, flipping back and forth through screens with one joystick or searching through pages with a mouse clicker with the other.
The deepest NVIDIA goes with creating their own UI for SHIELD is in the TegraZone portal. Here TegraZone is integrated into SHIELD, appearing if you tap the TegraZone icon in the device's app drawer or popping up – and you'll do this a whole lot more often – with the backlit SHIELD button on the controller's center.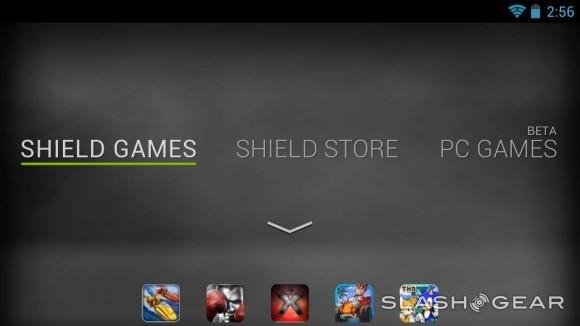 SHIELD's TegraZone shows three doors you might walk through – the first leading to a listing of the SHIELD-optimized games you've got on your device already. There the games are listed as large app icons and can be launched as they'd be launched from your app drawer or home screen.
Next is the SHIELD Store, this attaching to a series of banner-like images with the titles of the games available to you through Google Play, each of them attached to descriptions and a presentation made to sell you on each of them. As with each of the other bits of the TegraZone here, this set of screens can be navigated with SHIELD's physical controls or with the machine's touchscreen interface.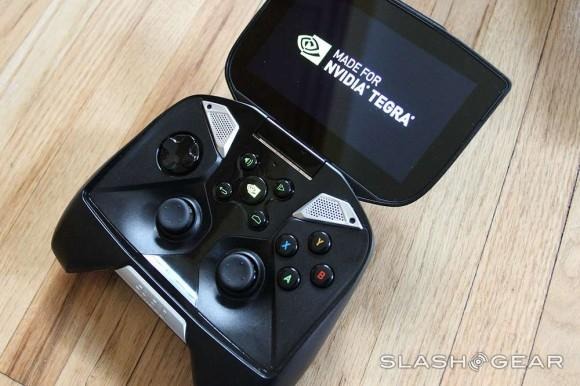 We've also just begun to scratch the surface with the odd use-cases for SHIELD, the most entertaining of these being the wireless control of the Parrot AR.Drone 2.0. You'll be getting a multi-angle look at how this is done below – and bear in mind that this beast was running in high-speed wind. Keep your eyes on the display, too.
Finally there's PC Game Streaming. Though this system is launched in Beta when NVIDIA SHIELD is first hitting the market, you'll be able to connect to a PC to stream games from a high-powered gaming PC (so long as it has all of NVIDIA's prerequisites) to this mobile device. What's displayed on the PC's screen is essentially mirrored while the physical controls of SHIELD work the same as they would as a more traditional connected or wireless gamepad.
PC Streaming
Again though this system is still in Beta mode when SHIELD initially launches, you'll be able to jump in to a game like Batman: Arkham City and Borderlands 2 with ease. Once you have a PC running on your local Wi-fi network, it's relatively simple to connect to and sync with SHIELD.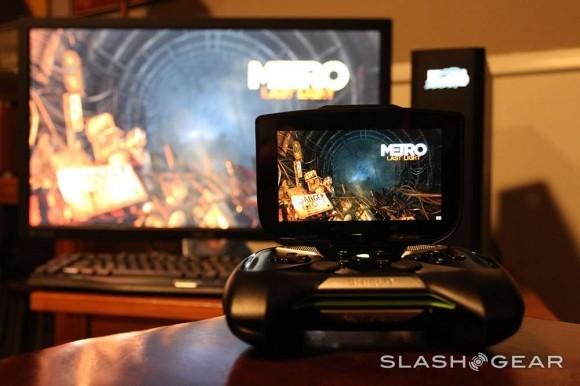 You will need a desktop (notebook GPUs wont work quite yet) with a GeForce GTX 650 or higher GPU, Intel Core i3-2100 3.1GHz or AMD Athlon II X4 630 2.8GHz or higher, and system memory ringing in with at least 4GB. While you'll be able to work with Windows 7 or Windows 8, you'll absolutely need to be working with the newest in new GeForce drivers and the GeForce Experience itself.
NVIDIA also suggests you roll with at least an 802.11a/g router, but ideally you'll be working with a higher-speed 802.11n dual band router. You'll want as much of that speed as you can get.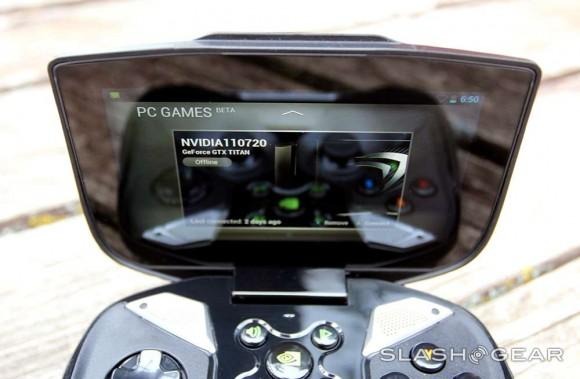 While the initial list of games that work with SHIELD instantly (button pairing and everything) is impressive, we centered on a single title here in our initial review: Metro: Last Light.
This game is an in-depth first-person-shooter that expands on the original Metro title, continuing to push you through a desolate war-ridden world full of mutant beasts and human enemies alike. You'll be relying on retro weapons that need you to pump as well as gas masks to allow you to breathe the poison-filled air.
With SHIELD you get this experience away from the PC, blowing your enemies away with steampunk-style weapons activated by the physical buttons of this otherwise Android-centric machine.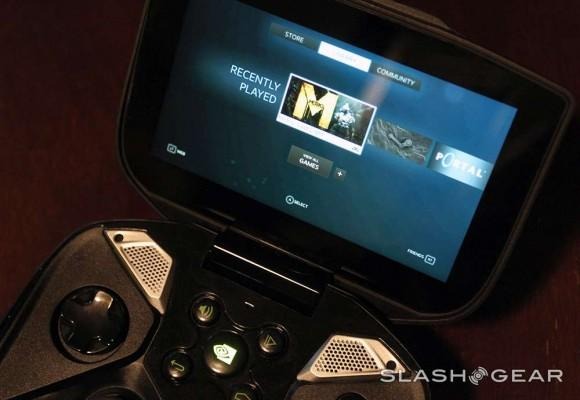 It would appear that the only reason this system remains in Beta, from what we're able to discern and based on our experience, is that there is (small) amount of latency between the PC and the controller. On the other hand, it would appear that when a button is tapped on the controller, there is little to no delay between that tap and a gunshot.
In other words – it seems as though the system is knocking at the door of a final full release. All it needs is that extra little kick in the pants.
Performance
SHIELD is running with an NVIDIA Tegra 4 processor. This is a major upgrade from the NVIDIA Tegra 3, the company's first quad-core mobile processor, running here with the full greatness described earlier this year to us by NVIDIA's Technical Marketing Director Nick Stam in our SlashGear 101: NVIDIA Tegra 4.
SHIELD works with NVIDIA Tegra 4 clocked at up to 1.9 GHz for each of its 4 CPU cores. This SoC represents the first quad-core application of ARM's Cortex-A15 CPU core – and there's a battery-saving fifth core in there as well.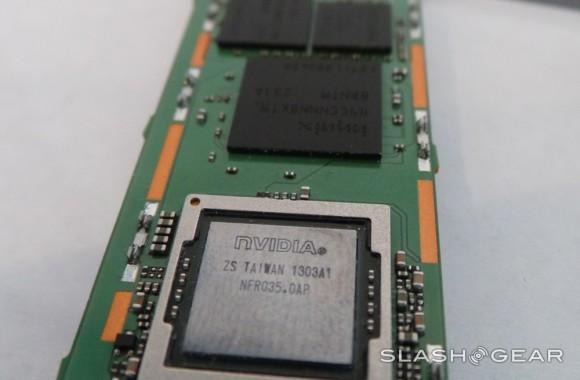 Above: NVIDIA Tegra 4 up close and personal (not necessarily arranged as it would be on the board inside SHIELD) from our hands-on with Tegra 4 and Tegra 4i.
This system works with 72 GPU cores as well, rolling with this processing power alongside 2GB LPDDR3 DRAM. Again, you'll be accessing 16GB of built-in Flash memory with this device, and you can add an up to 64GB microSD card in its back as well.
Tegra 4 will be appearing on tablets for the most part – if not exclusively – as it's the NVIDIA Tegra 4i that's been introduced and designed specifically for smartphones. Tegra 4 paired with a 5-inch display (as we see with SHIELD) will therefor almost certainly be unique to this device, making this the ideal machine to see how powerful this processor can get. What we've got here is a sort of perfect storm for benchmark butt-kicking, so to speak.
In synthetic benchmark tests you'll find SHIELD taking the competition to lunch. Though these tests are by no means perfect tests of how powerful a device really is, there's no denying here that SHIELD is in a class all its own with Tegra 4.
Battery Life
As it was with Tegra 3, so it is again with Tegra 4: utilizing this device's 5th "shadow core" for low-power tasks (using PRISM 2 technology), SHIELD is able to conserve its energy at an unprecedented level. When this device is not actively being used, battery drain essentially flatlines. In fact, leaving the device on its own without actively using it has resulted in 2+ days of battery life in our tests – and it's looking like it could go a whole lot longer as we're barely under 50% battery.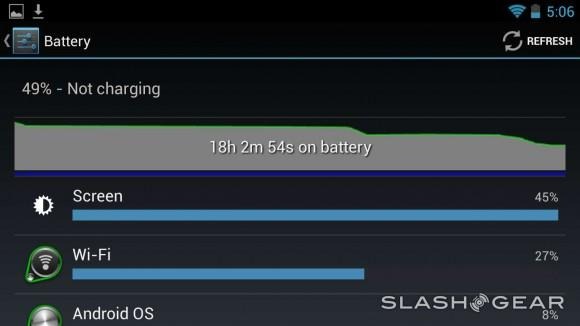 In use the device does slightly less excellent, knocking out battery life rather quickly if you're streaming PC games (and reminder, that's still in Beta), and draining at a rate no worse than we've seen with Tegra 3 when playing Android devices.
Because this machine is Wi-fi only, the most major drain on it is going to be its display while it's awake and Wi-fi while it's asleep. Turning Wi-fi off will result in an even more flatlined battery draw, and this machine's display is sharp enough that turning down its brightness wont affect your ability to play all that much.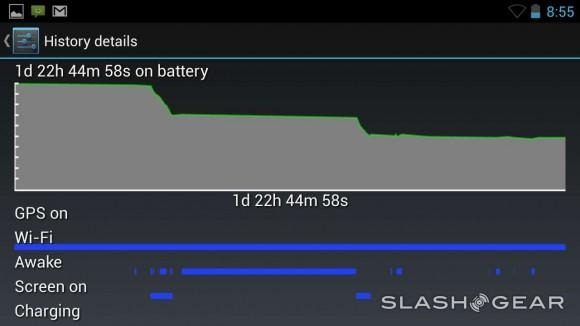 NVIDIA rates SHIELD at 4-5 hours of gameplay for Tegra 4 optimized games and up to 10 hours for typical Android games, as well as HD quality movie playback at up to 15 hours and music playback at up to 40 hours. We've found this to be – in general – fairly accurate (save the music bit, we've not yet tried to knock out a 40-hour session). Straight gameplay on an Android tip will result in less than a full day's battery life, while normal – sporadic – gameplay will get you through multiple days without issue.
Wrap-up
This is just the beginning. It's immediately apparent that SHIELD is capable of doing a lot more than we're seeing here at launch, and not just in gaming. With wireless projection and this unit's HDMI out paired with low-latency PC mirroring, wireless controllers turning SHIELD into a console, and untapped potential in abundance inside the processing power of Tegra 4, the possibilities are exciting.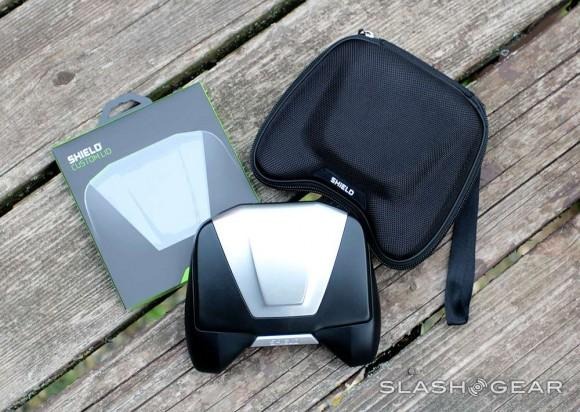 NVIDIA has never released a product like SHIELD before. Judging solely by the attention NVIDIA has given SHIELD in the weeks and months between its announcement and its final release, we've no doubt that there'll be not just software support in the way of Android OS updates, but for accessories and uniquely optimized games as well.
Deciding to engage with NVIDIA SHIELD will be less like purchasing an everyday smartphone or tablet than it will be like picking up the sole hero device sold by a company that up until now – for several years at least – has been building a software and hardware ecosystem to support it. This is a moment in NVIDIA's history you'll want to be a part of.