NVIDIA Tegra 4 Benchmarking And Hands-On With Phoenix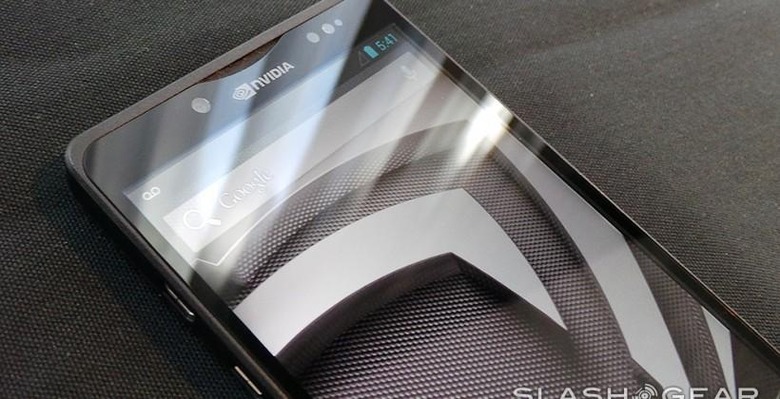 This week we've had the opportunity to take a peek at the NVIDIA Tegra 4 quad-core processor inside both a couple of tablets and the Phoenix Developer Platform smartphone (in the form of the Tegra 4i). While we've only been able to see benchmarks in a mocked-up version of a tablet, the numbers are impressive, to say the least. We've also had a peek at the insides of an NVIDIA Tegra 4 and Tegra 4i chip setup, with an up-close look at how the SoCs look inside your phone or tablet of the future.
What you're going to see first here is a hands-on look at Tegra 4i as it runs on the Phoenix Developer Platform. What you'll see is Real Boxing being played, this game not quite out yet for Android, but looking fantastic on the Phoenix. It's important to note that while the software on this device – and the device itself – are not quite out in their final form, the setup we've seen here is monstrous.
Next you're going to see a similar sort of situation, this time with an unnamed tablet running a full-fledged NVIDIA Tegra 4. This device is also plugged in with an Xbox controller and running Zombie Driver. You'll see that with a massively impressive game like this – updated for the Tegra 4, mind you – it's all good for the future.
Then there's a video coming up with some power management demonstration action. You'll find that the NVIDIA Tegra 4 has the ability – in a developer setup here, again – uses up next to no power at all when you need it. Now we've just got to see this excellence in final form in a real product! Not for some months though, mind you – NVIDIA doesn't expect final form Tegra 4 or Tegra 4i products to be out for some time.
You'll enjoy the following gallery especially if you're a fan of up-close-and-personal action with processors. We've gotten the chance to capture both the Tegra 4 and the Tegra 4i as they'd appear in a board inside a mobile device. While this isn't exactly how they'd be arranged no matter what device you've got, it's nice to see how the 4i looks on its own, with the i500 modem built in, then the Tegra 4 with the Icera modem separate – it's the right-most black rectangle above.
Finally – the benchmarks. You'll find that the NVIDIA Tegra 4 mock-up situation the company has made up here is ready for action only in a very rudimentary sense. While you're able to play games and rock and roll with benchmarks galore, you're not exactly going to be popping this unit into your backpack. That said, you can see how NVIDIA's next-generation processor is blasting forth here well before it hits a final product.
Stay tuned all week long as we continue to rock and roll with NVIDIA and the rest of the wireless environment at Mobile World Congress 2013!