NVIDIA Tegra 4i detailed: quad-core with wide market appeal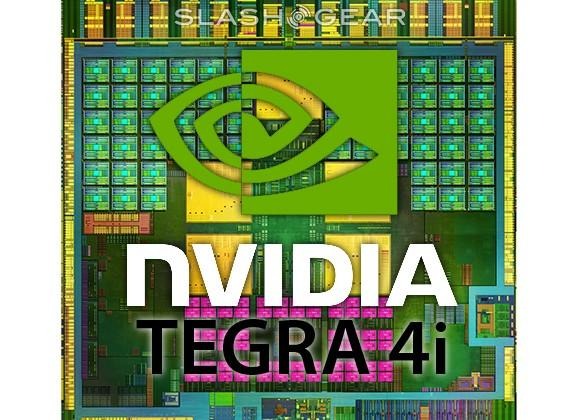 With NVIDIA's reveal of the Tegra 4 System-on-Chip we saw the next generation of processing power with the ability to work with a separate piece of architecture for 4G LTE connectivity – with the Tegra 4i, NVIDIA integrates it all onto one single-chip solution. What you'll see here is a smaller footprint made for smartphones on the mass market with a whole lot of next-generation power, but on such a level as you'll find on the Tegra 4. Tegra 4i is NVIDIA's way of pushing the latest and greatest in Tegra processing power to smartphones in a big way.
Tegra 4i vs Tegra 4
While the Tegra 4i (codename: "Grey" up until this week) is handling massive amounts of smartphones across the market across the world, NVIDIA's Tegra 4 (originally called codename: "Wayne") will be handling Tablets and what NVIDIA calls Superphones. This is a term NVIDIA has been using since all the way back when the original Motorola ATRIX was introduced to define their forward-looking approach to mobile computing. With Grey, NVIDIA retains a power greater than that of the Tegra 3 and gives it a boost while an i500 modem is integrated in with it.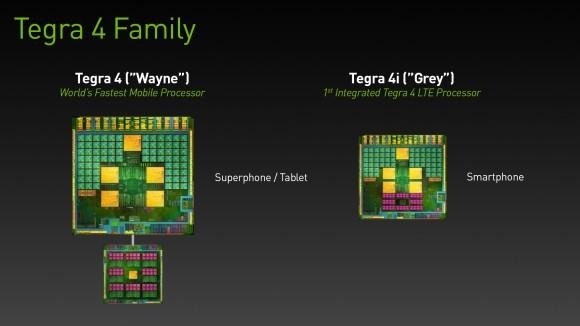 The Tegra 4i works with R4 ARM A9 CPU architecture, this still employing 4-PLUS-1 technology with a fifth battery-saver core that works with low-power tasks for battery conservation. This is compared with the Tegra 4 which works with four ARM A15 cores (plus a fifth with the same technology onboard). The Tegra 4i also works with a 60 Core GPU arrangement rather than the 72 Core setup the Tegra 4 has.
Sizing up Tegra 4i
This little beast known as the Tegra 4i is what NVIDIA calls the "highest performing single chip smartphone processor [in the world]" when this article is published. While we'll only be able to test this for ourselves when we've gotten our hands on the hardware, it would appear that their first show of power relies on the power per millimeter squared results from NV R&D, as you'll see in a press deck shot here: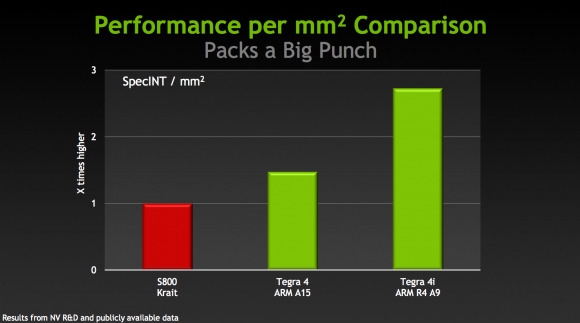 NVIDIA also shows a comparison between the S800 Krait CPU (used in some key competitor processors, mind you) and the CPUs of both the Tegra 4 and 4i. You'll see here that the max Perf and Perf / clock are superior on the Tegra 4, while the size of the core is smallest on the Tegra 4i's R4 A9 CPU, as is what NVIDIA says will be the raw ability to conserve battery power. It's the Perf per millimeter squared, again, that shows the intense power of the Tegra 4i, working at more than double the ability of the Tegra 4 (based on size ratio, of course).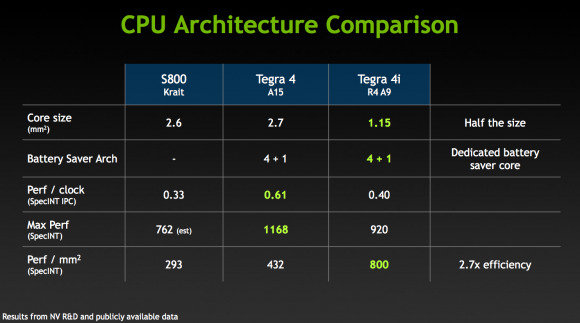 With Tegra 4i you've got a a new quad-core architecture with ARM R4 A9 cores clocked at 2.3GHz each. You've got your integrated i500 (Icera, that is) modem, and 60 GPU cores. Inside you've also got an integrated video engine, image signal processor, optimized memory interface, and some fabulous computational photography architecture (going by the name "NVIDIA Chimera") as well.
NVIDIA Chimera
With the NVIDIA Tegra 4i we're seeing another revelation in the abilities of the Tegra 4 family (including Tegra 4 and 4i at this point) to shoot great photos. With the reveal of the Tegra 4i, we've been shown (in brief) not only that this processor will enable phones to work with NVIDIA Chimera's "Always On HDR", but "Tap to Track" and "HDR Pano" as well. This is also the first time we've heard the brand "NVIDIA Chimera" attached to the suite of computational photography architecture features.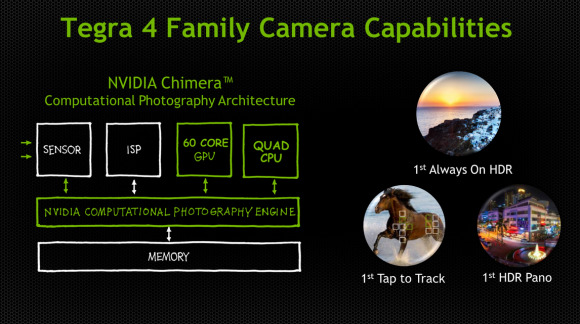 With Tap to Track you'll be able to tap on your device's viewfinder to keep focus and lighting based on a single object – and not just a person. Tap to Track is able to lock on to any kind of object and will retain a sensor on that object as long as it (or they) remain in view. This will be fabulous for tracking a soccer ball, for example.

With HDR Pano you'll be working with panographic photos that collect multiple exposures instantly – not unlike the Tegra 4's previously announced Always On HDR. Here you'll get vibrant and wonderfully thick-colored panographic photos every time you shoot.
Phoenix Reference Phone Platform
With the Tegra 4i, NVIDIA begins creating reference platforms for each new processor. In this case it means you'll be seeing a 5-inch display-toting smartphone with 1080p resolution across the front, an 8mm thin body, and 4G LTE connectivity. This device also works with PRISM 2, DirectTouch, and the full-on Tegra 4i build for NVIDIA Chimera Computational Photography Architecture use – snap away!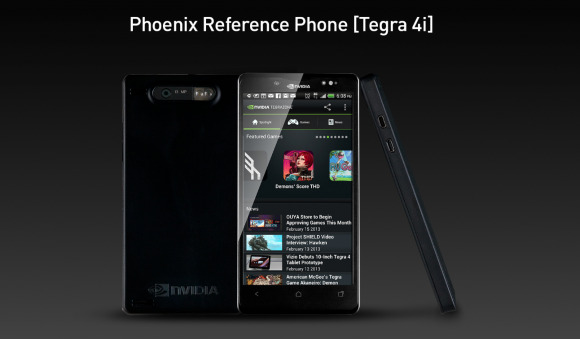 Wrap-up
In the end with the Tegra 4i you've got the second wing in a flying processor bird that is NVIDIA's next-generation Tegra 4 family. With the NVIDIA Tegra 4i the company has presented their solution for entering the mass market in a way they've not attempted in the past. With this release, the Tegra smartphone floodgates can officially be opened.
Have a peek at the timeline below to gain more insight into what the Tegra 4 family is bringing to the market in the coming weeks and months. Expect the NVIDIA Tegra 4i to be in smartphones within the next few months and mass adoption to be on the market around the start of 2014.