Nokia World 2011 Wrap-up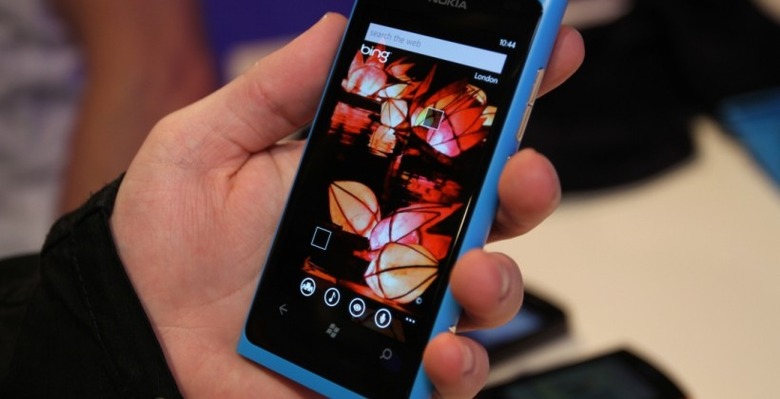 Nokia World 2011 has come and gone, a pivotal event for the cellphone giant and one which, while not answering every question we had about the company's Windows Phone future, at least demonstrated that it's taking its evolution very seriously. Vincent has already shared his opinion of the show from a US perspective, highlighting the wins and near-misses Nokia made in convincing a North American audience it has legs; now it's time for our customary Nokia World wrap-up.
Windows Phone
Wailing Symbian fans and those decrying the death of MeeGo needed to be silenced, and Nokia had Windows Phone with which to do it. The two handsets, the Lumia 800 and Lumia 710, offer the clearest price-point differentiation to-date for the platform, as well as debuting Nokia's software strategy to help it avoid being "just another licensee" of Microsoft's.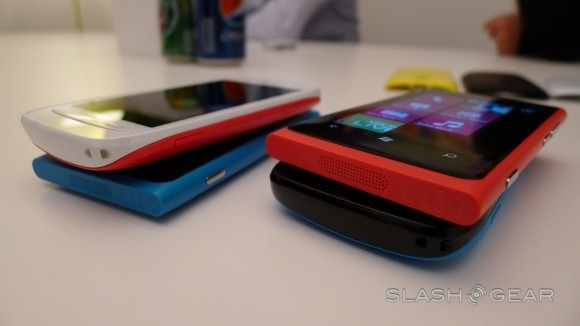 Ironically the most natural competition for the Lumia 800 is Nokia's own N9 – more than one person commented to us that the Lumia's styling would've been the star of the show had it not been previewed by the MeeGo handset – but that said we can't help but be impressed by the new flagship. It may lack the pentaband of Nokia's other recent smartphones, a casualty of Microsoft's insistence on Qualcomm basebands, but the Carl Zeiss-blessed camera, stunning AMOLED display and slick design add up to a handset that could well be the most compelling Windows Phone we've seen.
[aquote]The Lumia 710 is arguably the more important in terms of Nokia's long-term vision[/aquote]
While feature-hounds will inevitably flock to the Lumia 800, the 710 is arguably the more important in terms of Nokia's long-term vision. This is Windows Phone 7 on a budget – or, at least, more of a budget than we've seen from the platform before – and highlights Nokia's formidable strengths in production and supply-chain management. If any firm can deliver low-cost Windows Phones, it's Nokia: where currently devices like the 700 run Symbian, expect Microsoft's platform to take center stage a few years down the line.
Nokia Lumia 800 hands-on:
The other push was software, and while Nokia was careful not to overload its launch with too much apps talk, two of the most important strands of its differentiation strategy were made clear. Nokia Drive will offer turn-by-turn navigation with no monthly fee, while Nokia Music will have a choice of customized streaming music, again with no subscription required. Again, this is economy of scale talking: Nokia's ownership of NAVTEQ and existing development of Nokia Maps and Drive, along with its Nokia Music platform, allow it to preload inclusive navigation and streaming music services that rivals and operators might normally have to charge for. Nokia Music's Mix Playlists may not have the flexibility of something like Spotify, but as an out-of-the-box option it's one of the more compelling and certainly helps the company stand apart from other Windows Phone providers.
Unfortunately the US contingent went home with little certainty about the country's Nokia future. Neither new Lumia will end up in the 'States, and aside from some vague talk of LTE and custom network support, Elop and co. refused to be drawn on what, exactly, we can expect to see when Nokia attempts to storm the US market in early 2012. More on this in our Nokia World 2011: The US Perspective piece.
The Next Billion
Hang around Nokia execs for any length of time and it's not long before "the next billion" comes up in conversation. They're not talking about the next round of bonuses, but the next generation of cellular users, primarily in developing nations where connectivity is still rapidly gathering momentum.
[aquote]Each Asha encapsulates one of Nokia's key strengths[/aquote]
For those users, Nokia brought Asha to the show. The four-strong range of S40 handsets may not exactly set US or European hearts a-flutter, but each encapsulates one of Nokia's key strengths and the reason rivals still take the company seriously. The cheapest Asha model, the 200, is expected to cost a mere €60 unsubsidized, despite offering a camera, full QWERTY keyboard, the ability to simultaneously use dual-SIMs, an FM radio and app support. That's a whole lot of functionality for the price, especially when you factor in Nokia build-quality, radio-quality, market reputation and battery life.
The other three models in the Asha line-up build on that theme, all coming in at under €115 unsubsidized but including specifications that previously might have demanded a high-end featurephone. As the company's execs put it during the opening keynote, the "next billion" look at a smartphone and then buy a cheap cellphone: Asha offers aspirational features that, though many will sneer as they don't compare to, say, a DROID or an iPhone, are still prized in many regions.
Nokia Asha hands-on:
It's important, too, as Nokia had been seeing its entry-level market eaten into by rivals from China. The Nokia brand cachet may not carry much currency in the US, but it does elsewhere. Unlike in previous years, there wasn't much in the way of highlighting Nokia's philanthropic endevours – perhaps the company has realized that, unfortunately, it doesn't make for as good, as blanket coverage as glitz and high-end specs – but the ongoing outreach efforts it makes are likely to help cement its foundations among the next generation of mobile users.
Elop's Twelve Month Review
Back at Nokia World 2010, brand spanking new CEO Stephen Elop took the stage and made his brief introductions. More memorable was his chant of "Developers, developers, developers!" that closed the keynote. Elop has hardly had an easy time of it in the twelve intervening months: branded a Microsoft mole by conspiracists, forced to make sweeping cuts of staffing and budgets to trim Nokia's profligate spending into something more fitting its newly marginalized position in the mobile segment, and charged with guiding the historic firm through its most difficult period to-date.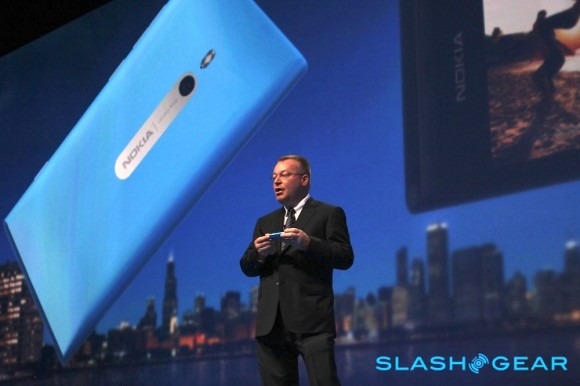 So, how did he do? Elop's opening keynote was certainly stronger than last year's, aided by an array of execs that certainly gave their respective presentations their all. Much has been made of the fact that, for the first time ever, no Finnish executives were brought on-stage during the Nokia World keynote. More important, perhaps, the presentation style showed Nokia had listened and reacted to criticisms of the 2010 event.
[aquote]"Why can't you be more like Apple?"[/aquote]
Last year, reserved presenters and deadpan delivery left Nokia's new product and service announcements feeling flat. "Why can't you be more like Apple?" went the cry, referring to the Cupertino company's dynamic press conferences, and Nokia responded: 2011's exec moments of impromptu on-stage dancing and vocal self-praise may have bordered on the cheesy, but at least they demonstrated no shortage of enthusiasm, and while the cynical press contingent may not have been moved, the developers present loved it. For once it seemed that Nokia wasn't just going through the motions: that the company had new phones it legitimately felt it stood a decent chance with.
Therein lies Elop's primary success: the Lumia series. Talking with Nokia staff at the show (none of whom would agree to be specifically named), the new CEO's direct involvement in all stages of the Windows Phone rollout was clear. There's been a big shakeup inside Nokia, not just from staff leaving or shifting, but in how products are conceptualized, designed and positioned for the market. Elop isn't out of the woods yet – the Lumia 800 and 710 have yet to launch, of course, and then there's the US assault to be managed – but it's hard to argue that, with a path decided on, he and the management team aren't giving it their all.
The Future
The first Nokia Windows Phone will go on sale in a matter of weeks. That alone is an astonishing turnaround from a company that was notorious for the interminable delays between announcement and shipping. Developers will continue to be courted, with thousands of free devices headed out to curry favor among the coders that have become the life-blood of any smartphone platform. Nokia will follow the Lumia 800 with its cut-price 710 sibling, which will arrive pretty much alongside the company's US strategy.
The third Windows Phone we were expecting, tentatively believed to be the large-screen Nokia Ace, didn't make an appearance, but we continue to hear whispers of a "Lumia 900" near in the pipeline. That could round out the new range with a flagship to take on the big-display Android phones that have become so popular of late. Nokia's research labs were also on form, bringing along eye-catching designs like the flexible Kinetic concept.
Nokia Kinetic Research Concept:
For all of Nokia's efforts last year, we left the show still thinking "lovely hardware, shame about the Symbian"; the market responded in a similar vein, failing to take the E7 and other models to its bosom. Contrast that with 2011, where most press and other attendees were eagerly anticipating spending more time with the Lumia 800. There are still plenty of questions lingering – the US launch, Nokia's software differentiation strategy, what's happening with MeeGo and talk of a new entry-level replacement to S40 – but Nokia seems to have pulled off the most needed trick: getting people talking not about its failure, but its future.
You can find all our Nokia World 2011 coverage here.