Nokia World 2011: The US Perspective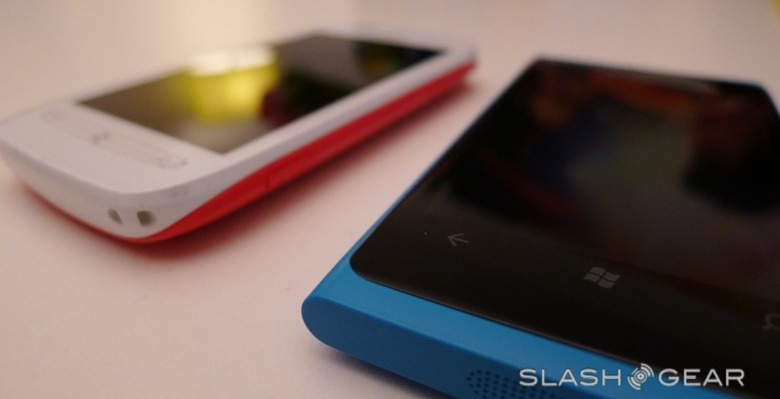 This week was a big one in mobile, plus I lost my virginity. Nokia World 2011 took place in London, my first time at the show, with the company revealing the Windows Phone handsets its bet the farm on. We've covered the event in previous years here on SlashGear, but for the first time it felt like there was some relevance in what Nokia was doing to the US market. I've left the UK, and the show, with plenty of unanswered questions and mixed opinions about Nokia – and Windows Phone – moving forward.
Of the six new phones, only two have any relevance to the US market, and exactly zero are going to end up on US store shelves. The four-strong Asha range of entry-level phones are targeting Nokia's "next billion users" and, despite most in the US never having owned or perhaps even held a Nokia, they're not among that billion. Probably a good thing: their saving grace for developing markets is price, and we already have enough cheap, uninspiring phones in the US.
[aquote]The N9-inspired Lumia 800 is distinctive and unlike anything on the North American market[/aquote]
Then there is the Lumia series, the flagship Lumia 800 and the more affordable Lumia 710. The first of what Nokia says are many, many Windows Phone 7 smartphones, they'll never make it to the US but devices like them will. This was Nokia's opportunity to shine, to make its case for why it was still relevant in a world where iOS and Android hold sway, and a lot of it made sense. The 710 makes a few too many style and build quality compromises to meet its price to be relevant to the US, in my opinion, but the N9-inspired 800 is distinctive and unlike anything on the North American market.
The pared-down design feels as good as it looks, and works great with Windows Phone 7's tile-based Metro interface. Nokia didn't spare the parts bin, either: the AMOLED display is fantastic while picture and video performance from the camera wowed too.
Nokia Lumia 800 hands-on:
Nokia opened the door on what custom work it has been doing with Microsoft, tailoring Windows Phone to suit its purposes. In the last few years the company has basically had Symbian to itself – because, frankly, nobody else wanted to use it any more – but now it has to share Windows Phone with other OEMs. We saw some of how Nokia will differentiate itself beyond just hardware. Nokia Music, with its streaming Mix Playlists, is a neat value-add when you consider most carrier-bundled services like it would add a few bucks to your monthly bill. Nokia Drive, though, is going to be the big hitter: iPhone lacks a great native turn-by-turn navigation app, and Google Maps on Android still doesn't have the same offline mapping support that Nokia has developed. They're elements that will help set Nokia apart from not only rival platforms but other companies pushing out Windows Phones and holding a bigger existing footprint in the US.
In some places, though, it felt like a backward step. Nobody in the US bought the Nokia N8, C7 or E7, but at least Nokia made an effort, including pentaband UMTS/WCDMA wireless so that both AT&T and T-Mobile USA SIMs were welcome. Both the Lumia 800 and the Lumia 710 are triband-only, however, a limitation introduced by Microsoft's insisting on Qualcomm radio hardware. For an event packed with developers, there wasn't much talk – beyond the ESPN app – of what software specialness we could expect.
Nokia Lumia 800 hands-on:
The biggest gap, though, was where I wanted to see carrier partners. Stephen Elop, Nokia's CEO, promised Windows Phones for the US market in early 2012, along with LTE and other country-specific technologies, but there was no sign of which carrier or carriers Nokia might be working with. LTE is maybe a hint toward Verizon Wireless being involved, though AT&T has its own, smaller LTE network, but there was nothing about the issues around handling both GSM and CDMA networks, or international use.
[aquote]I'd liked to have heard something about US pricing strategy[/aquote]
I'd also liked to have heard something about pricing strategy. As I was reminded when I checked out some London phone stores, Europeans generally pay nothing up front for their new cellphones when they buy them on contract. That's definitely not the case in North America, and it would have been great if Nokia could have given us at least a hint that it was not only looking to compete on hardware capabilities but on aggressive pricing. That, after all, is expected to be one of the company's biggest strengths.
The other omissions were maybe understandable. Subtle suggestions of a Nokia Windows 8 tablet strategy, but nothing concrete: I guess Nokia (rightly) thought that would only distract from its phone plans. Nokia pitched the keynote at an audience pretty much unaware of what Windows Phone can do or how it works, whereas – with all the Microsoft execs milling – I'd like to have seen some more of what's in the pipeline for the platform. That might have better emphasized Nokia's role as the key partner.
Still, overall, was my first time memorable? You can't argue with Nokia's enthusiasm, nor its ambition. It's working from a position of having once been on top and now finding itself significantly outplayed by Apple, Samsung and others. That makes for a hungry company, and that's something Nokia really needs to be right now. It looks like it's getting the message, at least to begin with – release dates that are weeks rather than months after product announcements are a good example of that – and there's no denying that Nokia Windows Phones are a whole lot more compelling than Nokia Symbian phones. That, however, wouldn't take much, from a US perspective at least, and Nokia can't afford to lose momentum or focus as it heads into 2012.
More on the Nokia Lumia 800 in our full hands-on report.