Nokia Lumia 1020 vs Samsung Galaxy S4 Zoom: war of the camera phones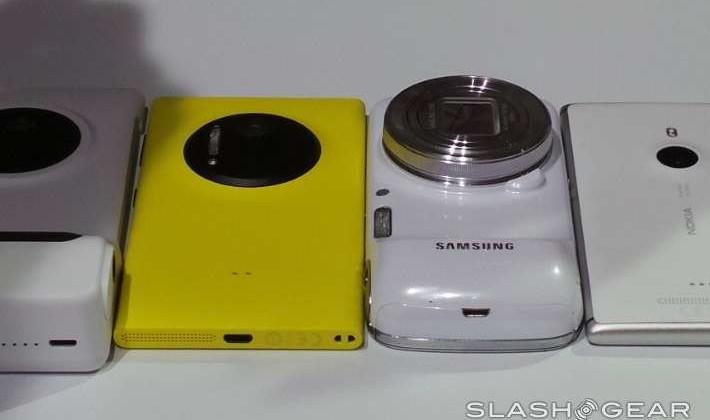 Today we've had our first look at the Nokia Lumia 1020 – a device with a 41-megapixel back-facing camera more than ready to take on the already revealed Samsung Galaxy S4 Zoom. Where not too many years ago it was considered amazing to see a camera present in a cellphone, here in 2013 we've got not just cellphones, but smartphones, bringing on camera constructs far more powerful than most standard pocket-friendly point-and-shoots! Now both Nokia and Samsung have machines with as much focus on the smartphone as on the photography power they possess – so what's the difference?
Camera
The Samsung Galaxy S4 Zoom works with a 16-megapixel CMOS sensor with an f/3.1-f/6.3 24-240mm 10x zoom lens. This produces results that we've just begun to test in our first Samsung Galaxy S4 Zoom hands-on with photo examples posted this week. It's appearing here to be an extremely well-balanced shooter with the ability to take fine photos on its back as well as its front (where a 2 megapixel shooter sits).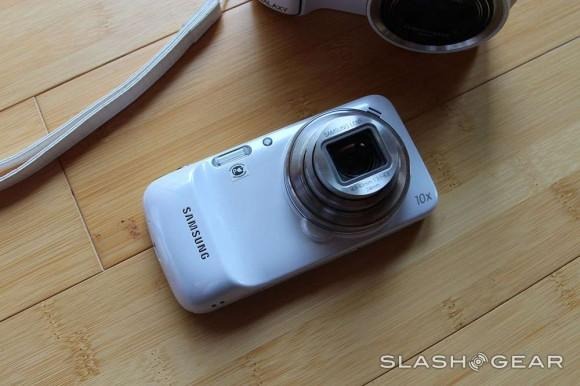 Meanwhile the Nokia Lumia 1020 works with a 41-megapixel sensor branded PureView by the company working with an f/2.2 ZEISS lens. The Nokia device works with an up-to 6x digital zoom setup, but claims said zoom will result in no loss of quality due to the machine's ability to collect so much more image information in the first place.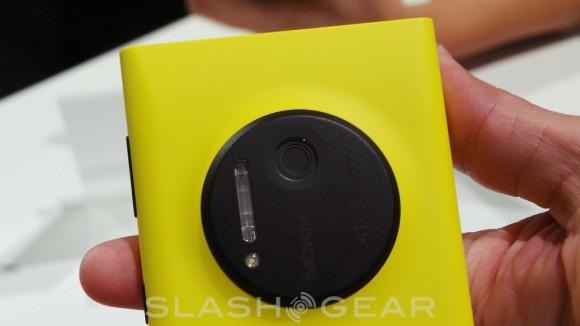 You'll have to check out our SlashGear 101: Nokia Lumia 1020 Oversampling and the 5MP "Sweet Spot" until we can get some photo experience with the machine out in the wild. We're expecting results at least as fine as those produced with the original Nokia 41MP machine, the Nokia 808 PureView.
Size
The physical shape of each of these machines puts the line between camera and phone at a new level of blurry, each in their own way. While the Nokia machine literally has the back-facing lens set in landscape, letting you know that the back side is not a portrait-facing sort of situation, the Samsung device has a similar aim – the Samsung logo may be set in portrait, but the rest of the back is clearly a standard camera and lens looking aesthetic.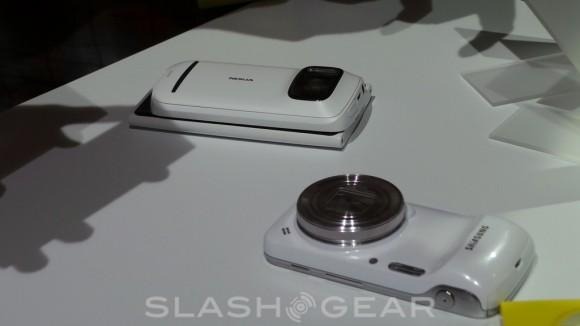 The fronts of both machines, too, are set to look like smartphones on their own. The Samsung Galaxy S4's final size comes in at 125.5 x 63.5 x 15.4 mm while the Nokia Lumia 1020 is thinner – yet taller and wider 130.4 x 71.4 x 10.4 mm in total. NOTE: You're seeing the Samsung machine here next to the Nokia 808 PureView here, the 808 resting atop the comparably thin Nokia Lumia 1020.
Internal Storage
You'll need a lot of space for all the photos and video you're going to be capturing. For the Samsung Galaxy S4 Zoom you've got a rather modest 8GB of space built-in, but you've got a microSD card slot capable of working with up to 32GB cards. Meanwhile the Nokia Lumia 1020 works with 32GB of internal storage right out of the box, but has no microSD card slot. It's a tradeoff or a bonus either way – depending on your perspective!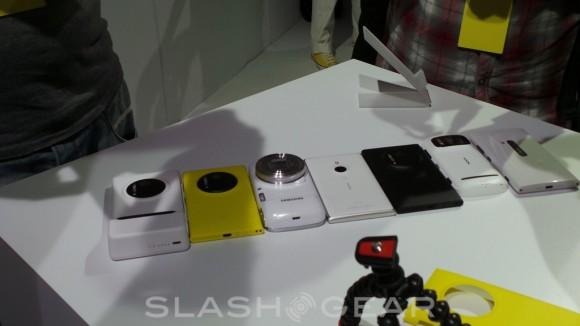 Operating System
The key factor in deciding between these two machines for you may very well come down to the operating system that backs them up. The Samsung Galaxy S4 Zoom works with the newest version of Android, Jelly Bean 4.2.2, while the Nokia machine has Windows Phone 8. Both machines have a rather healthy amount of backup from their respective manufacturers as both machines are heavily invested in the operating systems they roll with, and both work with extremely unique systems under the hood.
While we've gotten our first taste of what the Samsung Galaxy S4 Zoom is working with thanks to our first hands-on on the review bench (as linked above) and through our original Galaxy S4 Zoom hands-on, it'll be a bit before we get as involved with the 1020 as we want to be before we make any judgements on the Nokia machine. For now you'll have to take a peek at our first Nokia Lumia 1020 hands-on to see what you make of it!