Nokia reinvention continues with new digital health tech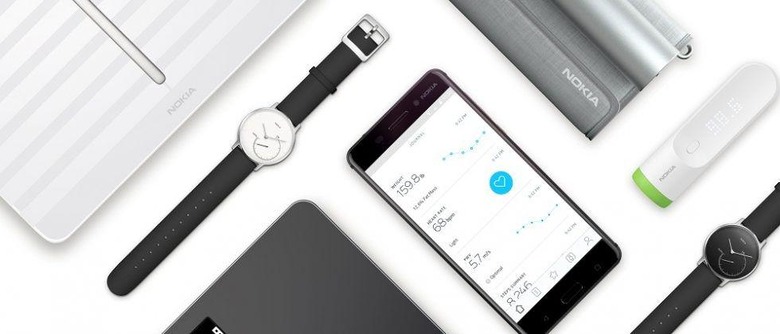 Goodbye Withings, hello Nokia Digital Health. As planned, the company best known as a phone-maker has fully rebranded its Withings acquisition, adding a few new fitness tracking gadgets to the mix in the process. It's another step in Nokia's reinvention, something the storied Finnish company is no stranger to.
Nokia announced it would be rebranding Withings' existing range earlier this year, following the company's acquisition back in May 2016. Although many knew Withings primarily for its handsome, analog-styled smartwatches, the company actually has a much broader line-up of digital health devices. That includes everything from smart scales, through connected thermometers, to a hairbrush that can listen out for split-ends.
Now, they're all going to bear Nokia branding. Along with the existing range, Nokia is adding two new devices and a redesigned app, with the latter promising collation of all of the metrics recorded across the line-up.
First off, there's Nokia Body. A new connected scale, it connects via WiFi to the cloud and can not only show weight on its own display but save it to a user's digital health portfolio. Up to eight different users can be recognized, each with their own individual data log, and in addition to weight there's also support for tracking BMI (Body Mass Index).
It's intended to be an entry-level connected scale option, joining Nokia's existing Body+ and Body Cardio scales. However, despite the price – which will be $59.95 – it still has features like personalized coaching and MyFitnessPal nutrition tracking integration.
Nokia BPM+, meanwhile, is a new blood pressure monitor. Again, it's not the first in the range – Withings had one of its own – but Nokia says this new version will be more comfortable, courtesy of a more flexible cuff. BPM+ can capture systolic and diastolic blood pressure and heart rate, and is both FDA-cleared and medical CE approved. Indeed, it can be used to share ongoing data with healthcare professionals for remote monitoring of things like hypertension.
Finally, the redesigned Nokia Health Mate app promises smarter – and more productive – handling of all that data. As well as a cleaner UI, it has new wellness programs, endorsed by medical professionals, that offer a multi-week health goal and the advice to achieve it. There are also new programs, including Sleep Smarter, Better Body (available for pre-order), Pregnancy Tracker, Healthier Heart, and the Leaderboard, which variously encourage better sleep, reduction in body fat, managing weight gain during pregnancy, and more.
It'll work not only with Nokia's two new products, but the existing range too. That includes sleep-tracking and step-counting wearables, connected scales which can assess heart health, and the Nokia Thermo thermometer.
There's plenty at stake for Nokia here. In addition to settling its patent war with Apple earlier this year, the two companies also inked a deal to collaborate on digital health products and services.