New iPad Super High Aperture Retina Display tech revealed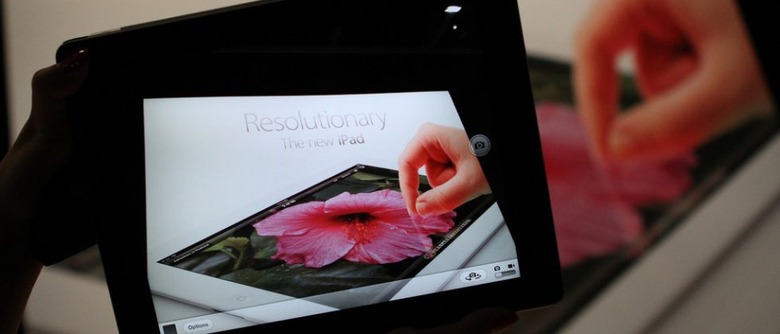 Apple's "Resolutionary" new iPad could catapult Super High Aperture (SHA) displays into the limelight, challenging AMOLED with significantly brighter, more pixel-dense panels. The Retina Display in the third-gen tablet is actually SHA tech, DisplaySearch claims, stacking an organic film over the top of the pixels so as to increase their aperture ratio and allow for boosted resolution. However, it also demands some serious increase in backlight power: twice as many LEDs, in fact, the analysts estimate.
There's also an increased headache for panel suppliers, with SHA being a more difficult technology to build. "Initially [SHA] adoption was slow due to added process complexity, increased costs and yield challenges" DisplaySearch says, "however, as super high resolution displays for mobile applications have increased the importance of high transmission and low power consumption, SHA has now become a critical technology for manufacturing high quality LCDs."

The backlight requires more energy, which explains the new iPad's far bigger battery: that's the only way Apple can continue to promise up to 10hrs regular use (or 9.5hrs on LTE). The new iPad is slightly thicker and heavier than the iPad 2 as a result.
What remains to be seen is whether Apple's suppliers can keep up with the demand for SHA panels; DisplaySearch says more than 25-percent of LCDs are using SHA technology, a figure it expects to see increase thanks in no small part to the new iPad. We've already seen warnings of iPad shortages, and all ten of Apple's initial launch countries are currently showing a 2-3 week wait on online preorders.
More on the new iPad in our full hands-on, as well as in our Apple Hub.
[via GigaOm]