New iPad could face Retina Display shortage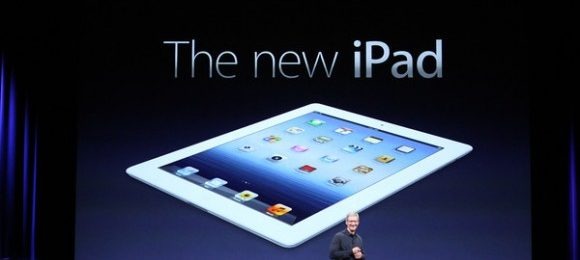 Apple unveiled the new iPad on Wednesday, bringing with it the much anticipated "Retina" display with a resolution of 2048x1536. Along with the highest PPI value found on a tablet of 264, saturation has also been increased to get the most out of images and video. While that gorgeous display was the star of the show, manufacturing it couldn't have been easy. Analysts are now claiming that yields aren't as high as Apple would like, which could lead to display shortages and delays.NPD DisplaySearch say that the new display is manufactured by Sharp, Samsung, and LG, and that Sharp are having the most trouble producing the display on such a large scale. Sharp's panel differs from Samsung and LG's in that they use IGZO TFTs: IGZO allows for smaller TFTs, allowing more light to come through the back of the display. That can then lead to either a display with higher brightness over traditional panels, or a reduced number of LEDs in the backlight, which keeps costs down.
Yields of IGZO panels reportedly aren't where Apple and Sharp want them to be, with rumors that Sharp have switched to a-Si TFT production, which is also what Samsung and LG currently produce. The high pixel density is also the limit of what the a-Si process is capable of achieving.
[vms 6af8d429c1a357d8b9e1]
So why is IGZO so important? The higher resolution of the iPad's display leads to a smaller aperture ratio, which requires a brighter LED backlight. The iPad 2 is said to have 36 LEDs, while DisplaySearch's research indicates the new iPad has at least twice as many. That leads to an increase in power consumption, most likely the reason for the increased battery in the new iPad, not to mention the power hungry LTE radios. With IGZO, Apple wouldn't necessarily need to include as many LEDs in the backlight.
How quickly display suppliers are able to ramp up production will be key to supply and demand issues. Supplies of the iPad 2 are said to have reached demand during the second half of 2011, several months after it had first launched. Already we're seeing the new iPad with a delay of two to three weeks on new orders, which could last a while given these display production issues.
[via TG Daily]