New iPad UK stock dwindles: 2-3 week preorder delay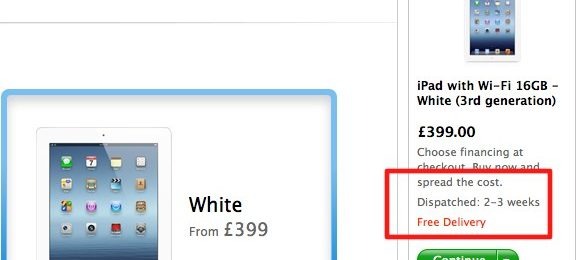 New iPad preorder customers in the UK will likely have to wait until the end of March to receive their third-gen tablet, after launch-day supplies for the coveted slate were snapped up and estimated shipments stretch to 2-3 weeks. New orders via Apple's online store have quickly gone from promising March 16 delivery to several weeks after in-store sales will open.
It's not the first frustration for would-be iPad owners in the UK. Although Apple put up pre-orders shortly after the launch keynote ended in most of the ten countries getting the first wave of units, sales in the UK didn't begin until midnight local time, several hours after other locations.
Apple hasn't said how much stock of the third-gen iPad it has in each country, though it did say that the multi-country launch is its most ambitious of any new iOS product so far. In addition to the US and UK, the new iPad will drop in Canada, France, Germany, Switzerland, Japan, Hong Kong, Singapore and Australia.
Most European countries are currently listing March 19 delivery estimates, as is Canada and Japan. Switzerland orders should ship for March 22, but all versions in Hong Kong are listed as "currently unavailable" at present. In the US, most models still ship for March 16, but stock of certain AT&T 4G versions is growing tighter.
More on the new iPad in our hands-on.
[polldaddy poll=6016316]
[Thanks to everyone who sent this in!]