The 2012 version of the iPad has a gigantic battery in it, capable of keeping its fabulous new features in check enough to keep the same battery life as the iPad 2. For those of you that've used the iPad 2, you know that this is a feat in and of itself since the iPad 2 is capable of staying powered up for an inordinate amount of time – much longer than the 10 hours it's rated for. What's doubly amazing, and what we're about to discuss below, is the fact that the newest generation iPad not only has a battery that has essentially 40% more power with basically the same physical size.
The iPad 2 is lighter and thinner than the newest iPad, this 2012 model weighting in at 1.44 pounds (652 grams) while the iPad 2 weighs in at 1.33 pounds (601 grams). The difference is easily dismissed, the same being true of the size different, 0.34-inch (8.8mm) compared to 0.37-inch (9.4mm). The battery inside is what takes up the most amount of space in both models, and it's the battery that makes the iPad weigh in at what it does.
According to ZDNet's Adrian Kingsley-Hughes, the brand new iPad has a massive 11,666 mAh battery under the hood, while the iPad 2 has just a 6,944 mAh battery. What we've got here is a case of Apple doing some sort of engineering magic to get that same amount of power storage into only a slightly larger area. While we don't quite have the teardown yet of what's inside this beast that makes this all possible, we've got the idea well enough to see what's coming up : fantastically long-lasting devices.
UPDATE: we've now seen a real teardown of the insides of the new iPad and know that the battery ends up being 11,500mAh in the end.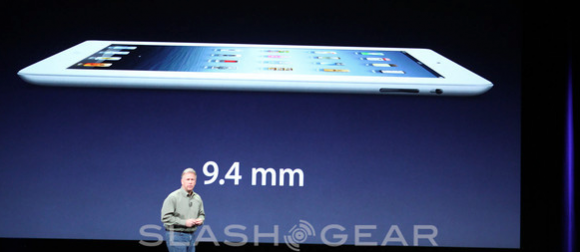 If you thought your all-day smartphone was excellent, just wait until it lasts you a couple days. Just wait until your smartphone or tablet is lasting you all week! What we're seeing here, finally, is some improvement in the physics of things. The world of battery engineering is one where things don't move especially fast – not compared to how fast the technology that goes into chipsets does, not compared to how quickly software gets developed. But here it is – the next step!
Apple made far to small a deal about awesome this improvement is – just tiny amounts of space saved can change how everything operates. Now we've got to see the device in action to make sure it's all as it seems.