Motorola DROID RAZR: what we'll see tomorrow

Earlier today we were given a few more clues as to what we'll be seeing at the big Motorola news conference tomorrow in New York City – a device by the name of DROID RAZR now seems rather likely, a new crowned king of Verizon LTE devices, soon to be in our hands. But what have we gathered as far as specifications go? How big is the display, what's going on with the camera, and what sort of processor is inside? And most importantly, will the full package equal a device that's going to entice those who also have had the choice of picking up a dual-core smartphone from Motorola since early this year with the original Atrix, the USA's first dual-core smartphone?
As you may be aware, there's also an Atrix 2 out there right now, complete with a lovely smooth overhaul and the newest version of Motorola's vision for Android for a user interface. The Motorola DROID BIONIC was supposed to be the king of all machines – and if you've got all the Motorola machines it connects with, it certainly is. Now there's a new device popping out, popping out tomorrow no less, that MUST be the next step in this evolution for Motorola. It'll have Verizon 4G LTE, we can be pretty sure of that, but how will it out-do the BIONIC?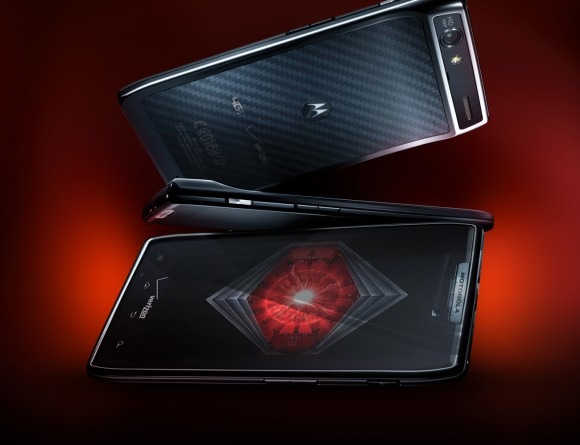 Tomorrow at NOON Eastern Time here in New York City, we'll be with Motorola as they reveal this new "Faster Thinner Smarter Stronger" device. First have a look at the promo photo above. It was found earlier today in the teaser site for the smartphone — right now that same site has transformed into one that advertises for every recent Motorola device including the Atrix 2, the BIONIC, the XPRT, the Droid 3, and more.
This new device which we'll continue calling the Motorola DROID RAZR is tipped to have a 4.3-inch display with qHD resolution similar to what we've seen on the BIONIC and the Droid X2. This device is said to have LTE on Verizon and will be the thinnest LTE device on the market when it's released. The processor inside is yet unknown, but we'll go ahead and guess that it's the same dual-core 1.0GHz OMAP4 processor found in the BIONIC upgraded to 1.2GHz — perhaps though it'll be the 1.5GHz Qualcomm dual-core chip we've seen in the HTC Jetstream?
Another rumor has the device using 1GB of RAM and a 960x540 pixel resolution Super AMOLED display. The camera on the back appears very likely to be the same 8-megapixel camera that the DROID BIONIC has, also capable of 1080p resolution video.
Then here's where it gets real exciting: the front of the device is said to be fully Gorilla Glass, while the rest of the chassis is said to be Kevlar with a splashproof coating. No more poolside mishaps for you! Docks will be offered right out of the box, similar to what we've seen with the BIONIC and the PHOTON, and the device has been called three things: DROID RAZR, Motorola Spyder, and DROID HD. We're guessing for the first option.
So JOIN us tomorrow, again at NOON EST, right here on SlashGear. Then stick around (or go somewhere and have a snack) and find us LIVE in HONG KONG at 10PM EST when Samsung and Google will be revealing a device running Android Ice Cream Sandwich. Don't miss anything!