Motorola Oct 18 event promises "Faster, Thinner, Smarter Stronger" Verizon range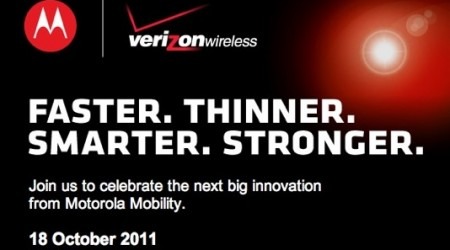 has announced a press event with Verizon Wireless, promising to unveil "the next big innovation" on Tuesday, October 18 2011. The invitation for the New York event gives no hint as to what Motorola Mobility may be revealing – bar the tagline "Faster. Thinner. Smarter. Stronger." – though there's no shortage of rumored tablets – both small and large – along with smartphones, including a tipped resurrection of the iconic RAZR branding.
Update: New Motorola preview video added after the cut.
In tablets, Motorola is believed to be readying
 for a November release. The two slates are expected to have a
, though tipsters differ on whether the smaller model – which will be Motorola's first sub-10-inch option – will have a 7-inch or 8-inch touchscreen. Either way, they're expected to have 4G LTE for use on Verizon's high-speed network.
As for phones, there's the
 which promises to build on the original ATRIX 4G with a 4.3-inch qHD display, dual-core processor and clever Lapdock-style notebook accessory turning the smartphone into a netbook replacement. Being the retro-lovers that we are, though, it's the
 that has us most enticed: said to be a super-slim dual-core handset with LTE, Full HD video recording, and a 960 x 540 display.
We won't know for sure until next week, so join us on Tuesday, October 8 when we'll be bringing you all the details as they're announced from Motorola and Verizon's press event.