Motorola Xoom 8" & 10" Leak Together, 4G LTE Confirmed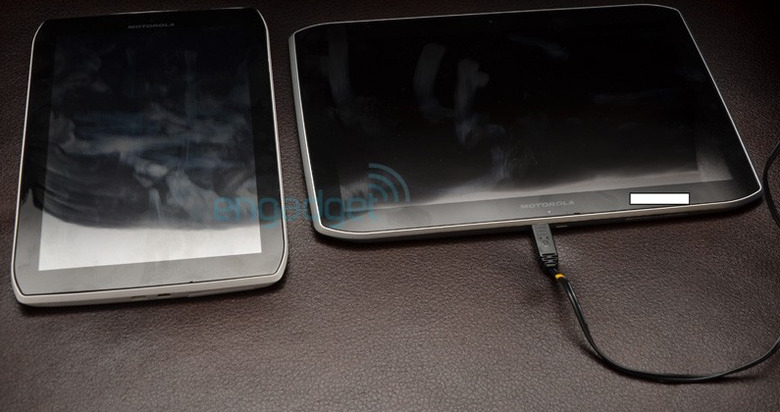 The Motorola Xoom 2 has leaked again today, this time being spotted hanging out with his little brother. Here we have both of the new Motorola Xoom's in the 8" and 10" form factor smiling for the camera. Apparently the tipster has also confirmed they are both rocking 4G LTE, but that to be expected and we'll probably see Wi-Fi models also. Is it just me or is this new design looking pretty neat?
We first spotted the new smaller sibling just a few days ago, rumored to be a 7" tablet but now we are hearing it will sport an 8.2" IPS display instead of the usual 7" form factor. From what we heard earlier in the initial leaks these tablets should both feature a sleek design and come in round 9.3mm thick, basically as thin as the iPhone 4.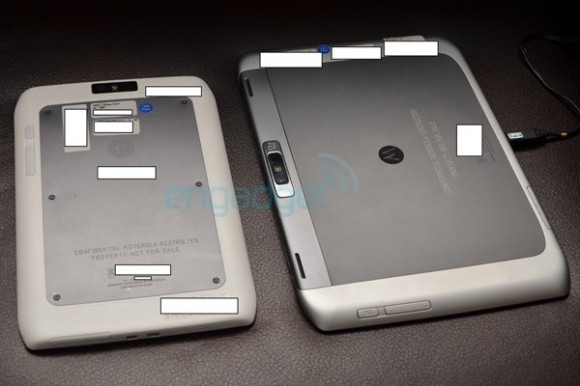 Next, shown in the images above, we have been able to gather a few details although most of the revealing aspects have been covered to protect the identity of the tipster. Both tablets are currently running on Android 3.2 and are "buggy as hell" so most likely still very much a work in progress and a little farther away from a market launch than we'd have hoped. They are also being reported as sharing the "Fleming" codename. While we did learn they both have 4G LTE inside, the rest of the internals are still unknown. Motorola used the NVIDIA Tegra 2 in the original but recent devices have all shipped with Texas Instrument dual-core processors. I'm still hopeful that one may indeed come with a quad-core Kal-El but that might just be wishful thinking.
Who likes the curved edges and unique rear casing? These look nothing like an iPad so Motorola appears safe from lawsuits for now.
[via Engadget]