DROID BIONIC Review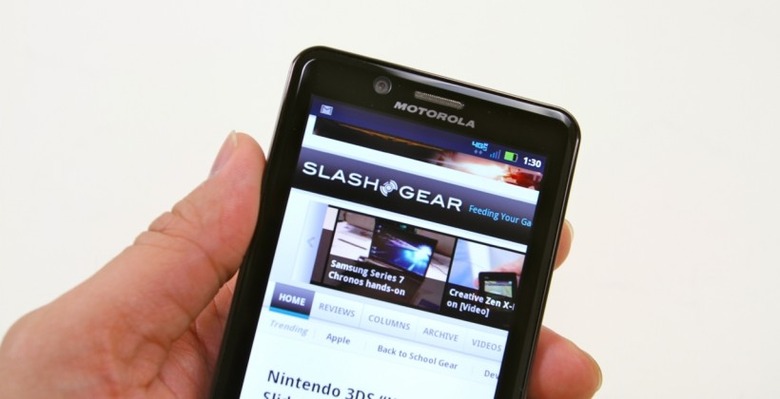 Smartphone users are a demanding lot. Give them the latest version of Android, big displays and 4G LTE connectivity, and they ask for a dual-core processor as well. Until now it's been too much to ask of Verizon, but all that changed with the arrival of the much-anticipated DROID BIONIC by Motorola this week. Announced back at CES in January and then variously updated and delayed since, Verizon promises that this is the fastest 4G phone around. Is this finally the LTE Android to satisfy speed-freaks? Check out the full SlashGear review after the cut.
Hardware
Motorola hasn't strayed too far with the design of the DROID BIONIC, with a squared-off and masculine aesthetic that neither particularly disappoints or delights. With everything the company has squeezed inside, the 66.9 x 127.5 x 10.99 mm, 158g chassis is probably understandable, but it's inescapably chunky all the same. At least it's creak-free and the plastics – along with the Gorilla Glass fascia – feel high quality.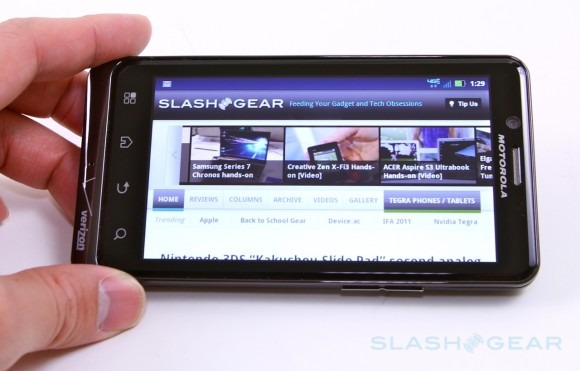 That toughened glass covers both the BIONIC's 4.3-inch qHD 960 x 540 LCD TFT display and the row of touch-sensitive buttons for menu, home, back and search. Although LCD has for many been superseded by the various AMOLED technologies, we can't really criticize Motorola's choice of panel here. Colors are bright and viewing angles broad, and the capacitive touch is responsive.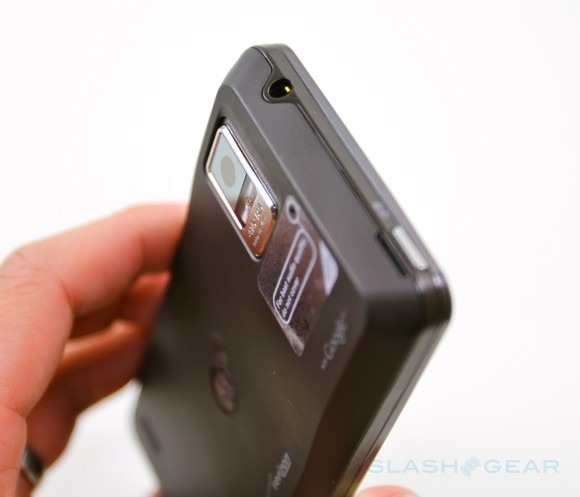 Ports include microUSB and micro HDMI, along with a 3.5mm headset jack, while wireless connectivity includes LTE, EVDO Rev.A, WiFi b/g/n and Bluetooth 2.1+EDR. There's also GPS/AGPS and the usual range of sensors: digital compass, accelerometer, proximity and ambient light. Unfortunately Motorola obviously couldn't find a way to add a GSM/HSPA radio, which means this isn't one of Verizon's World Phones. Step outside the embrace of CDMA coverage and you'll have no GSM to fall back on when travelling.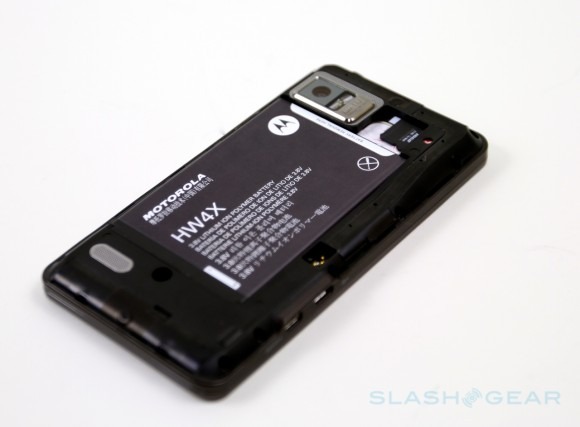 On the back is an 8-megapixel camera with autofocus and an LED flash, capable of 1080p Full HD video recording. A VGA camera for video calls lives above the display, next to an LED status indicator for flagging up missed calls and new messages. Under the battery door is a 1,735 mAh pack along with a microSD card slot (with a 16GB card preloaded) to augment the 16GB of internal storage.
It's the dual-core 1GHz processor that singles the BIONIC out among other LTE handsets, with Motorola turning to its old favorite Texas Instruments and the OMAP4430. In the BIONIC it's paired with 1GB of RAM.
DROID BIONIC hands-on video
[vms 4fe3add32218f914c75a]
Software and Performance
Motorola hasn't left Android 2.3.4 Gingerbread alone, and there are various customizations and preloaded apps cluttering up the DROID BIONIC. The days of the all-invasive MOTOBLUR are thankfully past, and instead you get a selection of resizable widgets and a non-stock onscreen keyboard similar to previous Motorola Android phones we've reviewed.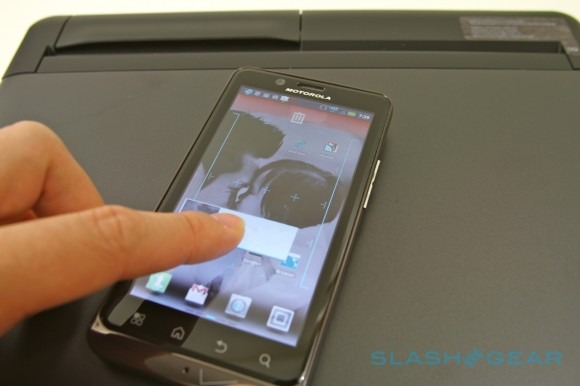 Unfortunately, roughly half of the 16GB of internal memory is taken up with preloaded software, most of which can't be deleted. As well as all the usual Android apps – like Gmail, Google Maps and Navigation – Motorola adds Citrix GoToMeeting and Quickoffice, VCast Music, Verizon Media Manager and Verizon Back Up Assistant, Blockbuster, MOTOPRINT, Let's Golf 2, Netflix, ZumoCast and others. Certainly we can understand that some apps will be of use to some owners, but it's unlikely everyone will want everything and we wish Motorola had offered them as optional downloads rather than making them mandatory.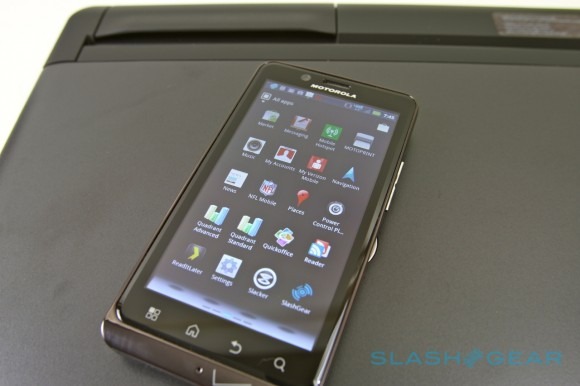 Of them all, it's ZumoCast that Motorola is most pleased with. The company's own remote file access app, once you've installed the client on your PC or Mac you can access documents, photos, music and video remotely on your BIONIC. It works, though is obviously very much network-dependent; if you have a less than ideal connection then video is the first to suffer, dropping frames and generally becoming unwatchable.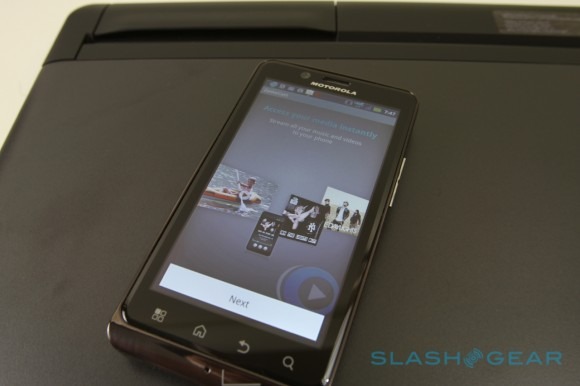 In terms of benchmarks, the dual-core processor didn't disappoint. Quadrant Pro came back at 2780, comfortably exceeding recent Tegra 2 devices we've tested. However, a stock Samsung Galaxy S II – running at 1.2GHz – bested the BIONIC with its score of 3540. Vellamo, a combination test of CPU and memory, Javascript, HTML5, canvas rendering speed, scrolling, network access and other elements, came in with a surprisingly low score of 705, however, easily beaten by even single-core phones.
Nonetheless, in general use the BIONIC felt fast and slick, with neither lag nor delay in loading and moving between apps, accessing webpages and playing media.
Camera
If the BIONIC's processor offers speed, the smartphone's 8-megapixel camera offers frustration. We had reasonably high hopes, based on previous Motorola handsets, but woefully sluggish autofocus meant we missed more photo opportunities than we captured. Focus lock can literally take seconds to fix, and even when we waited the end result was sometimes blurry all the same. Motorola tells us it's looking into camera performance, and we're hoping this is something a firmware update can address.
DROID BIONIC Sample 720p recording
Video recording, thankfully, is considerably better. The BIONIC can record Full HD clips at 30fps, and the lazy auto-focus makes less of a difference most of the time. Fast focus switches are out, but generally footage is crisp and very watchable. Unfortunately you don't even get an HDMI cable in the box.
Phone and Battery
The BIONIC handles voice calls well – the absence of World Phone support already noted – even when the signal indicator might lead you to expect otherwise. You can make 3G voice calls while simultaneously using the 4G connection for data, though not 3G data. Audio is clear and loud, and those we called had no problems hearing us. There's Bluetooth for headsets, including stereo headsets using the A2DP profile.
As with other recent Android phones, you can use the BIONIC's 3G/4G connection to get your laptop, iPod touch or other gadget online, by turning it into a mobile hotspot. Up to five WiFi-enabled clients can be connected at any one time, though you'll need to pay Verizon extra for the privilege.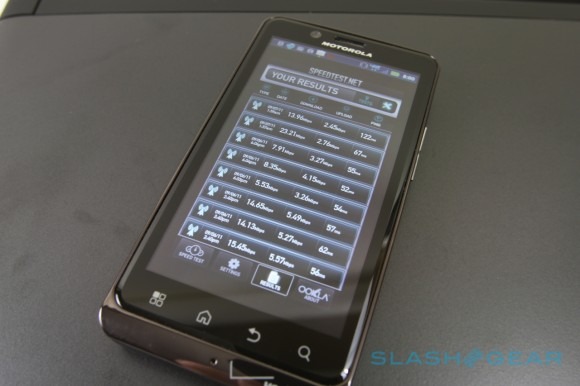 Just like with other 4G devices we've tested, if you have LTE coverage the BIONIC simply flies. We saw peak download speeds of over 13Mbps and upload speeds of 3Mbps, faster than many people get with their home broadband connection. At that sort of level – and with the kind of use it encourages – Verizon's data packages begin to look short-sighted. 2GB is $30 a month but you could easily burn through that in short order with some video streaming; the carrier also offers 5GB for $50 or 10GB for $80, with each further gigabyte costing $10.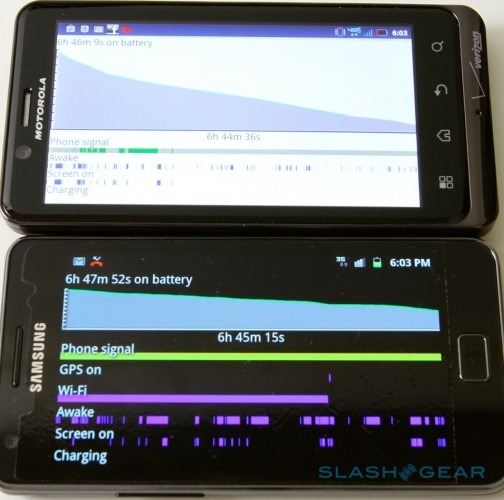 The downside to all this speed and performance is battery life. Motorola has outfitted the BIONIC with a 1,735 mAh battery, but we were still caught short well before the day was through. With minimal use including a few phone calls and some IM, and when in a 4G area, we squeezed just over 6 hours and 45 minutes out of the phone. In contrast, a 3G-only GSM Galaxy S II still had roughly half its battery life left at the same point in the day, even though we'd actually used the Samsung more. Turn on the BIONIC's mobile hotspot app, and things go downhill even more quickly. Motorola offers an extended battery for the phone, though you sacrifice style for extra longevity.
Accessories
Lapdock: ($299.97) Just as with the original Laptop Dock for the Motorola ATRIX, the DROID BIONIC's Lapdock promises to turn your smartphone into a notebook replacement. Unfortunately, if you had the old Laptop Dock, you can't use it with the BIONIC, which is a frustrating decision on Motorola's part. Your money gets you an 11.6-inch, 1,366 x 768 display, battery promising 8hrs of runtime, a full keyboard and a trackpad, though not multitouch gesture support unlike, say, a MacBook Air.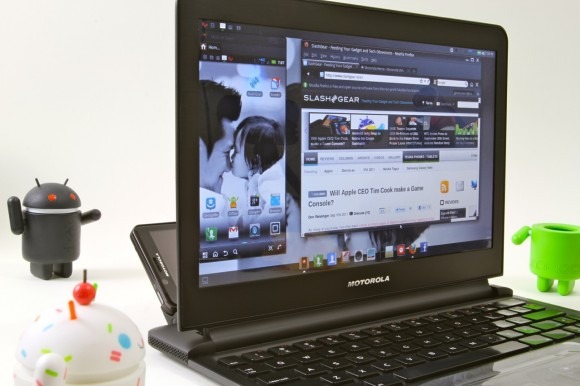 Slot the BIONIC into the bay behind the screen and Motorola's Webtop app automatically boots, allowing you to access Firefox 4 as well as view the Android phone's display – and any apps on it – in a window. Performance is certainly faster than we experienced with the ATRIX, which was painfully slow, but still not a match for a regular notebook. Some mild document editing and maybe a tab or two in the browser is fine, but anything more and the whole thing grinds disappointingly.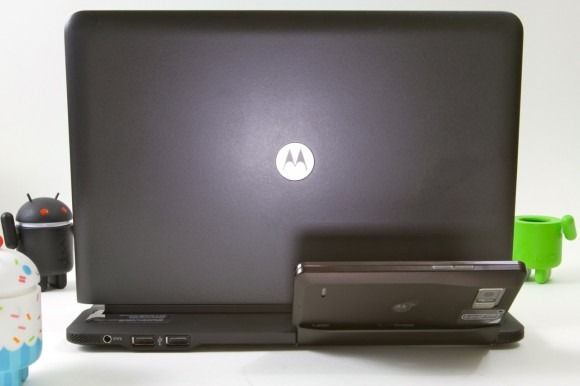 Webtop Adapter: ($29.99) If the Lapdock is too rich for your blood, the Webtop Adapter offers another way into Motorola's Webtop app. Pass-through microUSB and micro HDMI ports allow you to hook up an external display, and you can pair Bluetooth peripherals if the on-screen keyboard gets too limiting. Of course, you'll face the same issues with performance as with the Lapdock.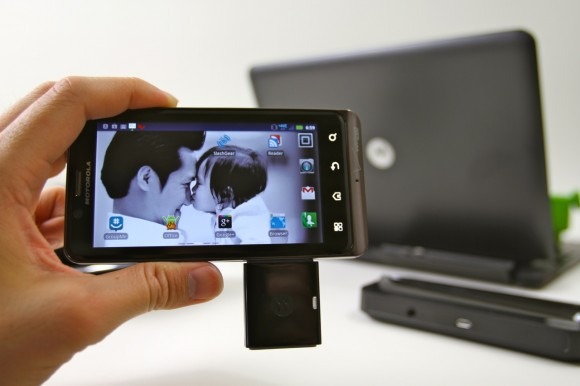 HD Station: ($99.99) Although the HD Station does allow Webtop use – and has three USB ports which let you plug in wired peripherals – it makes more sense as a multimedia dock. A 3.5mm audio out port and HDMI output make it simple to keep speakers and a display permanently attached, though we're frustrated at Motorola's decision to use micro HDMI rather than a full-sized socket. An infrared remote lets you navigate the phone's menus as well as control media playback.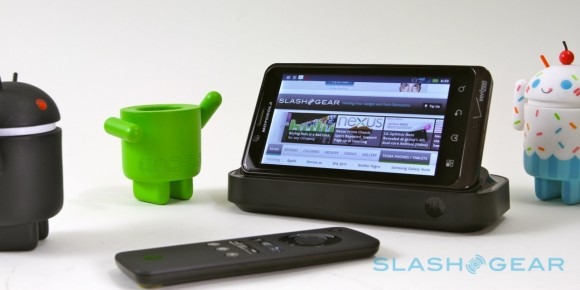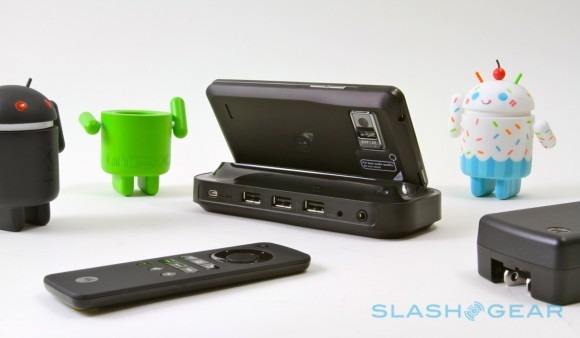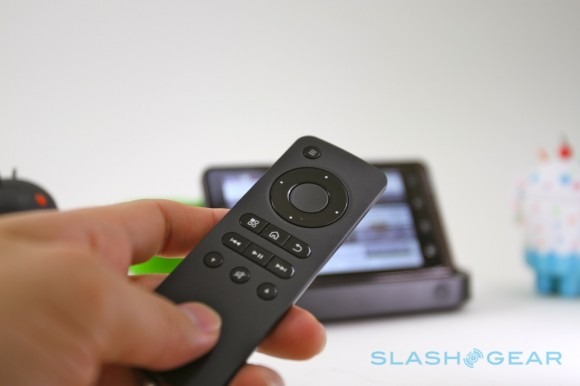 Standard Dock: ($39.99) Identical from the front as the HD Station, turn the Standard Dock around and you'll find the cheaper price means no HDMI or USB connectivity. Instead it's only power and the 3.5mm audio output, and Motorola doesn't include the remote either.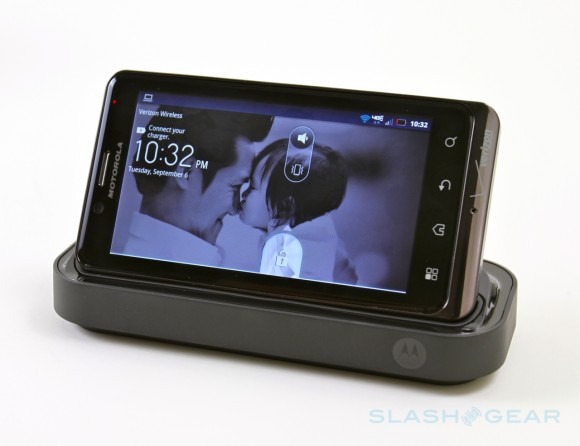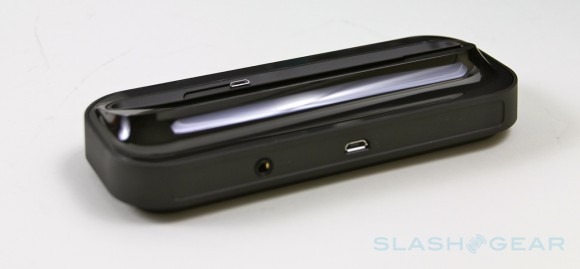 Standard Dock vs HD Station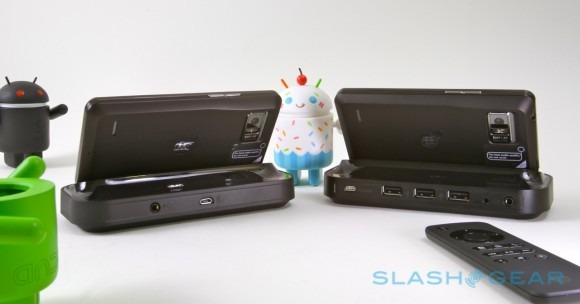 Vehicle Navigation Dock: ($39.99) Google Maps Navigation has replaced dedicated PND units for many, and the official Motorola Vehicle Navigation Dock makes for a straightforward way to mount and charge your BIONIC in the car. It's the usual combination of a suction cup and adjustable cradle, with a pass-through microUSB port for easy charging. Unlike some other cradles we've seen, however, there's no external GPS antenna for better results, and no speaker system to amplify guidance prompts.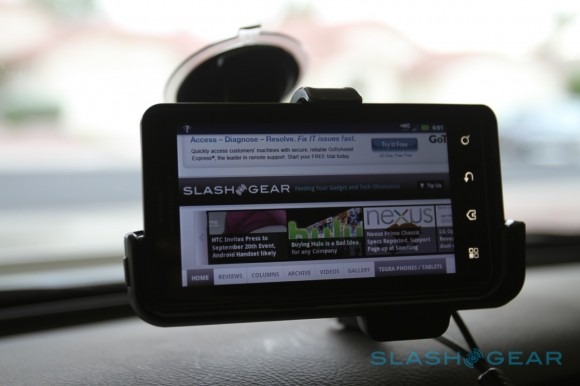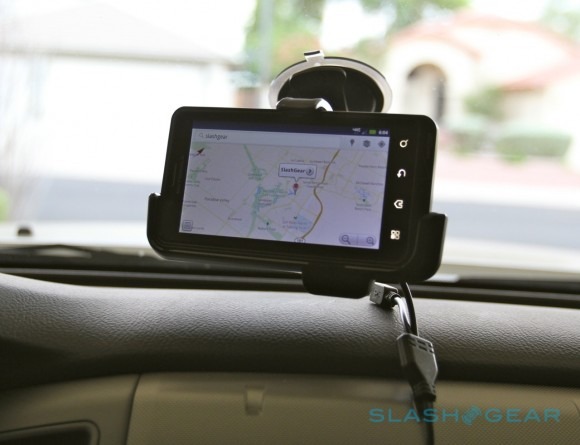 Wrap-Up
Make no mistake, there's plenty to like about the DROID BIONIC. The combination of a dual-core processor and LTE adds up to a phone that's fast in both performance and data access, while the solid display and HDMI connectivity mean it's a good choice for multimedia playback. On the flip side, however, mediocre battery life and underwhelming stills performance from the camera take off some of the shine.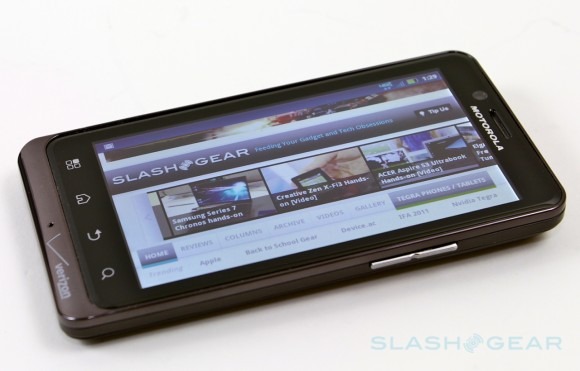 Pricing, too, is on the expensive side. Verizon is asking $299.99 for the BIONIC itself, though other vendors have sub-$200 deals; either way, you're looking at a two-year agreement including a $50+ per month data package if you want to make the most of LTE. Throw in a couple of the official accessories and the total cost of ownership climbs fast, while Motorola's decision not to make the original Laptop Dock compatible with this new phone leaves us suspicious whether docks and gadgets for the BIONIC will work with any future device.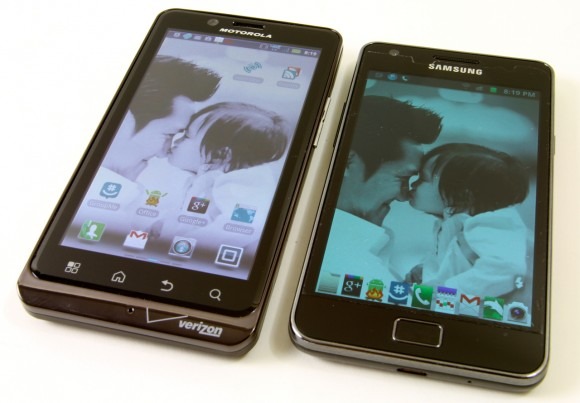 Meanwhile, there are faster phones on the horizon. Samsung's freshly-announced Galaxy S II variants for the US market promise faster processors, while Verizon likely has it's own fresh superphones just around the corner too. Nonetheless, if you want the strongest combination of LTE, dual-core and display today, the DROID BIONIC by Motorola is your only option. Just don't expect perfection.