Moto 360 price prematurely confirmed by Best Buy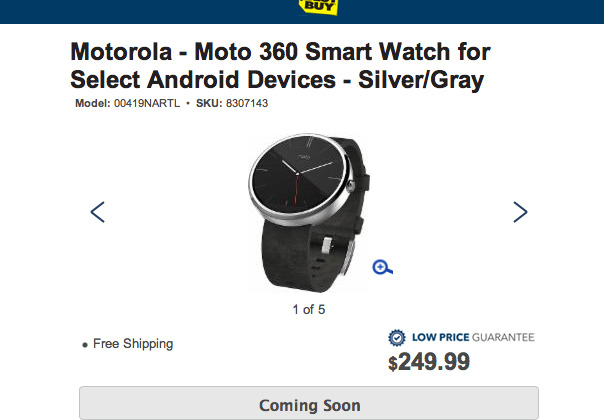 It's fair to say that the Moto 360 is the smartwatch most would-be Android Wear wearers are waiting for, but so far Motorola has been reluctant to confirm exactly how much the circular wearable will cost. Official details will almost certainly come at Motorola's September 4th event, but a premature product listing at Best Buy may have let the cat out of the bag early.
According to an early page on Best Buy's mobile site, spotted by Droid-Life, the Moto 360 will come in at $249.99.
That's not too surprising a price, with previous leaks suggesting Motorola's wearable would come in at the $250 point. It's also a relatively moderate premium over the existing Android Wear models, the LG G Watch and Samsung Gear Live, which are $229 and $199 respectively.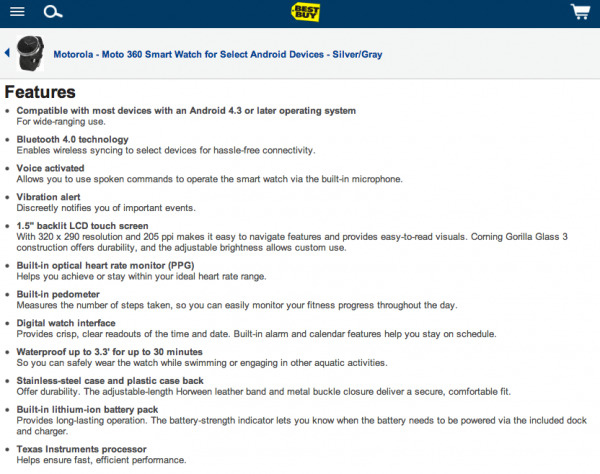 Some had predicted Motorola would try to use the relatively unique form-factor to price the Moto 360 as a far more expensive, "premium" wearable, with guesses at a $300+ tag. If Motorola has indeed opted for $250 then, while it's not an impulse purchase, it's still very competitive against something like Pebble Steel, which costs the same but has less functionality.
According to Best Buy's listing, the Moto 360 is waterproof for up to 3.3' for thirty minutes, and it also confirms the optical heart-rate sensor and included charging dock we saw in recent leaks.
We'll know for sure come September 4th, when Motorola is also expected to show off the much-rumored Moto X+1 among other devices. For more on the Moto 360, meanwhile, check out our hands-on from Google I/O with the Moto 360 prototype.
VIA Droid-Life
SOURCE Best Buy