Moto 360 wireless charging and heart sensor confirmed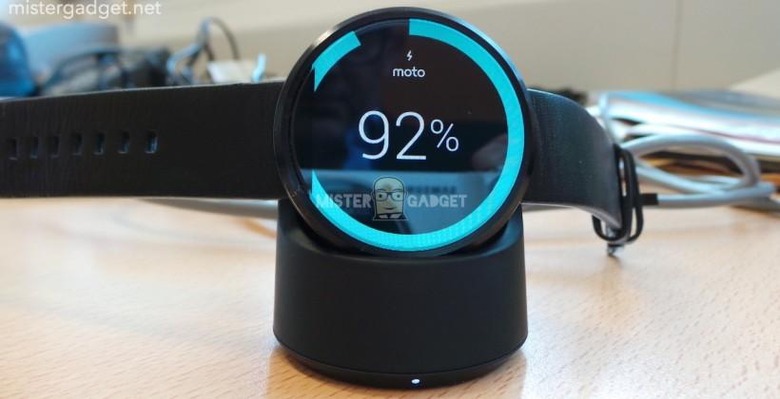 Motorola's Moto 360 smartwatch may have wowed us with its round display, but some of the key details about the Android Wear timepiece have been conspicuous by their absence ahead of its release later this year. Thankfully what Motorola declines to confirm, examples of the watch in the wild are happy to reveal, like the fact that the Moto 360 will get a neat desktop cradle which will use inductive charging to keep it powered up.
Wireless charging had been rumored to be included – with chatter of Motorola sticking to Qi compatibility, too – but back when we played with latest Moto 360 prototypes at Google I/O the company wouldn't confirm it.
Motorola also wouldn't let us see the rear of the watch, and that's probably because it didn't want some of the other features to be confirmed. Happily this new gallery courtesy of Mister Gadget does the honors, so we now know that there's a heart rate sensor built in, along with pedometer functionality.
So far, only Samsung's Gear Live has offered an Android Wear smartwatch with a heart rate scanner. Meanwhile, the LG G Watch can't read your pulse, but it does have a sleeker charging cradle than Samsung's method, albeit one which doesn't have the same finesse as Motorola's dock.
In fact, LG was forced to push out an update for the watch recently, after reports of skin irritation from the exposed charging pins on the rear.
Otherwise, the Moto 360 is water resistant to IP67, and made of stainless steel. Things like how battery life is affected by that eye-catching round display are yet to be seen, and of course Motorola hasn't told us how much the smartwatch might cost yet. Still, it's the model many would-be Android Wear adopters are waiting for.
Update: According to Mister Gadget's Luca Viscardi, he's seeing 2.5 days of runtime from the Moto 360 where a G Watch under the same conditions lasts around a day.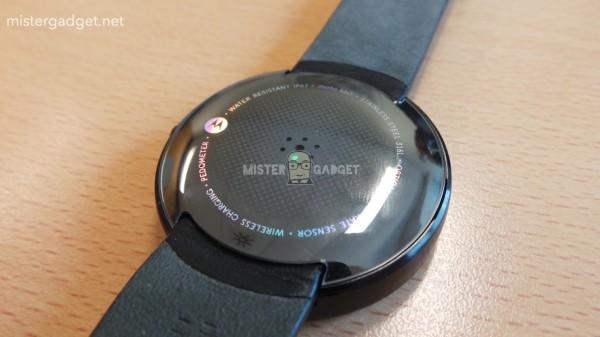 VIA Engadget
SOURCE Mister Gadget (2)