LG G Watch software fix will solve residue buildup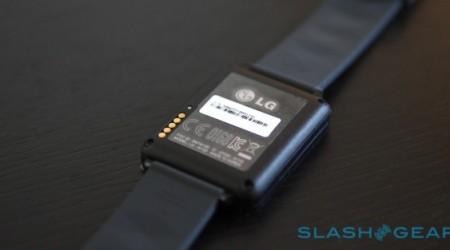 LG is pushing out a software patch for their LG G Watch, and the reason is a bit stranger than usual. It seems some users are reporting a buildup of residue on the charging pins — something that has no effect on the device performance, according to LG. In an aim to keep people happy with the G Watch, LG is sending out a software patch for the problem.
So, what is that problem? The battery current is causing the terminal pins not he bottom (rear?) of the G Watch to discolor. According to LG, it's not a problem at all, but they've heard the complaints:
Recently it has come to our attention that a small number of G Watch devices have been reported to have developed discoloration and residue buildup on the terminal pins located on the back. While completely safe and unlikely to affect charging, LG will be rolling out a maintenance release over the next few days that will disable the current when the G Watch is not in the charging dock. The maintenance release will be rolled out automatically over-the-air to all G Watch owners. We thank G Watch users for their patience and apologize for any inconvenience this may have caused.
Obviously, LG's smart watch will still charge when you attach it to the charger, and will (hopefully) have the same battery life. It seems to be as simple as powering down a few pins while you're wearing it. It's worth noting there have been no reported issues of people having burns or other skin irritations while wearing the G Watch.
Via: Android Police