Pebble Steel Review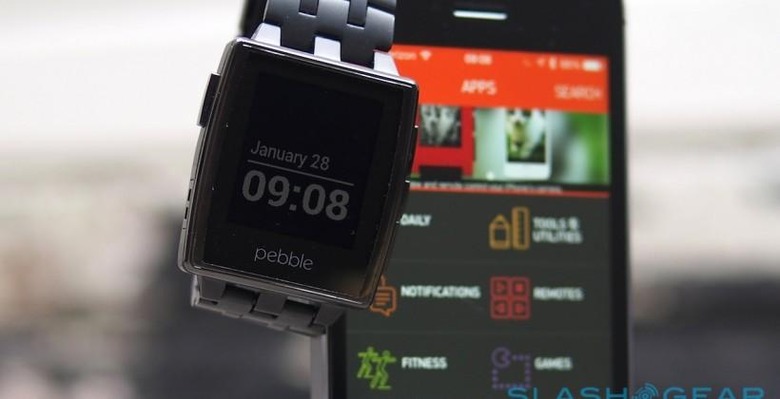 Pebble might not agree that 2014 is set to be the year of wearables: the smartwatch startup closed out last year with one of the most compelling devices in its category, taking the original Pebble from Kickstarter hit to shipping product and finally developer's darling. Now there's a second version, Pebble Steel, on sale alongside the first smartwatch for those who want a little more bling with their wrist-mounted apps. With high-spec alternatives like Samsung's Galaxy Gear, and the constant chatter of an Apple iWatch on the horizon, you could've forgiven Pebble for going all-out with the spec list, but in fact Pebble Steel shows surprising restraint. Method or madness? Read on for the full SlashGear review.
Hardware and Design
Back in February 2013 we described the original Pebble as "functional", its plastic casing and rubber strap proving serviceable and reliable, but hardly aesthetically inspiring.
That didn't dissuade interest in it, however; in fact it kick-started a few cottage industries. Companies offering Pebble-specific replacement straps, and adhesive screen protectors that also changed the color or even added graphics to the case have sprung up to cater to those wanting to customize their smartwatch. Meanwhile, developers began to create apps for the Pebble platform in increasing numbers.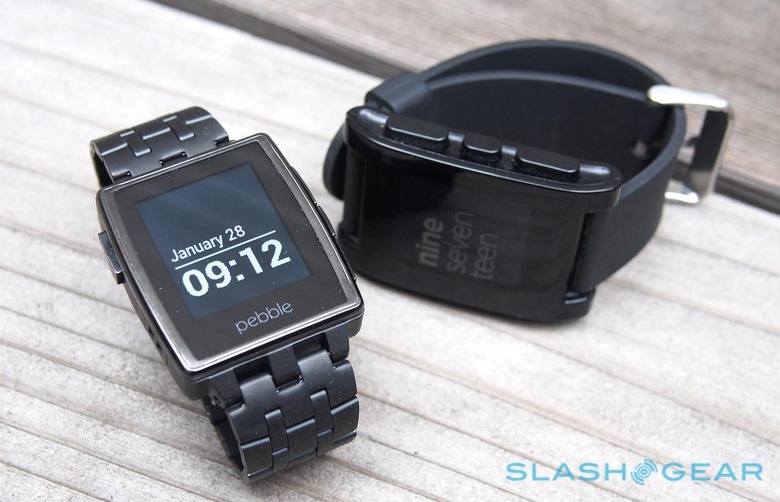 Pebble Steel was clearly designed with both those elements in mind: what's been kept the same is just as important as what's different.
Gone is the chunky plastic, replaced with a far sleeker stainless steel case, while what was a plastic fascia on the original is now Corning Gorilla Glass. Pebble tells us that one of the most commonly used accessories with the first watch was a screen protector, even though the plastic was meant to be scratch-resistant, and so the switch in materials for the Pebble Steel should help avoid that.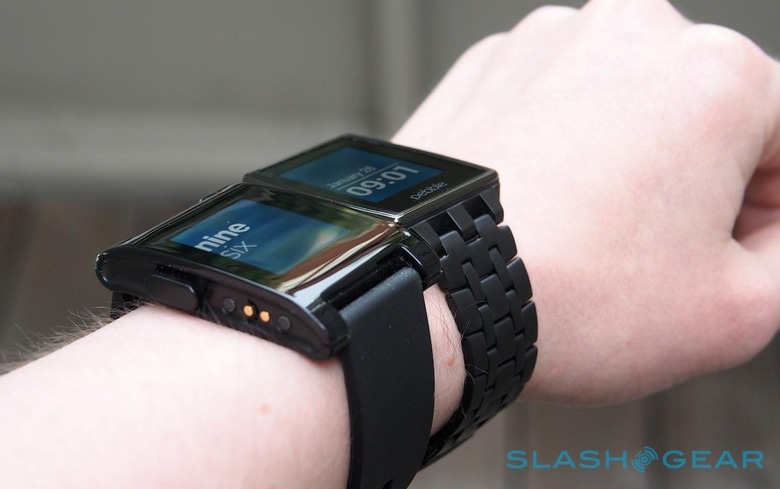 It's smaller in all dimensions than before – now 46 x 34 x 10.5 mm versus 52 x 36 x 11.5 mm – though heavier, at 1.97oz – versus 1.34oz – thanks to the sturdy metal casing finished in either matte black or brushed silver. It feels far more impressive, both when you're holding it and when you're wearing it. We should point out that Pebble supplied us with a pre-production Steel sample, though we're told it's functionally identical to the watches that will begin shipping from today.
Pebble will supply both metal bracelet and black leather straps with the $249 Pebble Steel, so that they can be switched out according to individual preference. Unfortunately, whereas the original watch used a generic strap size which meant finding alternatives easy, Pebble Steel uses a non-standard fitting. Pebble CEO Eric Migicovsky tells us the company will be releasing the strap design specs on its site, so that interested third-parties can come up with their own options.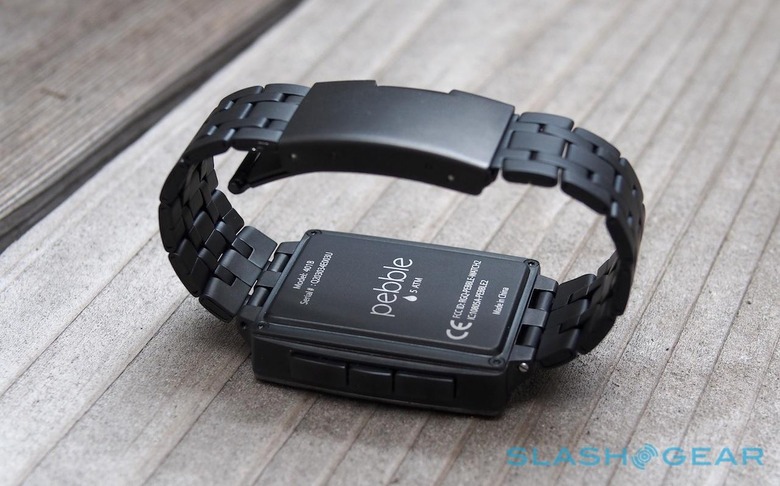 The aesthetic is miles ahead of the first Pebble, though to what extent it will satisfy those who already have a collection of favored watches remains to be seen. Some we asked said the combination of a less obviously-geeky metal case and the functionality offered would be enough to earn Pebble Steel a spot on their wrists; others were a little less generous, with more than one comparison to an 80s Casio digital watch.
Overall, though, we like it, seeing the hint of retro a benefit rather than a drawback. It's still waterproof to 5ATM (165ft)and as a result has a sealed case with a non-user-accessible 130 mAh battery; Pebble says that battery is good for 5-7 days of use, and we'll update when we've had more of a chance to test out longevity.
The USB charger cable has been tweaked a little too, with a slightly smaller magnetic head (that actually clings more eagerly to the watch, which is welcome). Sadly that means the old cable won't work with the new Pebble Steel. You still don't get an AC power adapter in the box, though given the target audience likely has a surfeit of chargers (or that a USB port on your computer will suffice) we don't see that as too much of an issue.
Specifications
The temptation with a new model is to supercharge all the specs you can. Pebble certainly considered this: the final parts list for the original watch was settled in mid-2012, Migicovsky pointed out, leaving plenty of places for the company's engineers to improve things. A color screen, a faster processor, and even new underlying architecture were all apparently considered for Pebble Steel.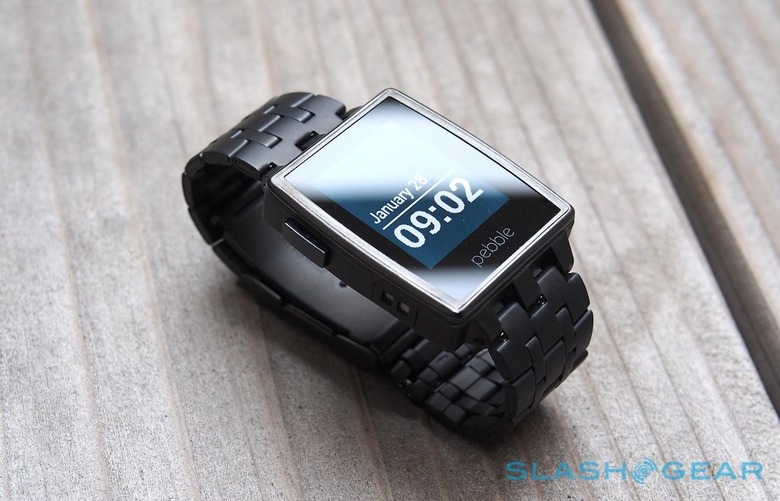 In the end, though, once you get beyond the stainless steel the heart of the watch is the same as before. That might go against all geeky principles, but it's a sensible decision given where Pebble is now: apps written for the first Pebble will work just the same on Pebble Steel, and vice-versa. Given the company's continued focus on building out partnerships with developers and other firms, making sure there's nobody left behind from the original cohort of (vocal) early-adopters is vital.
So, there's the same 1.26-inch 144 x 168 monochrome epaper display – though now with slimmer bezels surrounding it – and a frugal 120MHz ARM Cortex M3 processor, together with low-power Bluetooth 4.0 to connect to your phone. Four buttons navigate through the simple menu structure.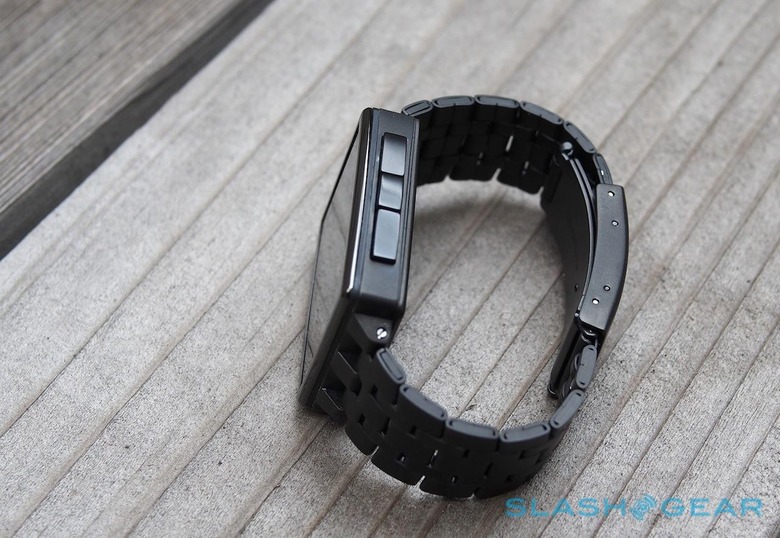 Sensors include ambient light – which controls the LED backlight for the display – along with a 3-axis accelerometer and a magnetometer; you also get the vibration motor for notifications (we still wish we could tone down its aggressive buzz, which could easily be half as strong and still noticeable on your wrist). In fact, the only real difference is the addition of a multi-colored LED to the lower left of the display, which lights up to show charging status.
Software and Functionality
Just because the hardware is the same, that doesn't mean the user-experience is. Pebble Steel debuts alongside a new software version and the Pebble appstore, as the fruits of developers getting to grips with SDK 2.0 emerge.
It's makes the Pebble Steel feel more spritely than the original, though owners of the plastic version will get the same boost when their watches are upgraded. In addition to the watch's firmware, there's also a new smartphone companion app which is both far cleaner in its design and gives access to the appstore; we were able to try the iOS beta, though the Android version isn't yet ready.
Sadly, the commitment to backward-compatibility also means some of the limitations of the original Pebble are still in place, such as the fact that you can only have eight apps on the watch at any one time. Pebble tells us that it's aware of the problem, and is working on ways to streamline it, though insists that won't be a free-for-all of simultaneously loaded apps. The eight-title limit is supposedly "by design" to keep the menus straightforward to navigate through.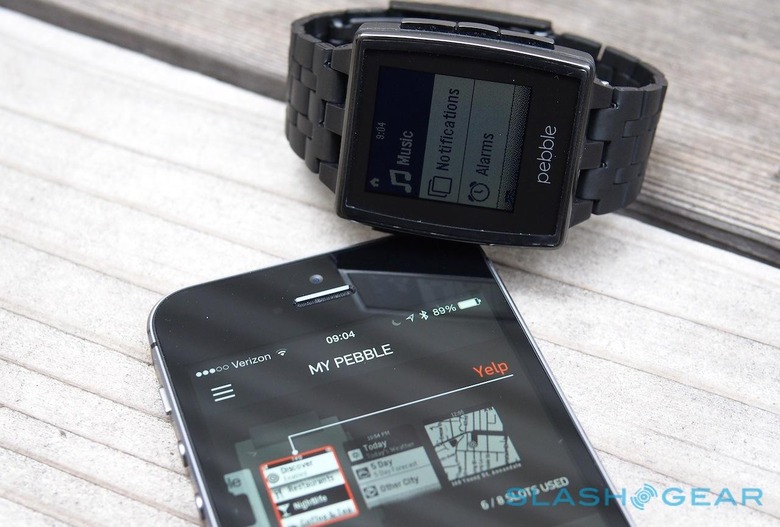 Exactly what the solution will be is unclear, though the locker system could well be a part of it. That allows you to load and unload apps running on the Pebble Steel in and out of the eight on-watch slots; right now you have to do that individually, but we can envisage a time when you might have sets of frequently-used titles that you could easily switch between, reconfiguring Pebble for, say, the office, or your home apps, or apps you use related to fitness and exercise.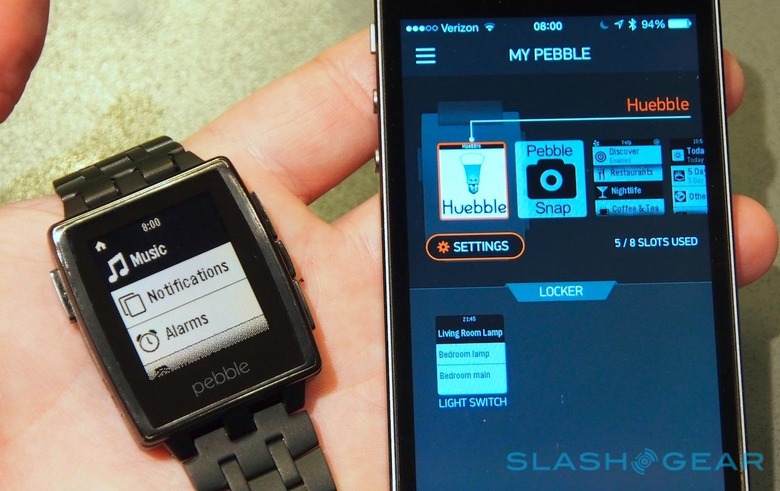 Whatever it is, it's not ready yet. What you do get is easy access to the wealth of apps developers have been coming up with for the smartwatch, including the headline titles Pebble announced over the past few months. We're big fans of the Yelp app, which brings reviews for nearby venues to your wrist (and can suggest a place when you shake your arm), and the Foursquare app demonstrates just what wearables should do: take a few pieces of core functionality and make them incredibly quick and easy to access.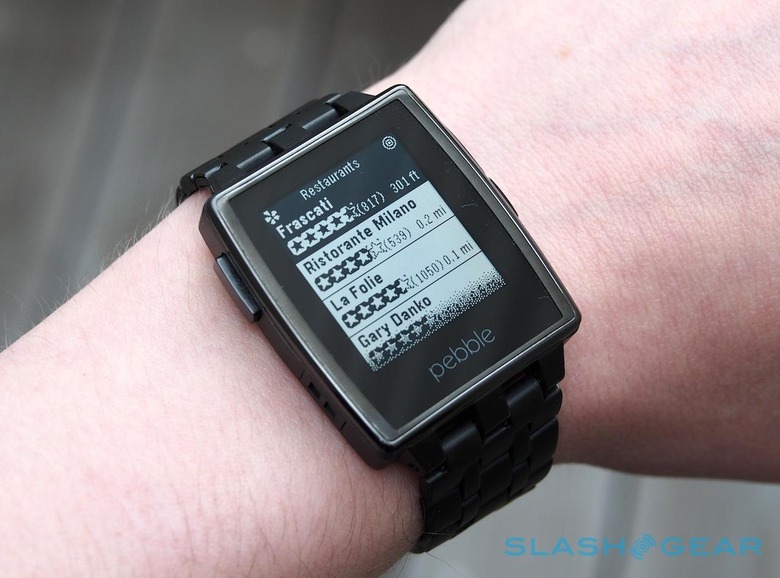 We also had the opportunity to test the new GoPro remote app, which allows you to remotely-control a GoPro Hero 3 camera over WiFi via your smartphone. It does all the basics, like choosing quality settings and starting/stopping recording, but what's particularly slick is the way it periodically polls the action camera to make sure that, even if you've changed the settings in some other way (such as using its own controls) they're still accurately reflected on the watch.
Finally, there's the ESPN app, which pulls scores from your choice of NFL, NBA, MLB, NHL, NCAA football, and basketball games to an easy-to-read pane on the watch.
Of course, apps for Pebble had proliferated before the Pebble Steel came along. What they weren't was necessarily easy to find and manage, which the appstore addresses. Navigating its categories proved a little sluggish at times on the (beta) version we were testing on an iPhone 5s, and a couple of apps simply refused to install when we tapped the "Add" button (usually fixed by force-closing the Pebble app and reopening it).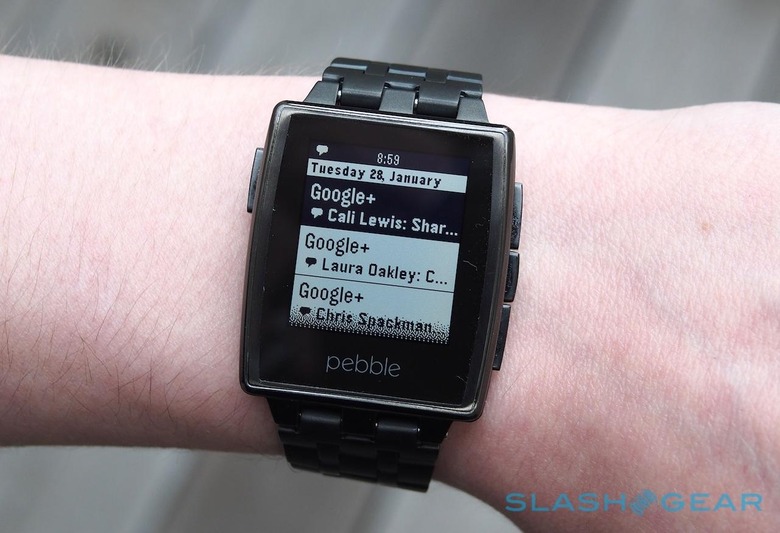 What it still does best, though, is funnel notifications from your phone to your wrist. You can now scroll through multiple recent alerts, rather than seeing just the very latest, and it's a brilliant way to triage what's arriving on your smartphone without pulling it out of your pocket each and every time.
Wrap-Up
No ecosystem is an island. Even the companies generally accused of being the most closed have demonstrated that, these days, if you want your platform to succeed you need to embrace outsiders: developers, enthusiasts, third-party accessory manufacturers. 2014 may be the gold rush year for wearables, but that's no guarantee that any of the many attempts we'll see will crack the mass market.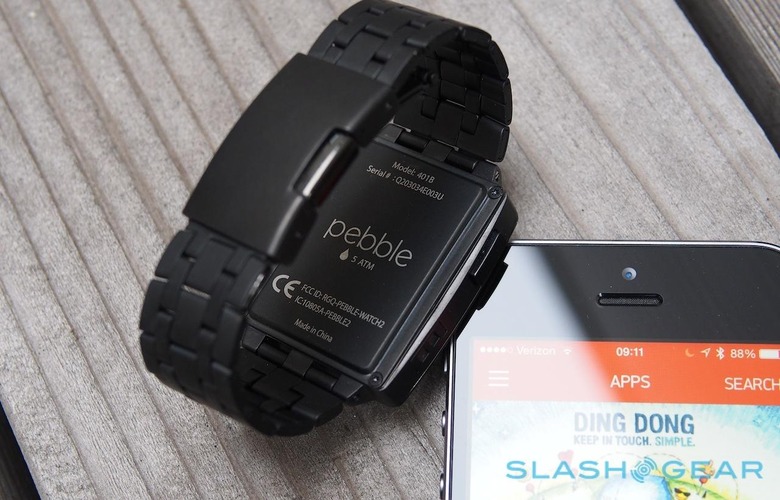 Pebble has a head-start, and a fledgling track record, and an attitude we like and appreciate. Broadening your platform appeal while not frustrating or shutting off existing users and developers, we approve of. Listening to feedback and partnering with interesting companies to do interesting things, we approve of. Embracing your larger ecosystem with things like open access to case and strap designs so that other vendors can build their businesses around you, rather than trying to control things in their entirety, we particularly approve of.
A little short of a year ago we said third-party apps would decide whether Pebble had a future. At launch, the smartwatch had more promise than it did functionality, but the intervening months have seen impressive traction gained there, and the developer community seems as enthusiastic about Pebble as the original Kickstarter cohort was. If Pebble can continue that momentum, partnering with interesting third-parties and leveraging the under-tapped space on your wrist for glanceable information and simple controls, its stands an excellent chance of cocking a continued snook at companies many times its size.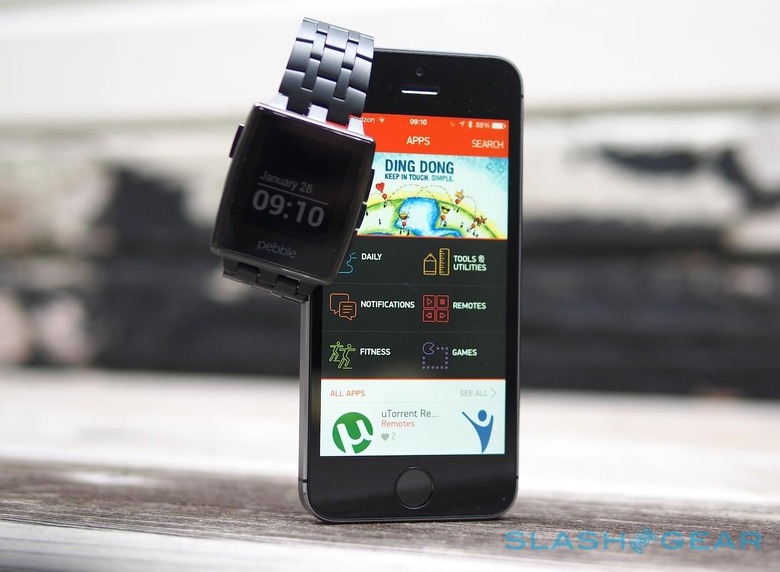 For Pebble Steel specifically, the challenge is to appeal to a more mainstream audience, which may have been left cold by the Swatch-aesthetic of the original. A smartwatch must satisfy both as a gadget and as an item of jewelry; on that front we like Pebble Steel, and the general consensus of those we polled was that it's a more handsome timepiece that fits more readily those in the shirt-and-tie brigade where the plastic version proved more questionable.
Pebble will live and die by its functionality. On that basis, what's important about Pebble Steel is not so much its own fashion appeal – subjective as that is – but in what it tells us about the company's vision for its future and how importantly it values partnerships. Love or hate the new design, you can't fault Pebble for how it has balanced its existing user and developer base while simultaneously appealing to a wider audience.