Mac Pro 2013 Final Cut Pro X update confirmed: Is a 4K Thunderbolt Display next?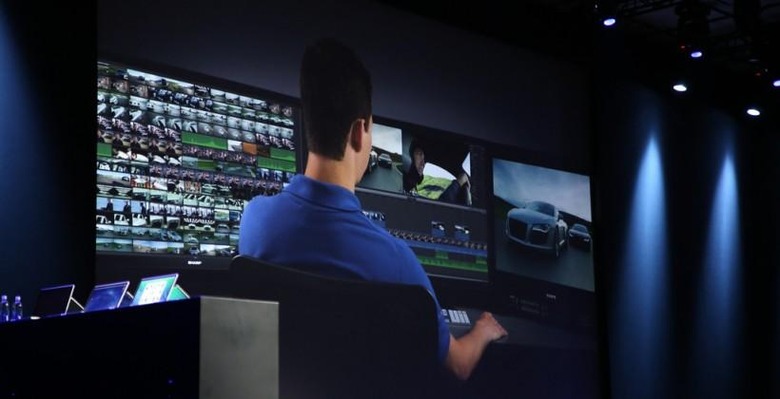 Apple will release a new version of Final Cut Pro X tailored to the 4K capabilities of the new Mac Pro 2013, the company has confirmed, refueling rumors of an updated, far higher resolution Thunderbolt Display to match the workstation's graphics capabilities. The new Mac Pro, previewed during Apple's WWDC keynote on Monday, will arrive later this year, complete with support for driving three Ultra HD monitors simultaneously.
Of course, that's going to require some hardware and software to actually take advantage of the new capabilities, and Apple has already spilled news on some of that. "The Final Cut Pro team is hard at work on a version of Final Cut Pro X that will support all the performance and graphic capabilities of this machine" Apple's Phil Schiller said at WWDC while detailing the new Mac Pro, 9to5Mac flags up, showing the above image of a triple-screen desktop setup in use.
The displays themselves are generic, unsurprisingly, but there's already speculation that Apple will step up and offer its own Ultra HD screens to take advantage of the 4K resolution the Mac Pro offers. Currently, the Apple Thunderbolt Display runs at 2560 x 1440, short not only of the 4K standard but of the Retina resolution the existing MacBook Pro 15-inch with Retina display offers.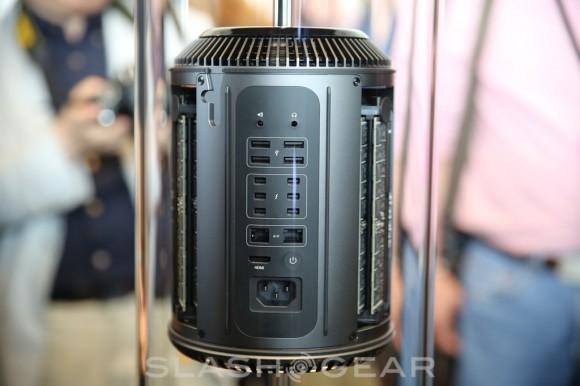 The new Mac Pro's Thunderbolt 2 ports will be capable of piping 4K to monitors, something Apple specifically highlighted during the keynote. An obvious upgrade would be an Apple "Thunderbolt 2 Display" with support for the new connectivity and a more pixel-packed panel.
Exactly where Apple might source such a panel from is unclear, though there are a couple of possibilities we've already seen. LG Display brought a 4096 x 2160 LCD along to CES, for instance, while both ASUS and Sharp have already used Sharp's IGZO 4K panel for displays.
Both panels are larger than the current 27-inch Thunderbolt Display, with LG Display's coming in at 30-inches and Sharp's at 31.5-inches. They're also considerably more expensive; the current Apple screen has an RRP of $999, while the ASUS PQ321 comes in at $3,799. That's likely to drop as Sharp's production costs fall, but it will still make any Apple 4K Thunderbolt Display a premium product.
However, Apple may well have the inside track with Sharp. Last year, the Cupertino firm was tipped to have prepaid Sharp around $2bn, to prop up the struggling display manufacturer as well as secure sufficient panels for future Apple devices. At the time, the rumored move was believed to have been to ensure a stable iPad and iPhone panel supply chain, but it could also include larger, 4K panels for Apple to use in Mac Pro-centric accessories.
There's more on the Mac Pro 2013 in our full SlashGear 101 run-down.