LG Display outs CES 2013 spoils: Full HD phone/tab screens plus UHD TVs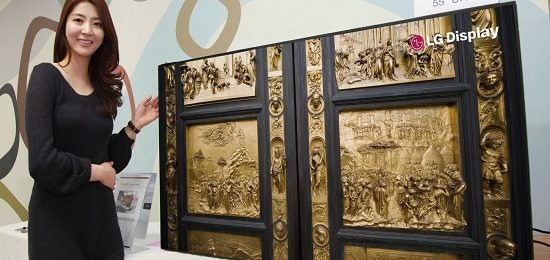 LG Display has detailed its screen showing for CES 2013, spanning smartphone and tablet scale through to lounge-dominating behemoth panels, and most boasting high-resolution. At the mobile end of the scale, LG will kick off with a 4.7-inch panel with 1mm bezel, helping trim sizable smartphones down to hand-friendly scale, followed by a 5.5-inch Full HD "phablet" panel with huge 403ppi pixel density. There'll also be a 7-inch tablet display, running at 1920 x 1200 for 324ppi.
Stepping up to laptop-scale screens, LG will trim bezels with a 13.3-inch LCD with a sub-2mm surround, while a larger 23.8-inch Neo-Blade Series LCD will do similarly narrow things for larger devices. LG also has a 12.9-inch 2560 x 1700 (QSXGA) screen for laptops and ultraportables, which is actually higher resolution than the panel Apple uses in the 13-inch MacBook Pro with Retina display, despite being slightly smaller.
LG biggest computing screen is a 30-inch 4K2K monitor, delivering 4096 x 2160 resolution. It's expected to find a home in hospitals, used for reviewing high-resolution scans, as well as on the desks of designers.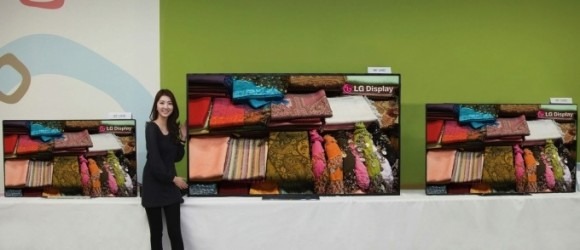 Into the living room, and LG Display has several UHD (Ultra High Definition) 3840 x 2160 panels to flaunt. 55- and 65-inch UHD screens join the existing 84-inch panel, with Film Patterned Retarder (FPR) 3D technology for better quality passive 3D viewing. The company has also put its 55-inch OLED TV on a diet, running it down to 4mm thick and 3.5kg in total.
The rest of the display magic will be for broader purposes, such as a 47-inch transparent display, a 47-inch high-brightness display intended for better visibility when outdoors, and an 84-inch UHD Interactive Whiteboard. Finally, LG will have an eye-catching video wall, consisting of nine 55-inch FPR 3D displays.