LG's MWC big guns: Seven Android Torrent
Most manufacturers wait until a major show like Mobile World Congress to show off their latest and greatest. HTC is jumping the gun a little with a press conference the day before, likely showing off their new flagship. But LG just couldn't wait to show us a gaggle of its latest and greatest, all officially debuted this week and escorted by smiling models. Just to save you some time in the hubbub next week, here's all the new LG phones we know of – so far.LG Optimus 4X HD – this is LG's big iron, a flagship device set to replace the Optimus LTE currently on sale in markets around the world. Formerly known as the "X3", the Optimus 4X HD will come with a massive 4.7-inch display using LG's IPS LCD technology, at a now-standard superphone resolution of 1280x720. Underneath the hood you get Nvidia's latest quad-core Tegra 3 processor with th new 4-PLUS-1 core architecture. Other charms include Android 4.0 Ice Cream Sandwich and HDMI-out via MHL.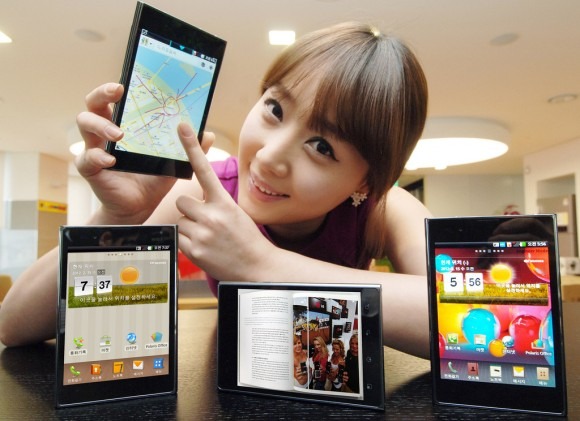 LG Optimus Vu - LG's answer to fellow Korean manufacturer Samsung's oversized Galaxy Note. The 5.0-inch IPS screen has an unusual (for Android) 4:3 aspect ratio with a resolution of 1024x768. A 1.5ghz dual-core Snapdragon compliments 32GB of internal storage, an 8MP camera, a digital TV tuner and a large 2080mAh battery. The Vu runs Gingerbread at launch, but LG is already promising an Ice Cream Sandwich update within three months. Unlike the other phones in this list, the Vu already has a launch date: early March in South Korea.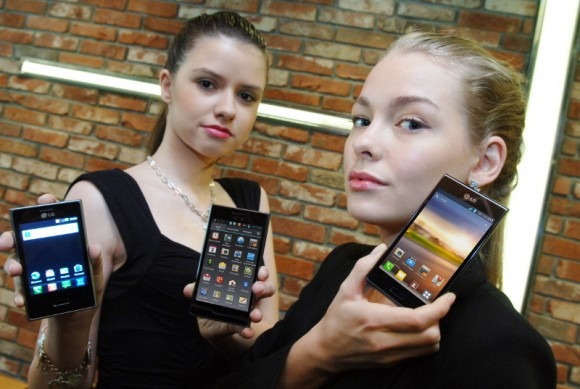 LG Optimus L3 - the low-end of LG's newest lineup, the L3 still manages to turn heads with styling borrowed from the PRADA line of smartphones. The 3.2-inch device has squared-off lines and a faux leather texture hanging out on the back, but users will have to make due with Android 2.3 Gingerbread and LG's custom user interface. More detailed specs on the L3 (and the rest of the L-series ) are lacking.LG Optimus L5 – a significant bump up from the L3, the L5 gets a mid-range 4.0-inch screen and runs Ice Cream Sandwich at launch. That probably means a faster processor and more RAM, though of course those numbers haven't been revealed yet. THe PRADA styling remains present, with sharp edges and a thin bezel.LG Optimus L7 – the big daddy of the L-series gets a 4.3-inch screen (that would have seemed large indeed, about two years ago) and Ice Cream Sandwich to boot. Detailed specifications are nowhere to be found, but it shares a 1500mAh battery with the L5, and likely most of its internal components to boot. With three popular screen sizes, the L-series is covering a lot of bases for LG.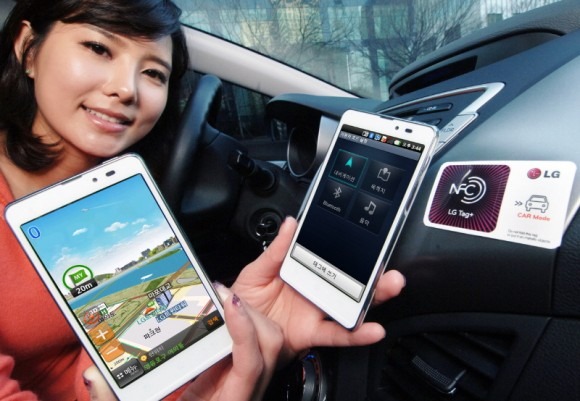 LG Optimus LTE Tag - LG hadn't shown a lot of interest in near-field communication before now, but they're jumping in in a way with the Optimus LTE Tag. The phone gets high-end specs like a 4.3-inch IPS screen, a 1.2Ghz dual-core processor and NFC capability. The latter is used with a series of NFC stickers included in the package, to be placed at the various spots where you use your phone the most. LG offers a CAR sticker that instantly put the phone into a navigation-friendly mode, but using the included app you can define your own stickers and behavior patterns.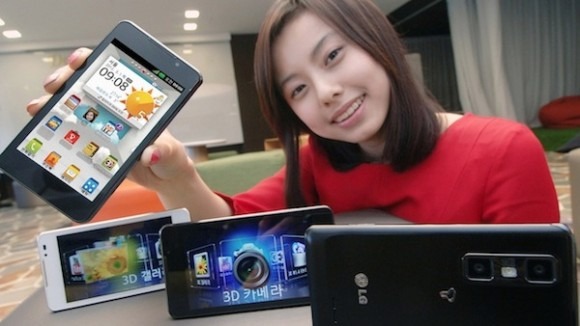 LG Optimus 3D Cube/3D Max - the successor to the Optimus 3D from last year. This iteration gets a bigger 4.3-inch screen, faster 1.2Ghz dual-core processor and has an upgraded 5MP camera and 8GB of internal storage. Gingerbread is the order of the day at launch, but LG is promising an Ice Cream Sandwich upgrade soon. Of course it uses the 3D lenticular screen and dual-cameras to get the full 3D effect without glasses.
All of these phones should make an appearance at Mobile World Congress, and we'll be on hand in Barcelona to check them out. While LG has kept it all Android so far, we're also expecting a reveal of the Windows Phone 7-based Fantasy/Miracle. Be sure to keep an eye on our MWC 2012 portal for breaking news.