LG Optimus LTE Tag pushes NFC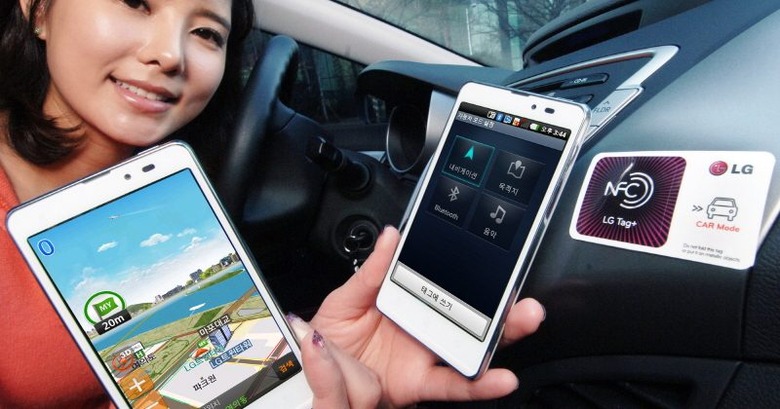 LG has announced another new smartphone ahead of Mobile World Congress, the LG Optimus LTE Tag, to go with the LG Optimus Vu revealed over the weekend. A 4.3-inch Android 2.3 Gingerbread smartphone with a bright, 650 nits IPS LCD display and 1.2GHz dual-core processor, as the name suggests the Optimus LTE Tag prioritizes both 4G LTE connectivity and Near-Field Communication (NFC) with various sticky NFC labels used to switch the handset between different modes.
So, a CAR Mode tag can automatically run the in-car UI, with an oversized interface for easier use of the Optimus LTE Tag while it's docked in a windshield cradle. LG preloads its own Tag+ (or Tag Plus) app to handle reading the NFC tags, and three sheets of stickers will apparently be included in the box with the smartphone. Other possible uses will be switching into Office mode, as well as turning settings on and off for things like WiFi and muting the ringer, but users will also be able to program tags themselves.
Otherwise, the Optimus LTE Tag looks to be a relatively straightforward Android device, with HDMI-MHL connectivity and DLNA support. LG hasn't revealed full specifications, but there's obviously a front-facing camera and presumably the gamut of wireless connectivity along with GPS and a Full HD main camera.
We'll know all the details when LG shows off the Optimus LTE Tag at MWC 2012 next week, when hopefully it will confirm pricing and availability as well.