LG giving out 4,000 LG G4's in massive consumer campaign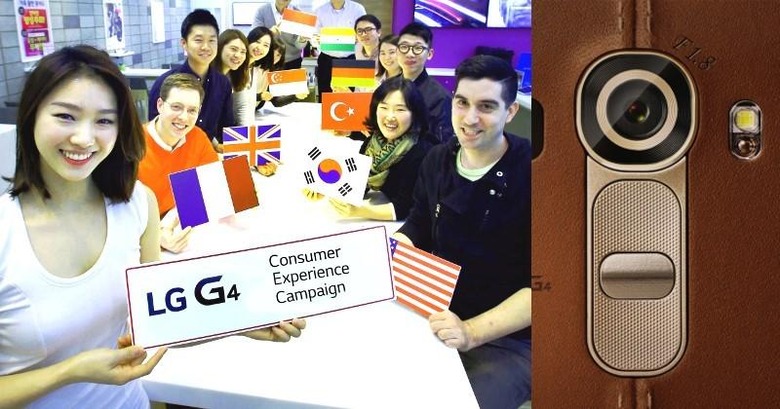 Even with a huge marketing budget, there is still something to be said for spreading the good news through word of mouth. OnePlus and HTC used that to great effect and now LG seems to be jumping in as well. Kicking its marketing machine into full drive, the Korean OEM has announced that it will be giving out LG G4 smartphones to 4,000 lucky consumers in 15 countries weeks before everyone else. While its not a permanent arrangement, it could effectively drum up the hype around LG's upcoming flagship.
We still have about two to three weeks LG fully unveils the LG G4, but it has already been revealing the smartphone piecemeal for the past days. This latest announcement, however, might be the most exciting for those who are truly interested in taking the smartphone for a spin, or maybe even buying one. Weeks before the official launch, LG will be handing out presumably test versions of the device to 4,000 consumers chosen from a pool of applicants. These applicants will be coming from 15 countries, starting with South Korea today, and including Turkey, Indonesia, Singapore, United States, China, India, Brazil, Canada, United Kingdom, France, Germany, Mexico, Japan and Hong Kong.
While the device will be given for free, it won't be theirs to keep. They will be in possession of the LG G4 for only 30 days, during which they will be given different tasks to accomplish using the smartphone. They will most likely be required to give feedback and perhaps share their experience on social media to help spread the words about the smartphone. They will be given prizes in the end, says LG, though it doesn't mention if a G4 is included there.
It's a bit of a risky move for LG, one that takes even more risk than any other company that has relied on social media and consumers to be their mouthpiece. Getting 4,000 units out in the wild is no small endeavor, and things could get out of hand or even backfire if the units turn out to be disappointing. These will most likely be test units only after all.
Officially, the LG G4 is still shrouded in mystery, aside from the 5.5-inch QHD screen and F/1.8 camera lens that LG has all but already revealed. It's official invitation hints at a leather back cover, though it remains to be seen if it's going for the real one or a faux style ala Samsung. Other expected specs include a Qualcomm Snapdragon 808, not an 810, 3 GB of RAM, and 32 GB of storage. As for the curved shape that was earlier speculated, LG has yet to make a teaser that would hint that particular feature.
SOURCE: LG