LG has taken the wraps off its Quick Cover for the LG G5 smartphone. Though the phone isn't available yet, the company has detailed its windowed cover, and also teased the rumored always-on display feature. With the LG G5 Quick Cover, which features a semi-transparent mesh cover, users are able to see certain details on their display through a small window, eliminating the need to open the cover for every little notification.
The G5 Quick Cover is touch-enabled, bringing with it the touch function launched on the K10 Quick Cover View, and allows users to perform certain touch-based actions without opening the cover. One example is answering calls — the call will show up in the windowed portion of the cover, and it can be accepted or declined by swiping a finger across the cover.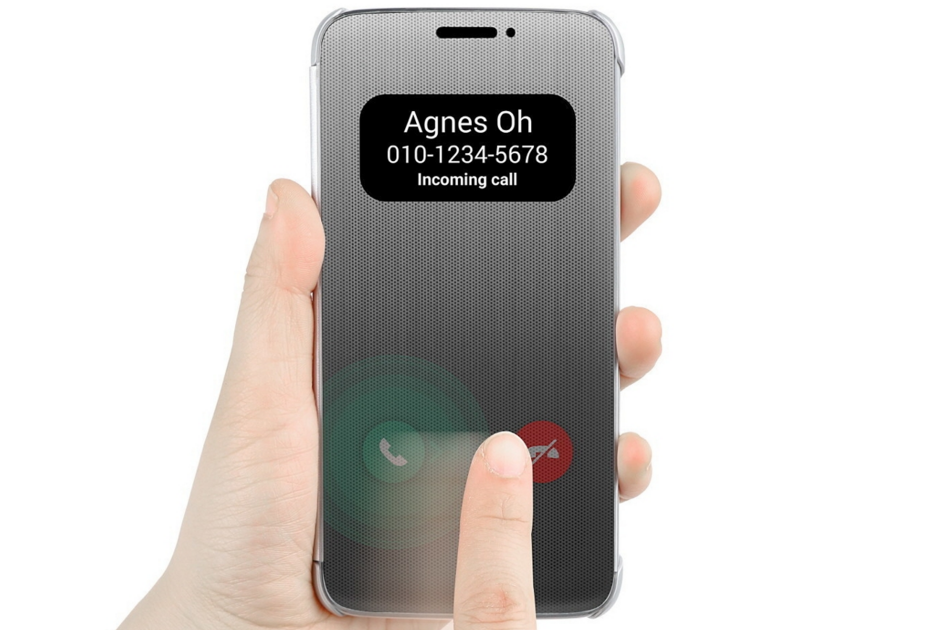 As you can see in the image above, the cover features a metallic finish, a utilitarian but durable look that won't appeal to some, but that LG calls "luxurious." That's the extent of the details, though — how much you'll have to shell out for the quick cover wasn't stated, though we might get that detail come February 21 and LG's MWC happenings.
Details about the LG G5 are still forthcoming — LG has made it known it will announce the smartphone at Mobile World Congress in Barcelona on February 21, something it has dubbed "LG G5 Day." This will pit it directly against Samsung's own announcements, and finally put an end to the endless rumors that have been growing in number.
Earlier today there was that Always On display rumor (accompanied by screenshots); LG teased that feature in its PR this evening, saying, "LG's signature "second screen" Always-on-Display, rumored to be a feature in the highly anticipated LG G5, allows users to check the time, date and notifications, all with the Quick Cover closed."
Another big rumored feature is a dual-camera design, something that will reportedly be featured in several flagship devices throughout this year (something Sony seemingly confirmed, though it is guessing we won't see that feature become pervasive until 2017).
Newest among the rumors are benchmarks reportedly belonging to LG's upcoming flagship handset. You can see the full list here; it includes quad-core Qualcomm Snapdragon 820, 4GB of RAM, and Android Marshmallow 6.0.1. Those specs keep in step with what we've previously heard from rumors, lending credence to the otherwise unconfirmed hardware. As always, stayed tuned for all the details when they arrive straight from Barcelona!