While Samsung may have the night all wrapped up with the Galaxy S7, LG has chosen to reveal the LG G5 in the afternoon. This set of events, it turns out, will be taking place on the 21st of February – later this month – in Barcelona, Spain. That's during Mobile World Congress 2016, where both events will be taking place outside of the main event center. It's the invite that has us baffled the most, it being animated with a walking robot and a bouncing fish… thing.
In the afternoon we'll see the LG G5, then that evening we'll see the Samsung Galaxy S7 and the Samsung Galaxy S7 Edge. It'll be one day of some really, really nice smartphones, that's for certain.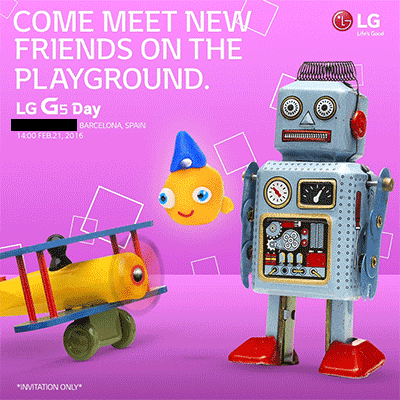 While the LG G5 is expected to once again take the cake when it comes to smartphone cameras, Samsung will bring the heat with two worthy competitors on almost every front.
If what we've heard thus far from anonymous sources turns out to be true, both brands will be bringing not only their flagship phones, but several guest devices as well.
Now if only we could figure out if the toy airplane means that the LG G5 will fly, or whether the bouncing creature means LG is getting in on the virtual reality market, or what… that'd be great. Stick around our LG tag portal for more LG through the future.