A decent 1960s Ford Mustang Shelby GT500 could easily set you back six-figures, so classic pony car fans on a budget might prefer the latest LEGO Mustang model instead. Demanding a far more acceptable $149.99 from your wallet, the downside to the LEGO Creator Ford Mustang is that it's a little smaller than the real thing.
Still, at 13-inches long, 5-inches wide, and over 3-inches high when assembled, it's not small for a LEGO model. It's the latest kit in the LEGO Creator series, an authentic replica of a 1967 Ford Mustang complete with the iconic dark blue bodywork and contrasting white racing stripes.
There's an air scoop on the hood, essential for keeping the detailed V8 engine – complete with battery, hoses, and air filter – running. Well, in your imagination, anyway. The trunk opens too, and there are 5-spoke wheels with rubber tires.
LEGO includes a number of alternative parts, so that builders can customize the car as they wish. There's a printed Mustang badge for the grille, along with two GT emblems. However, you can also slap on a supercharger, a rear ducktail spoiler, and bigger tailpipes. There's an optional front chin spoiler, too, and various license plates.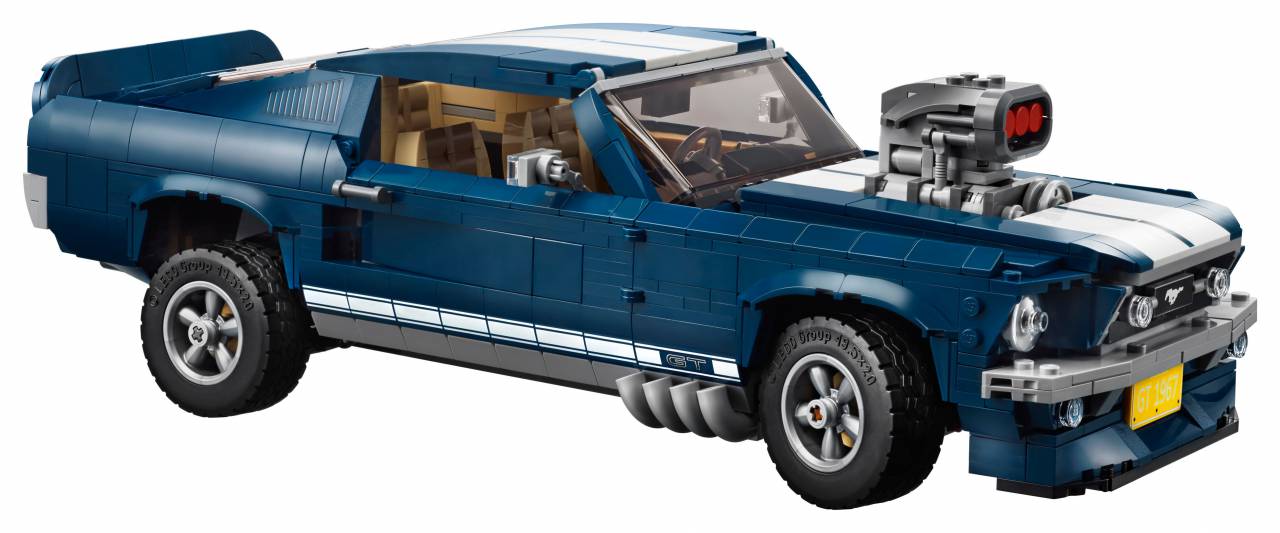 You can even go full Fast and Furious and add a nitrous oxide tank. The rear axle lift can be adjusted, too. In all, you can opt for a relatively realistic Mustang GT500 if you wish, or go to the complete extreme and create the lifted, supercharged, drag strip monster you see here.
All in all there are 1,470 pieces, and LEGO says the kit is suitable for those 16 or older. As with all LEGO Creator sets, there are some specialized bricks included – there is, of course, a limit to what shapes you can create, at this scale, and still achieve the look intended – though this isn't the company's first car.
Back in September, for example, we reviewed LEGO's Batmobile model, which can be remotely controlled from a smartphone app. Earlier in the year, LEGO released models of iconic Porsche cars, including the 911.
At the other extreme are LEGO's recent full-sized replicas. In January, the toy brick company showed off a full-scale 2019 Chevrolet Silverado, fully recreating the new pickup truck. Back in August 2018, meanwhile, LEGO Technic made a full-sized Bugatti Chiron, and actually managed to make it drivable.
The new LEGO Ford Mustang will be released on March 1, 2019. It'll be priced at $149.99.