Life-size LEGO Technic Bugatti Chiron actually drives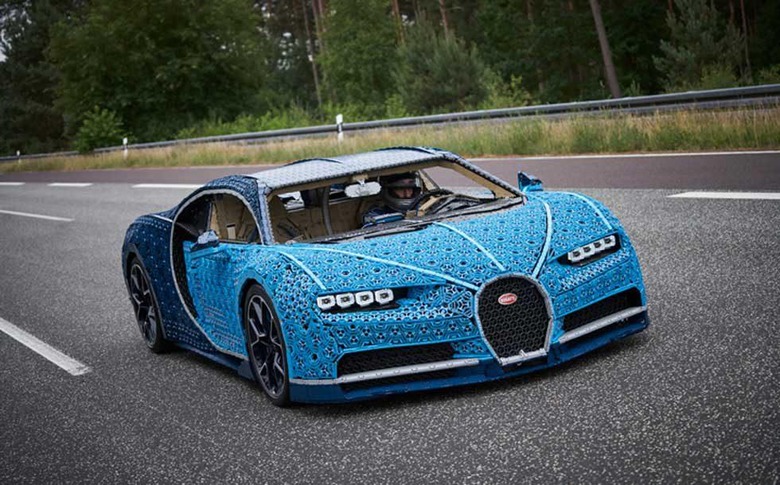 This may be the coolest LEGO project ever made. LEGO as taken real LEGO Technic parts and used those parts to construct a life-size and drivable replica of the Bugatti Chiron. This is the first large-scale movable construction that was developed using over a million Technic elements and powered using LEGO Power Function platform. The replica has 2,304 motors and 4,032 LEGO Technic gear wheels.
The engine inside the car makes 5.3hp so it's not exactly going to go as fast as the real thing. The estimated torque output of the ride is 92Nm. The LEGO car and the real thing look impressively like each other, even when sitting side-by-side.
LEGO says that all the details of the car are created using Technic elements from seats, to dash, to the steering wheel. The outer shape of the car is made using interconnected triangular segments to create a LEGO Technic fabric. After the build was complete LEGO took its Chiron to the same track where Bugatti tests and sent the car off.
At 5.3hp the LEGO Chiron can hit a bit more than 20km/h, nowhere near the 420 km/h the Chiron is capable of. Making the LEGO Chiron even more interesting is that no glue was used in its construction. This model used 58 types of custom-made Technic elements. With over 339 Technic elements used altogether. The total weight of the model is 1,500kg.
LEGO made several firsts for this build. This is the first fully-functional, self-propelled LEGO Technic car. The first transparent Technic bricks are used in this car. This is also the first-time load-bearing parts were built purely out of LEGO.
SOURCE: LEGO