Ten years after the first iPhone and it's time to take a head count – how does a 2007 phone compared to today's biggest and brightest. The actual anniversary is of the market release of the 1st-gen iPhone, which came to stores on June 29th, 2007. Back then, the mobile phone market was a very different place than it is today. So very many buttons! What did LG, Samsung, Motorola, and HTC have then – and what do they have now?
LG Viewty to G6
The LG Viewty (LG KU990) had a TFT resistive touchscreen that was 3-inches large with 240 x 400 pixels. It had a Flash UI software system and "downloadable wallpapers"! It had a 5 MP, Schneider-Kreuznach optics camera on its back and a removable 1000mAh battery which lasted 430 hours on standby.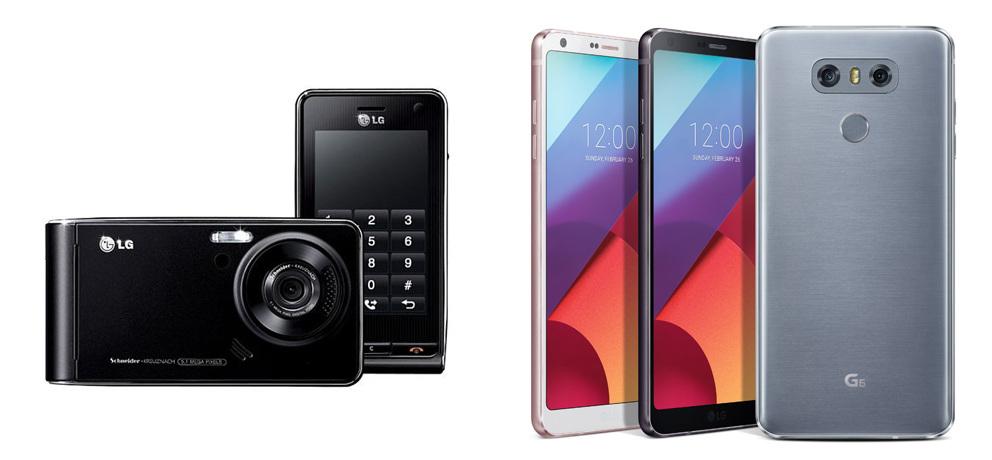 The LG G6 has an IPS LCD capacitive touchscreen that's 5.7-inches large with 1440 x 2880 pixels. Inside is Android 7.0 Nougat with LG UX 6.0 UI and – like other Android devices – the ability to download and use millions of apps. On the back are 2x cameras: 13 MP (f/1.8, OIS, 3-axis, phase detection AF) + 13 MP (f/2.4, no AF). The battery inside is not removable, 3300mAh, and will last maybe… a couple days on standby.
Samsung F700 to Galaxy S8
The Samsung F700 had a slide-out hardware QWERTY keyboard and a 3.2-inch TFT resistive touchscreen. The F700 was over a half-inch thick (0.63-inch, actually) and it rolled with a 3.15MP autofocus camera at its back with LED flash. This device could access Google Maps, play music, and view documents (Word, Excel, PowerPoint, PDF), and had a removable 1000mAh battery that had up to 300h stand-by time.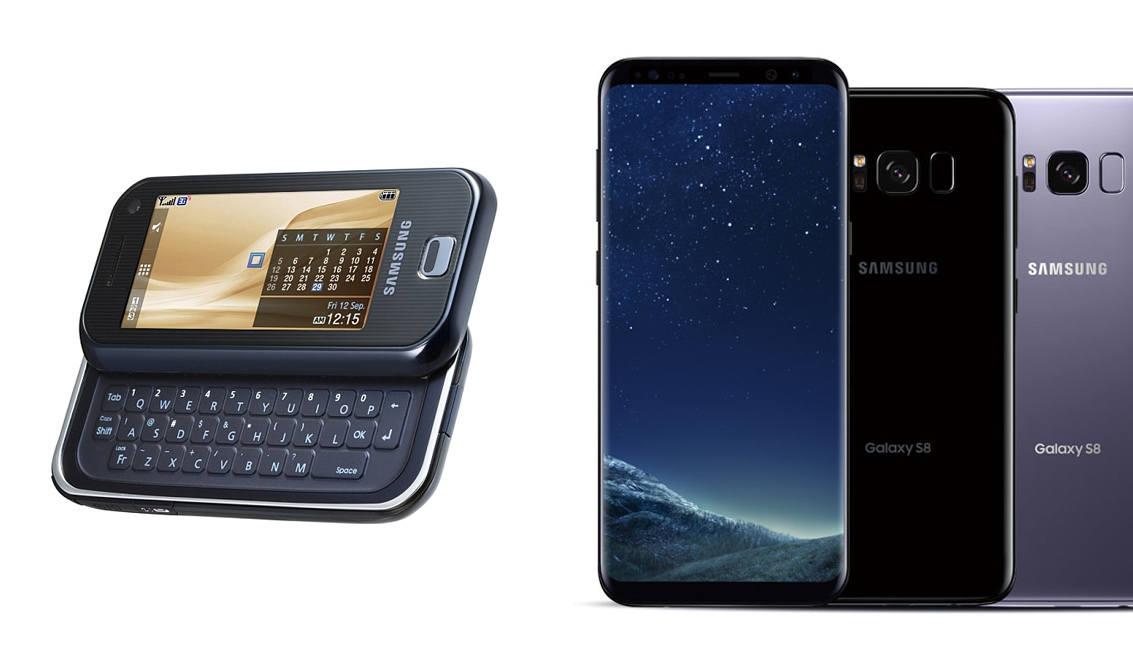 The Samsung Galaxy S8 has a 5.8-inch Super AMOLED capacitive touchscreen which curves at its left and right edge to cascade down and off the front panel. Inside is 64 GB of storage and 4 GB RAM while the back features a 12 MP camera with, f/1.7, 26mm, phase detection autofocus, OIS, and LED flash. This device includes DeX (Desktop Experience Support) which allows it to be plugged in and used as a mobile computer.
HTC SHIFT to U11
HTC's gone through a massive number of phone iterations over the past 10 years – almost as many as Samsung. The difference between one of their key 2007 devices and now shows the key difference between almost every mobile phone before 2007 and after: buttons! So very many physical buttons were in place on mobile devices back then – far, far too many for the likes of 2017.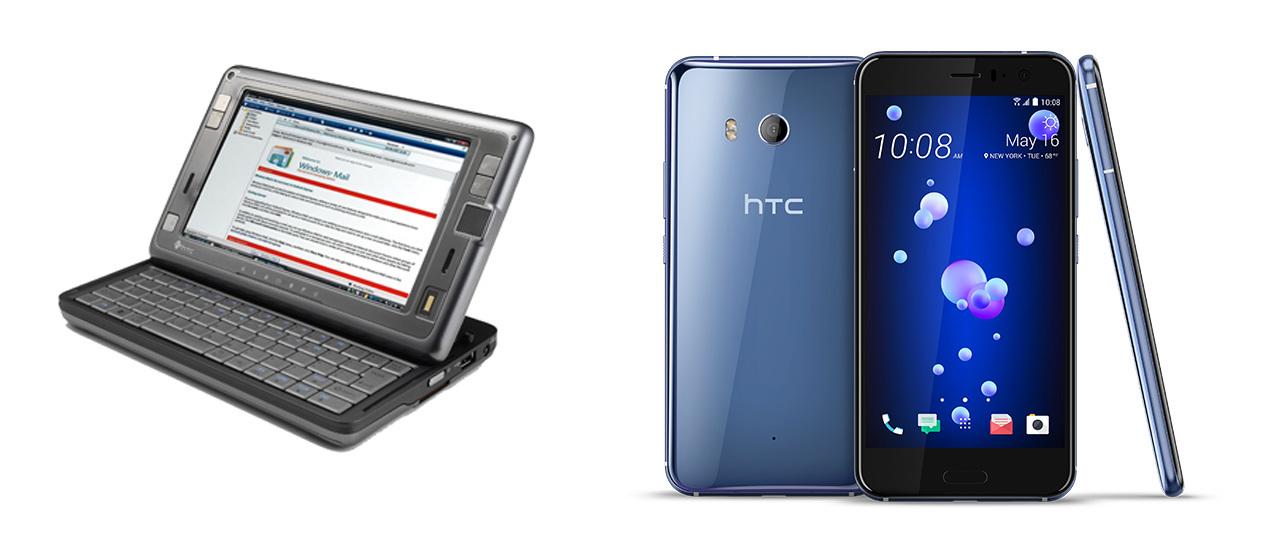 The HTC SHIFT featured Microsoft Vista Business and SnapVUE OS and was technically released in 2008, but was first announced in 2007 and designed earlier that year. This device might also not really be considered a phone, as such – but it was certainly a predecessor of the big-screened devices we use now with a 7-inch panel (with 800 x 480 pixels).
The newest HTC smartphone today is the HTC U11, which features a 5.5-inch capacitive touchscreen display with Super LCD5 technology and 1440 x 2560 pixels. This device runs Android 7.1 Nougat and has three physical buttons, a fingerprint scanner, and has an "Edge Sense" feature which launches actions when the device is squeezed.
Motorola RIZR Z8 to Moto Z
The Motorola family of phones dominated the early years of mobile phones, taking a whole lot of odd shapes in doing so. While the Motorola RAZR took the industry in 2004 with its still-iconic thin flip-phone body, the RIZR Z8 was the headliner of the year 2007. It had a microSD card slot capable of holding a 32GB card and featured a 2MP camera at its back. Also it had buttons – so many buttons.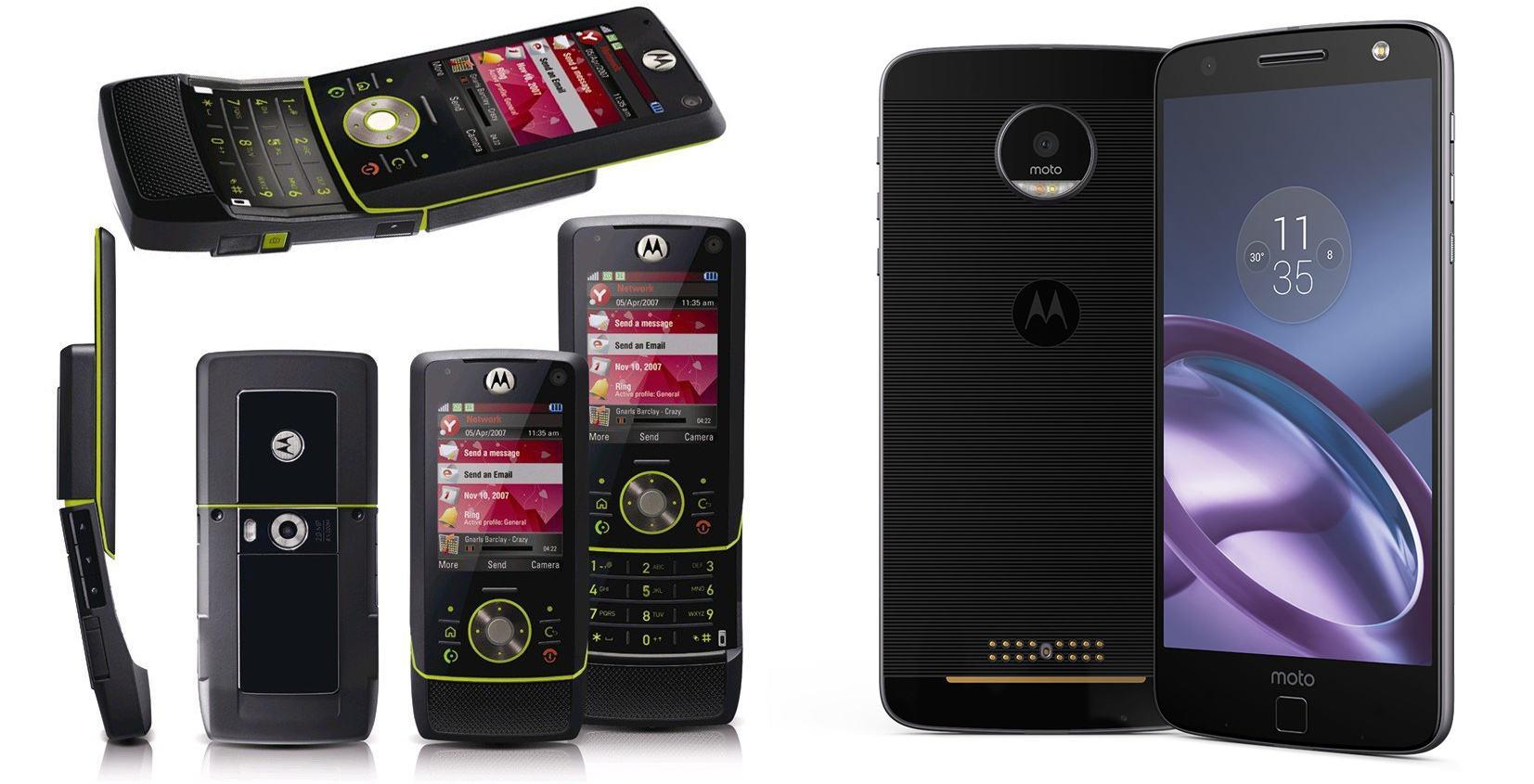 In the year 2017, the most advanced and premium Motorla smartphone is the Moto Z. This device is is an exceedingly thin 5.6mm and features a 5.5-inch 1440 x 2560 pixel display (AMOLED, capacitive touch) and Android. The back has a 13-megapixel camera with f/1.8, laser autofocus, OIS, and dual-LED (dual tone) flash. This device also has a magnetic Moto Mods system which allows Motorola-made accessories to plug-and-play – a battery, a speaker, an advanced camera system, and others.
Apple iPhone (2007) to iPhone 7 Plus
Apple has kept with largely the same formula from the start – there's no denying that. Be it good or bad from your perspective, Apple's made smartphones that keep it simple, and have since the first model revealed in 2007. The first iPhone featured a 3.5-inch TFT capacitive touchscreen with 320 x 480 pixel resolution. This device featured the first version of iOS and a 412 MHz ARM 11 CPU and PowerVR MBX GPU.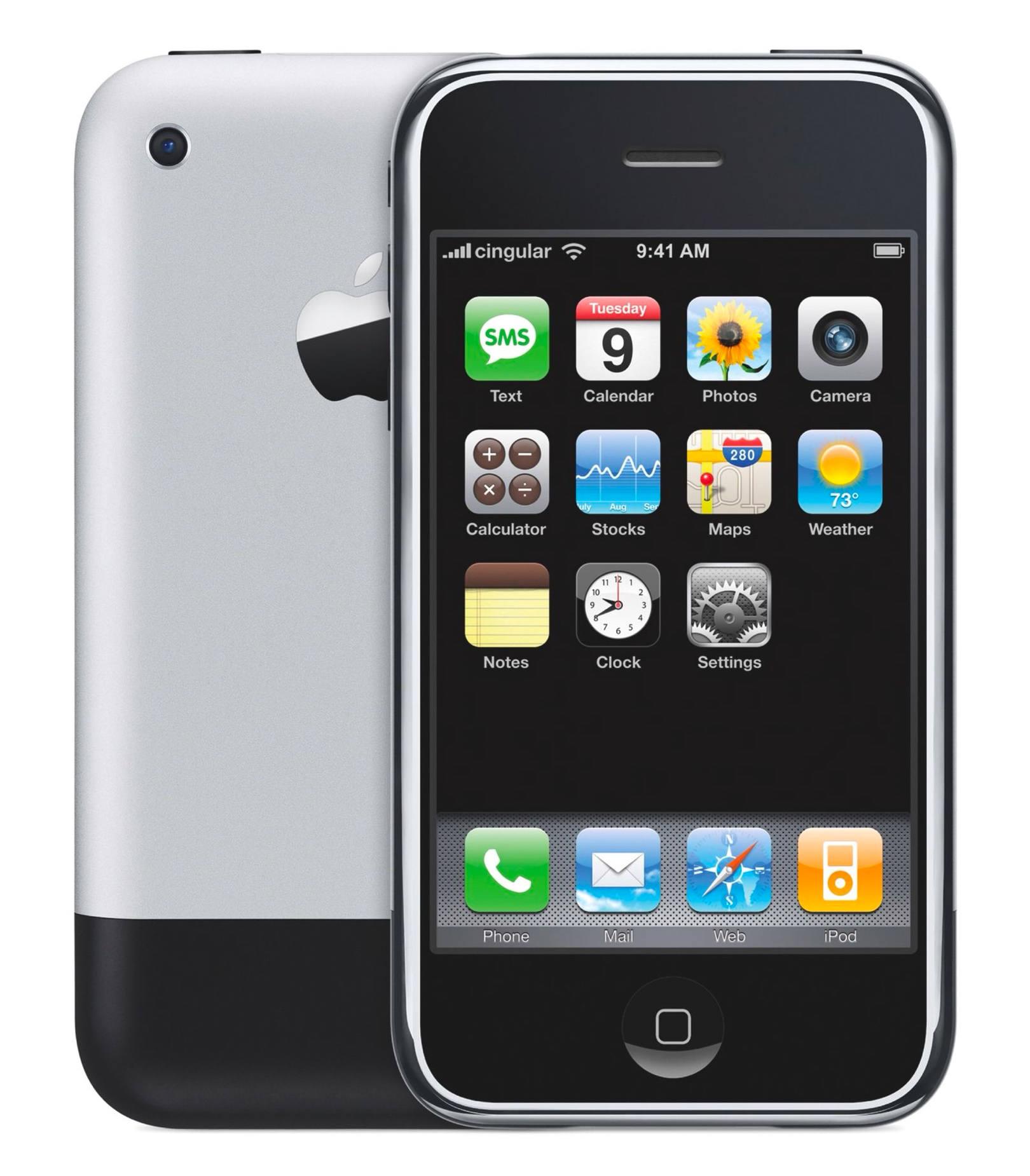 Internal storage on the original iPhone was given in three sizes: 4GB, 8GB, and 16GB, with no SD card slot for expansion. The back-facing camera was 2MP and there was no front-facing camera. This device had Wi-Fi 802.11b/g and Bluetooth 2.0, but only for headsets. No radio connectivity, no GPS. This device had a non-removable battery inside with up to 250-hours of standby time, and the phone came in black.
Starting with the iPhone 6, the iPhone started to come in two sizes – iPhone 6 and iPhone 6 Plus. Then there was the iPhone 6s and iPhone 6s Plus – now there's an iPhone 7 and iPhone 7 Plus, the latter coming with two back-facing cameras.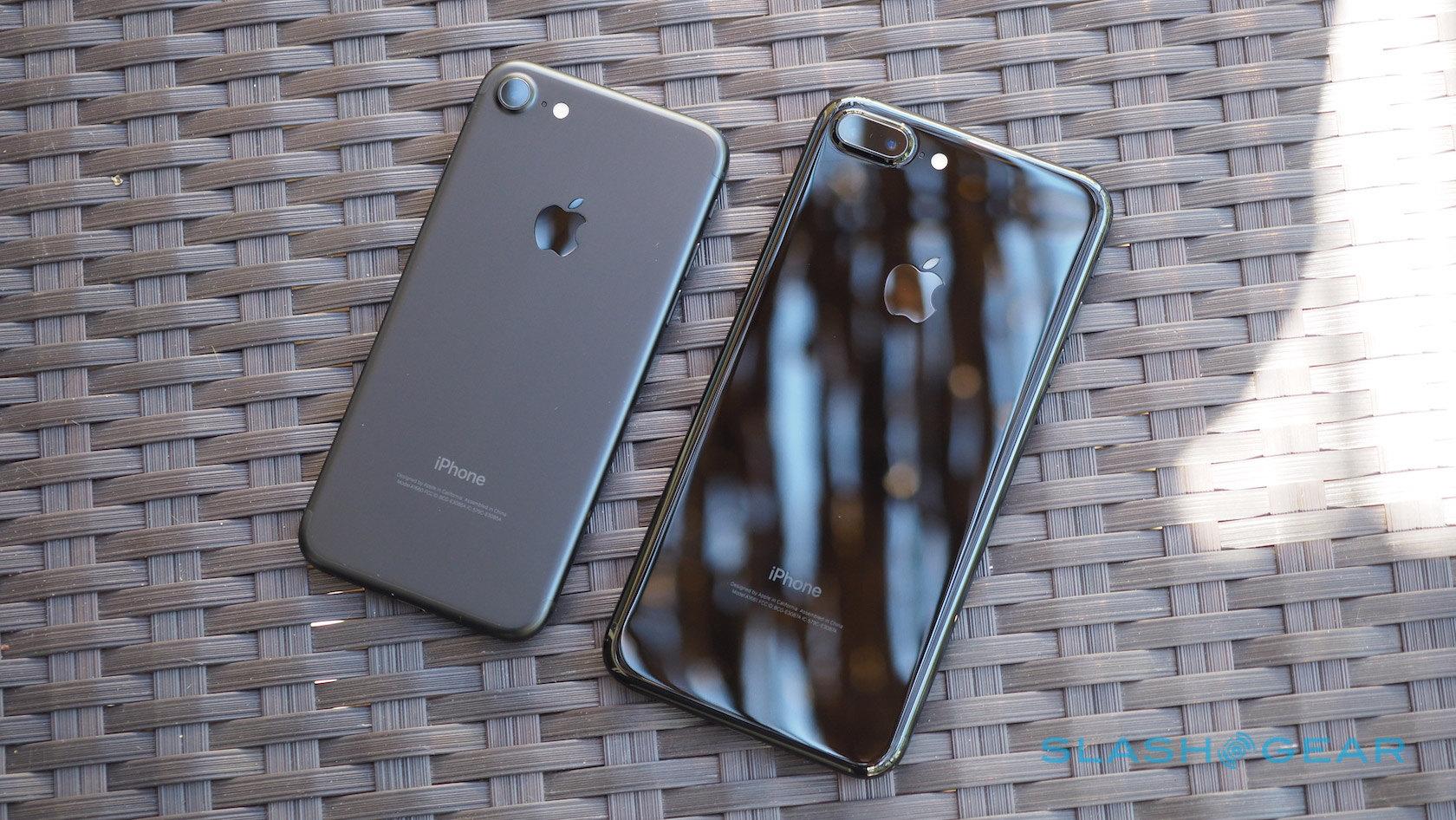 The iPhone 7 Plus has a 5.5-inch display with 1080 x 1920 pixel density and iOS 10. Inside is a Apple A10 Fusion chipset which includes Quad-core 2.34 GHz (2x Hurricane + 2x Zephyr) CPU and PowerVR Series7XT Plus (six-core graphics) GPU. The back of this device has 2X 12 MP cameras (28mm, f/1.8, OIS & 56mm, f/2.8) with phase detection autofocus, 2x optical zoom, and quad-LED (dual tone) flash. The front-facing camera is a 7 MP, f/2.2, 32mm shooter.
The newest iPhone range includes dual-band Wi-Fi 802.11 a/b/g/n/ac and Bluetooth 4.2 (with A2DP AND Low Energy capabilities) that can connect to most any Bluetooth device. This newest version of the iPhone has no headphone jack, while the original iPhone had a headphone jack that was not flush with the casing of the phone – which meant most headphones needed an adapter (sold separately). This was corrected in the year 2008 with the iPhone 3G.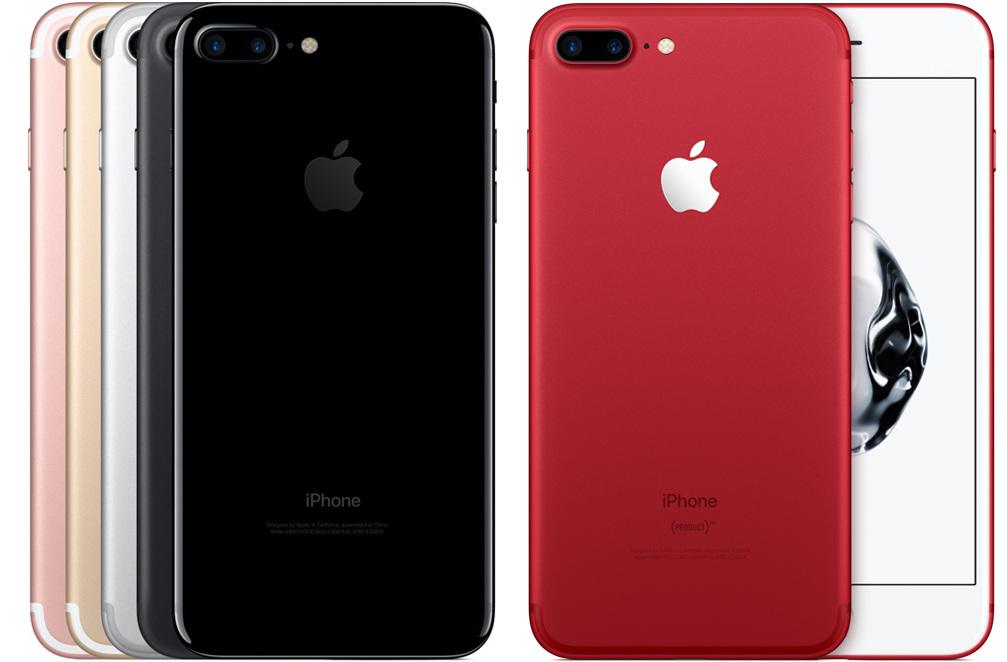 The iPhone 7 Plus has a non-removable 2900mAh battery that has a stand-by time of 384 hours. This device is available in Jet Black, Black, Silver, Gold, Rose Gold, and (PRODUCT)RED. This device is available in 32GB, 128GB and 256GB internal storage size editions.
Next well chat about what the iPhone will look like in another 10 years. That is to say if the iPhone lasts that long.