iPad mini 2 Retina a no-go as leak tips thinner body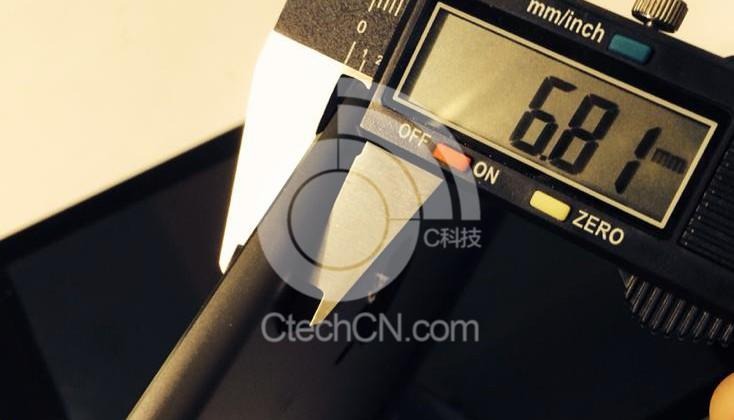 We already know that Apple will be holding an event on October 22 where it plans to unveil new products to the masses. Apple hasn't said exactly what the products will be that it plans to show off on October 22, but rumors continue to insist we will see the iPad 5 and the iPad mini 2. Only a few days ago a leaked image claiming to be the case for the iPad mini 2 showed that the next generation iPad mini would get a scant 0.2 mm thicker than the original iPad mini.]
UPDATE: Of course – as you may already realize – not every tip turns out to be true.
We know the case will likely have to get a bit thicker in order for Apple to cram a high-resolution Retina display inside the iPad mini. A new leak has surfaced today with the photograph from China claiming to be the case of the iPad mini 2. This leak directly contradicts the leak from a few days ago claiming that while the original iPad mini was 7.2 mm thick the new iPad mini will be 6.81 mm thick.
That indicates that the iPad mini 2 will be slightly thinner than the original iPad mini, seemingly ruling out the possibility of Apple adding a Retina display to the new tablet. We are taking this rumor with a grain of salt at this point.
If Apple doesn't add a Retina display to the next generation iPad mini there will be a lot of unhappy iPad fans. I wouldn't rule out the possibility of Apple building two versions of the iPad mini 2 along the lines of what it has done the iPhone 5S and the iPhone 5C. Perhaps a thicker iPad mini 2 going along the thicker case we saw on the leaked image earlier this month that will have a Retina display while a thinner and cheaper device fitting inside the thinner case from the leak today uses a standard display.
That is mere speculation and considering how unpopular the iPhone 5C has proven and the fact that Apple has reduced orders for its cheaper iPhone 5C, two versions of the iPad mini 2 might not make sense. However, Apple would've undoubtedly had the new version of the iPad mini in the works well before it was clear the iPhone 5C wasn't going to be popular. Perhaps Apple has plans on eliminating the current generation iPad mini and sending it into the ether sort of like all the iPhone 5 phones disappearing when the iPhone 5S and 5C surfaced.
SOURCE: Ctechcn