iPad 5 anticipation high ahead of October 22nd Apple event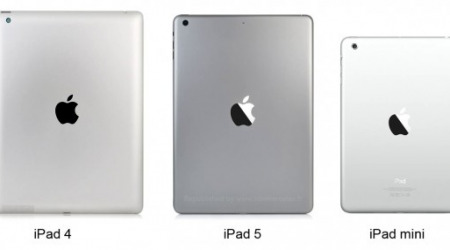 There's little doubt at this point whether or not there will be an October 22nd event held by Apple that will, in turn, be the first official home for the 5th generation iPad. Seeing an original leak from AllThingsD then a simple "Yep" from the likes of The Loop's Jim Dalrymple, this event will almost certainly center on not only the newest full-sized iPad, but the 2nd generation iPad mini as well. These devices will converge on aesthetic design this time around, both appearing much more like the original iPad mini industrially than the original iPad or iPad 2.
It's also been reported by Currented Editorials – before AllThingsD, it would seem, that the October 22nd event will indeed be a go. This event will play host to a new processor class for the iPad 5 in the Apple A7X chip, here working with Touch ID – the fingerprint sensor – for the iPad 5 as well. This iPad's look and feel will be a bit more slimmed-down than the 4th generation iPad, that being the first iPad with the Lightning connector.
The iPad mini, meanwhile, will be rolling out with an upgraded processor as well. While the retina display quality front panel may not appear on this 2nd generation iPad mini, it is almost certain that the device will work with the Apple A6 processor – the same as delivered in the iPhone 5 and iPhone 5C. This smaller device will likely keep the same pricing structure as well.
Though this event will center on the iPads as the heroes of the day, it's quite likely the OS X Mavericks universe will unfold in tune. Here we'll likely get more information on the Mac Pro 2013 – perhaps even a release date for the machine we first heard about all the way back at WWDC 2013 earlier this year.
The iPad 5 and the iPad mini 2 have been subject to an array of leaks and hardware up-close photos from upstream over the past few weeks – a gallery of images taken from these articles are available above. Meanwhile you'll find a timeline of events below – discover the future before it happens, then stick around SlashGear's Apple portal for more – straight through October 22nd!