In Apple's 2013 developers conference main keynote, the company showed a select few bits and pieces in the hardware realm. While no new mobile devices were unleashed, the desktop environment was given a bit of a bump with a MacBook Air refresh as well as a total re-thinking of the way the Mac Pro exists: 1/8th the size of its predecessor.
MacBook Air
The MacBook Air notebook line has been given a boost with the newly announced line of 4th generation Intel Core processors (Haswell) under the hood. Inside you'll also find 802.11ac Wi-Fi support as well as a change over to "45% faster" all-flash storage than the previous generation.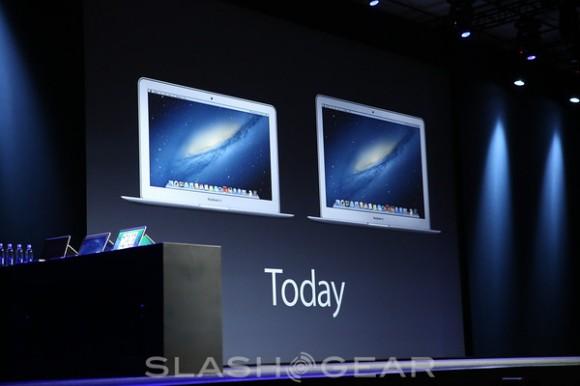 Perhaps most important of all is the boost to battery life with OS X Mavericks. The 11-inch MacBook Air , while it used to work with a 5 hour battery life, now works with a 9 hour battery life. Meanwhile the 13-inch MacBook Air used to work with a 7 hour battery life and has been given the boost to 12 hours of battery life. We'll be giving all this a test in the real world too, once we've gotten our hands on them, of course.
These machines, unlike the Mac Pro, are available starting today anywhere between $999 starting for the 11-inch version and $1099 starting for the 13-inch version.
This refresh doesn't have any significant changes as far as hardware design goes – you'll have trouble telling this generation apart from the last – but its innards have been given a kick, for sure.
AirPort Extreme and Time Capsule
You didn't see this combo coming, did you? Apple's AirPort Extreme will be working with a tall aluminum column design along with the new Time Capsule, both of them looking extremely similar in the flesh. Both machines work with 4.5 x 4.5 inch bases and sit at 6 inches tall, working with 802.11ac WiFi to match the MacBook Air update.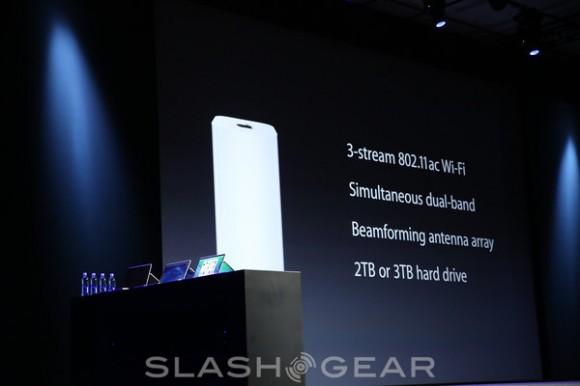 Time Capsule will also be available in 2TB and 3TB storage sizes. The AirPort Time Capsule works with Beamforming, allowing 802.11ac technology to roll with an antenna array that boosts a constant Wi-Fi signal in all directions, targeting the machines that are using it for directed strength – smart stuff.
Mac Pro
The Mac Pro has been "reborn", so to speak, working now with a bit of a tube-like design that's closer to the Mac Mini in size than it was to the most recent Mac Pro. As Apple is saying now, "sometimes to take a major step forward, you have to completely change direction."
This machine is working with two GPUs (FirePro Graphics from AMD), PCI Express-based flash storage, and a set of ports that'll likely be more than enough for your daily desktop needs: all six Thunderbolt ports and four USB 3.0 ports of them. Also along the back are basic speaker and headphone jacks, full-sized HDMI-out, and two ethernet ports.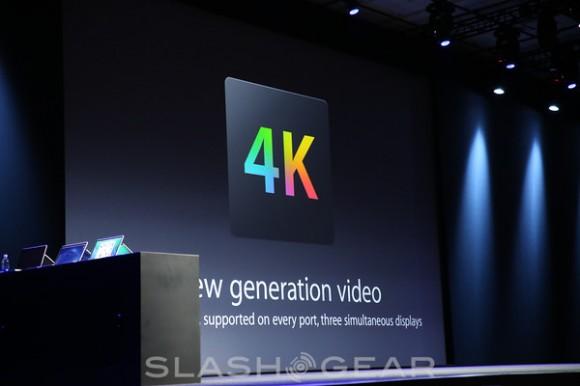 This machine can support a total of three displays simultaneously on every port – wild – with up to 4K Ultra HD resolution on tap. Ports along the back of this device are Thunderbolt 2, meaning they're ready for 20Gbps speeds, each of them ready to roll with six devices on their own – that's one whole heck of a lot of output.
The Mac Pro will be available later this year – at this point it's all in preview mode. Stick around for our SlashGear 101: Mac Pro article coming up quick in the SlashGear Apple hub, kicking out details all week long.