iPad 5 and iPad mini 2 in Space Gray: measured and compared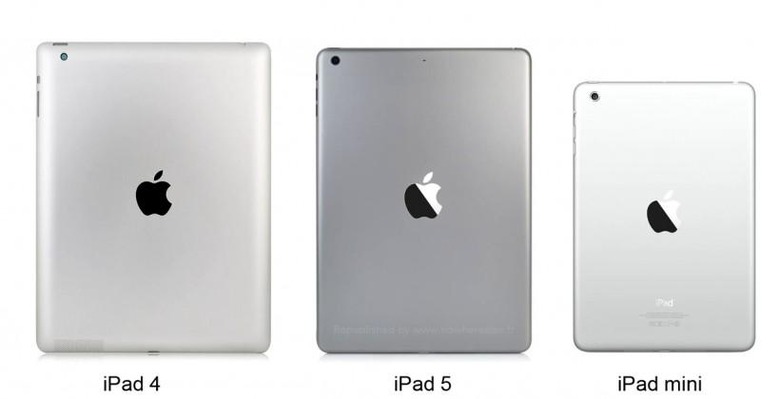 Today a collection of images has appeared – with specifications attached – of both the iPad 5 and the iPad mini 2 in Space Gray. Up-close photos and inspections of the individual parts of Apple mobile smart products like the iPhone and the iPad have become somewhat commonplace over the past few months, particularly with devices that've not technically been revealed to the public by the manufacturer. Both the 5th generation iPad and the iPad mini 2nd generation models have been showing up here and there over the past couple of weeks – here they're inspected for a higher grade of detail.
The images you're seeing here come from the parts dealers at SW-Box, this suggesting the idea that they've got just about as much of a reliable source as the ample amounts of case leaks that appeared for the iPhone 5s and iPhone 5c in the weeks before their arrival. Sometimes they were off-kilter for color, other times they were dead on. Here we can pretty much assume that they're close enough to reality that we can glean some visual detail in the days and/or weeks before these iPads hit the market.
This is not the first time the likes of NWE have spotted an oddity in the Apple hardware delivery line. Sources like SW-Box have taken to sending out images like these this year to earn attention through blogs for their business – and they don't always take the time to source real-deal Apple-official parts to do it. Because of this, please feel free to take this all with a grain of salt.
NOTE: You'll find that some images in this set have a sort of half-Apple logo – up close it seems that they've been blurred and chopped to hide what we must assume is a unit number, therefor hiding the original source of the part (possibly, but by no means definitely, a rogue factory worker or someone of similar placement).
Considering the possibility that these cases might not be right on-the-money for final release, you'll find the 5th generation iPad to be 239.2mm tall and 169.5mm wide, this a bit slimmer around the hips than the 4th generation iPad on the market today, and a small, yet significant amount shorter. You'll also find a couple of comparison shots in the galleries here so you can get an idea of how similar the two new units will be to the old – the iPad mini 2 will essentially be the same size as its predecessor.
It's rumored that an iPad-centered event will take place in October in a manner similar to that of the iPad event that unfurled at this same time last year. With the iPhone 5s and iPhone 5c event appearing well within bounds of last year's iPhone 5 event, there's no reason to suspect that an iPad event isn't far behind. We shall see soon!