iPad 2 yanked from Amazon China [Update: At Apple's request]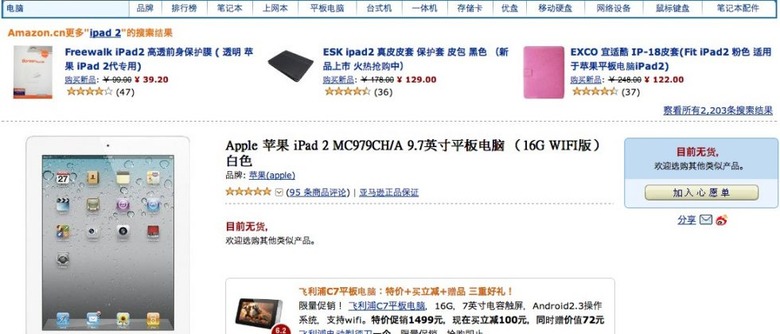 We may receive a commission on purchases made from links.
Amazon China has apparently yanked the iPad 2 from sale in the aftermath of the Proview trademark suit, freezing orders of the tablet after Chinese courts ruled Apple doesn't hold rights to the name. Listings on Amazon China have been pulled from search results, and the product pages no longer accept sales, QQ Tech spotted; a similar lock-down has taken place at rival retailer Suning.
The curtailed availability of the second-gen iPad comes after Proview called for a complete customs ban of imports and exports of the tablet. The company admitted that such a block would be difficult if not impossible to implement, but hinted that it would be open to an out-of-court settlement by Apple as a workaround.
Nonetheless, sales of the iPad 2 continue from Apple's own online store in China, as well as from other third-party retailers. Although reports earlier this week suggested officials from the Chinese Administration of Industry and Commerce had seized some iPad 2 stock from retailers, the tablet is still supposedly broadly available if only unofficially.
Although Apple bought the iPad trademark from a Proview subsidiary some years ago, the company maintains that the deal did not include use of the name within China. A court agreed back in December, and Apple now faces a potentially difficult appeals process unless it agrees to a settlement.
Update: According to Sina Tech, the decision to pull the iPad 2 from sale on the two sites was at Apple's own request. The company apparently told the retailers that the changes were necessary "according to their sales strategy" though did not specify whether it was down to the Proview case. As for Proview's lawyer, he claims the company has not approached online retailers about freezing iPad 2 sales, and "does not understand" Apple's motivations for the move.  [via M.I.C. Gadget]
[via Tech in Asia]