HTC Puccini Tablet Detailed: Honeycomb, 1.5GHz Dual-Core And LTE?

Details on what could well be HTC's second Android tablet of 2011 have leaked, codenamed the HTC Puccini, and expected to be the company's first Android 3.0 Honeycomb slate complete with AT&T LTE 4G support. According to 911HTC's info, the Puccini will have a 1280 x 800 WXGA display – just like the XOOM and other Honeycomb slates we've seen – and run Qualcomm's Snapdragon MSM8660 1.5GHz dual-core processor.
That's the same chip as at the heart of the MSQUARE MDP, and going by Qualcomm's promises is quite the potent chunk of silicon. The MSM8660 is tipped to have 5x the performance of the original Snapdragon, 4x the graphics performance, and use 75-percent less power. There's also onboard LTE support, which is useful for AT&T's fledgling 4G network; we'd already heard that LTE would be baked in, along with "Magic Pen" stylus support.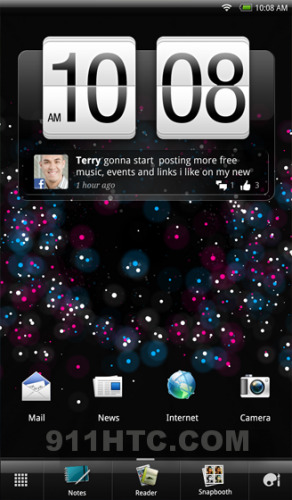 That pen support seems to be confirmed by what are claimed to be screenshots from the HTC Puccini, showing the Sense-equipped UI with the Notes app present in the launcher at the bottom. It would appear that the tablet – which could have a 10.1-inch display, like the XOOM, or alternatively an 8.9-inch panel like the LG G-Slate – was running a similar build of Sense to the Flyer, since the UI is simply stretched out somewhat.
HTC is expected to release at least two tablets after the Flyer in 2011, with a June launch previously rumored. The leaks come hot on the heels of our HTC Flyer review; check it out to see just how well HTC has handled the stylus.
[via Android Community]